In the past, I've referred to Switzerland as the world's most sensible nation.
Does that make it also the world's best nation?
I actually won't try to answer that question, but we can say that Switzerland is the world's most libertarian nation and a role model for others.
At least according to the Human Freedom Index, which ranks nations based on both economic and personal liberty.
Here are the 25 jurisdictions that lead the rankings.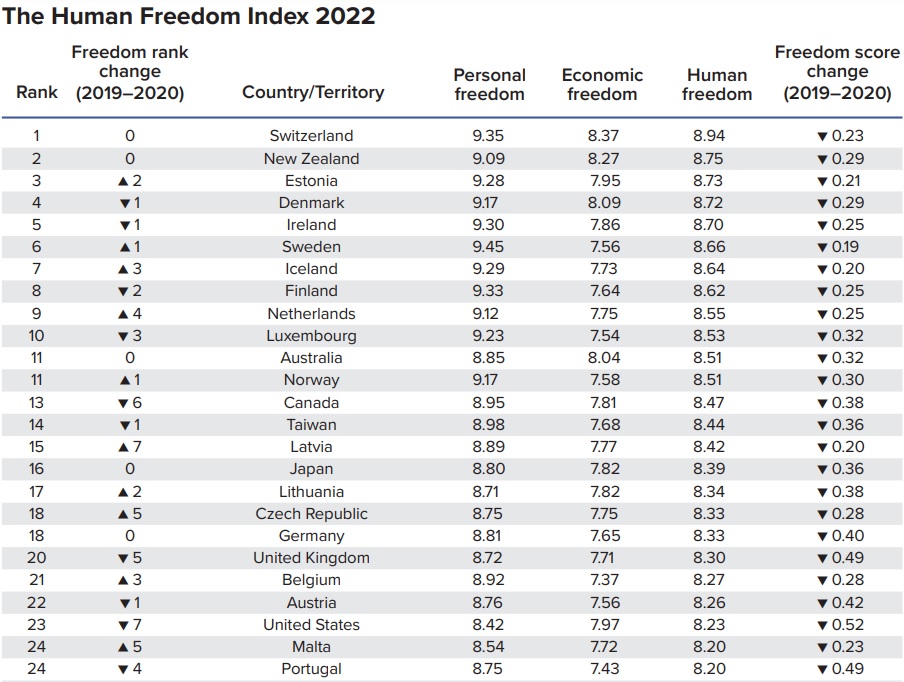 For what it's worth, Switzerland also was in first place the previous year.
New Zealand, which had been in first place in earlier years, still ranks very high. Estonia is in third place and several other European nations round out the top 10.
The United States, meanwhile, fell to #23, which is disappointing but predictable given the subpar politicians that have governed the nation this century.
But Hong Kong has suffered an even bigger fall. It's now ranked #34, which is not good for a jurisdiction that used to lead the rankings as recently as 2016.
For those interested, here's a description of how the Human Freedom Index is calculated, along with some of the grim findings.
The Human Freedom Index (HFI) presents a broad measure of human freedom, understood as the absence of coercive constraint. This eighth annual index uses 83 distinct indicators of personal and economic freedom… Human freedom deteriorated severely in the wake of the coronavirus pandemic. Most areas of freedom fell, including significant declines in the rule of law; freedom of movement, expression, association and assembly; and freedom to trade. On a scale of 0 to 10, where 10 represents more freedom, the average human freedom rating for 165 jurisdictions fell from 7.03 in 2019 to 6.81 in 2020. On the basis of that coverage, 94.3 percent of the world's population saw a fall in human freedom from 2019 to 2020, with many more jurisdictions decreasing (148) than increasing (16) their ratings and 1 remaining unchanged. The sharp decline in freedom in 2020 comes after years of slow descent following a high point in 2007.
Here's some additional analysis, most of it depressing.
The rating for France fell from 8.65 in 2007 to 7.8 in 2020, Brazil's rating decreased from 7.61 to 6.86, the United States' score dropped from 8.92 to 8.23, and Mexico's rating fell from 7.27 to 6.6. … some countries that ranked high on personal freedom ranked significantly lower in economic freedom. For example, Sweden ranked 1st in personal freedom but fell to 33rd place in economic freedom, and Argentina ranked 29th in personal freedom but 161st in economic freedom. Similarly, some countries that ranked high in economic freedom found themselves significantly lower in personal freedom. For example, Singapore ranked 2nd in economic freedom while ranking 81st in personal freedom.
I'll close by observing that Syria is the lowest-ranked nation, followed by Yemen, Venezuela, Iran, and Egypt.
P.S. Here are five more reasons to admire Switzerland.