Local politicians can be just as greedy and callous as state politicians and national politicians.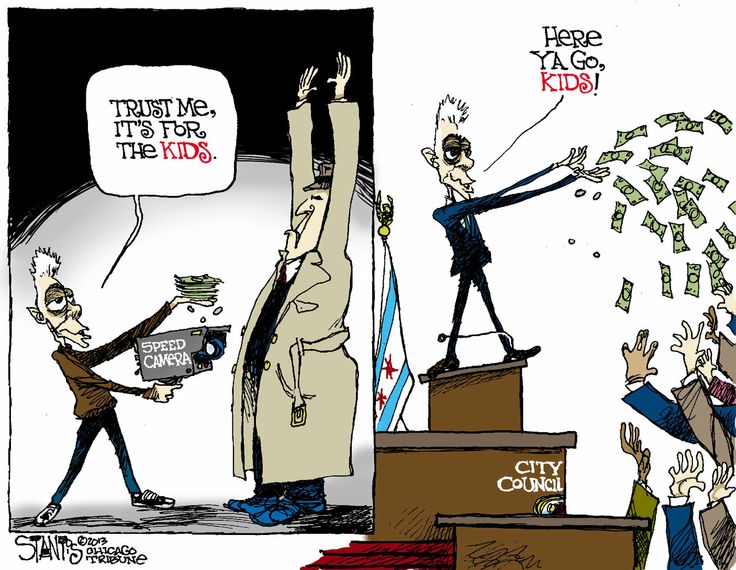 Even if it means mistreating poor people.
Perhaps the best evidence for the preceding sentence is the way that traffic cameras are used to generate revenue.
Indeed, local politicians use cameras as a way of grabbing more money even if the net result is more traffic accidents!.
Let's start with a report in Reason earlier this year. Written by Julian Verdon, it documents how government greed is the main motive for speed cameras.
Pete Buttigieg's new National Roadway Safety Strategy (NRSS) promotes speed cameras nationwide… But research shows that speed cameras are subject to error and actually end up serving as a means to generate government revenue. …In Chicago, where speed cameras are abundant, the camera program improperly gave out over $2.4 million in fines from 2013 to 2015. Using a random sample analysis, the Chicago Tribune estimated the number of bad tickets to be somewhere around 110,000. …In Washington, D.C., a 2014 report from the D.C. Office of Inspector General found that ticket writers made arbitrary decisions when a camera captured more than one vehicle, and they didn't know which one was speeding. …Unsurprisingly, the misuse of speed cameras has also become a massive source of revenue for local government.
These are all good points, but they overlook the bigger issue, which is that the cameras usually are placed on streets where speed limits are set at absurdly low levels.
At the risk of stating the obvious, that's a scam to grab money.
I'm more sympathetic to cameras that catch people running red lights since that behavior can endanger others.
But it seems governments are incapable of doing the right thing for the right reason. Such cameras are designed to maximize revenue for politicians by shortening yellow lights – even even that that approach causes more crashes.
It's also worth noting that the companies that set up traffic cameras frequently bribe local politicians.
As one might expect, Chicago is the epicenter of sleaze, as reported by Scott Shackford for Reason.
Illinois State Sen. Emil Jones III (D-Chicago) was indicted in September on federal charges of bribery and lying to the FBI. He's accused of accepting $5,000 and the promise of a job for an associate from a person connected to SafeSpeed, a red-light camera company. …At this point, we should not be surprised at accusations of corruption and bribery concerning the extremely active revenue-generating cameras in the Chicago area. …Mayor Lori Lightfoot even arranged to have the cameras hit cars traveling just six miles per hour over the speed limit to help boost the city's revenue. …In 2016, a former Chicago official was sentenced to 10 years in federal prison for taking $2 million in bribes from a different red light camera company…four other local officials who have faced charges in the past for misconduct connected to SafeSpeed's work in the Chicago suburbs. …Oakbrook Terrace's former mayor, Tony Ragucci,…pleaded guilty in May to pocketing close to $90,000 in exchange for allowing SafeSpeed to operate red-light cameras in the town. …"We all know it's about money. Revenue. Legal or illegal. That's why these cameras are there," Oak Brook Village Trustee Mike Manzo said.
We all know traffic cameras are about revenue rather than safety, but it's good that Mr. Manzo confirms our suspicions.
That's why you should watch this video to see why Jay Beeber is a hero.
And it's why we should cheer this anonymous hero as well.
Since I'm handing out plaudits, the people of Arizona also deserve applause, along with Houston's voters.
P.S. There are even some good people in other countries.