As I've repeatedly pointed out, capitalism (oops, I mean free enterprise) is far superior than the various forms of statism.
Just last month, I shared a video with 20 example of market-friendly jurisdictions growing much faster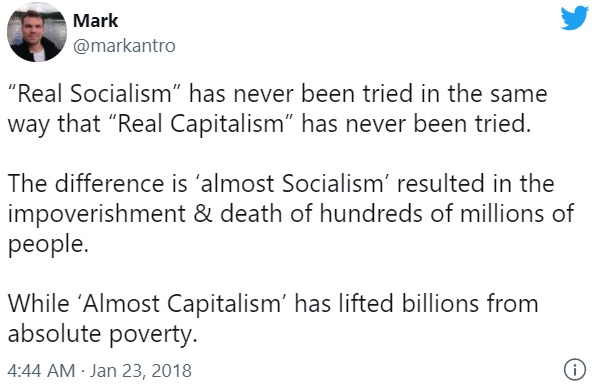 than government-dominated nations.
But markets aren't just superior at producing mass prosperity. Or at reducing mass poverty (the normal state of human existence).
Free enterprise also is the best option for dealing with a pandemic.
I wrote back in March about how free markets saved the day after the coronavirus struck.
In a column for the Wall Street Journal, Walter Russell Mead further elaborates on this theme.
The World Health Organization has been a shame and a disgrace, from its initial silence over China's coverup of early data on the outbreak through its unreasoning hostility toward Taiwan and its collusion with Beijing's efforts to discredit the lab-leak hypothesis. The premier international health agency has failed. Covax, the much-touted international program aimed at providing vaccines to citizens of countries too poor to purchase adequate supplies on the open market, has also fallen abysmally short. …What's worked in the pandemic so far has been the dog everyone wants to kick: Big Pharma. Pfizer, Moderna, AstraZeneca and Johnson & Johnson succeeded where the internationalists failed. Scientists in free societies working with the resources that capitalism provides have given the world hope. The WHO, Covax, the Chinese and Russian vaccines, and the "global community," not so much.
Amen. Let's be thankful for pharmaceutical companies. Their pursuit of profit is what led to the vaccines that have saved millions of lives.
By contrast, the WHO has been very unhelpful.
And America's domestic bureaucracies, the FDA and CDC, have arguably been harmful.
Notwithstanding this track record, the Biden Administration wants to weaken the private sector.
The Biden administration…seems to believe that the best response…is to sabotage the American pharmaceutical industry. The U.S. development bank—the International Development Finance Corp.—will provide billions of dollars to firms based in countries like Brazil, Rwanda, Senegal, South Africa and South Korea that agree to manufacture Covid-19 vaccines. Meanwhile, the State Department's coordinator for global Covid response, Gayle Smith, said last week that she wants to push Big Pharma to share its technology with its new government-subsidized foreign competitors. …one wonders exactly how President Biden squares subsidizing cheap overseas competition for one of the most successful industries in the U.S. with promoting jobs for the American middle class.
This proposal is nuts.
Only curmudgeonly libertarians will get upset about an effort to subsidize vaccines for the developing world.
But every rational person should be horrified about a plan that would weaken one of America's most successful industries.
P.S. Moreover, we should reject short-sighted policies such as European-style price controls on drug companies. Such an approach would undermine our ability to deal with future pandemics and also reduce the likelihood of new and improved treatments for things such as cancer, dementia, and heart disease.
P.P.S. I like pharmaceutical companies when they are being honest participants in a free market. I don't like them when they get in bed with big government.