In Part I of this series, I explained why it's absurd to think illegal immigration can be stopped by sending foreign aid to less-developed countries, such as many of those in Central America.
Simply stated, government-to-government handouts have never been a successful strategy for turning poor nations into rich nations. Indeed, aid actually discourages countries from following the recipe that does deliver prosperity.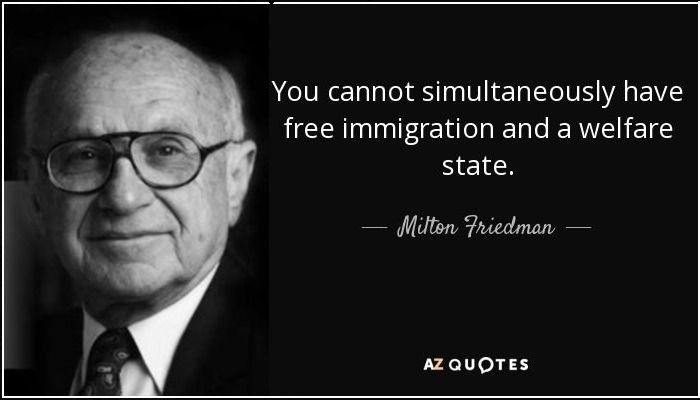 In today's column, let's address Milton Friedman's famous dilemma about the incompatibility of open borders and welfare.
Like most libertarians, I want to solve the problem by getting rid of the welfare state.
Immigrants are a big net plus so long as they are coming to work and be productive.
Indeed, because of their entrepreneurial skills and work ethic, immigrants from many nations wind up earning more than native-born Americans.
That's something to celebrate. The American Dream in action!
But will that story of success continue if the welfare state is expanded?
Two advocates of increased immigration are worried. First, Jason Riley of the Wall Street Journal recently explained that Biden's agenda is a recipe for immigrant dependency.
…it is a growing belief on the political left that people should be allowed to enter the U.S. on their terms rather than ours, and that it is our collective responsibility to take care of them if they can't take care of themselves. Milton Friedman said that open immigration and large welfare states are incompatible, and today's progressives in Congress and the White House are eager to test that proposition. …Another concern is the left's determination to sever any connection between work and benefits, something all the more worrisome since it is occurring while destitute foreign nationals with little education are being lured here en masse. …Earlier this month, the Biden administration quietly announced that it would no longer enforce a policy that limited the admission of immigrants who were deemed likely to become overly dependent on government benefits. What could go wrong? …In countries like Italy and France, generous aid programs have attracted poor migrants who are more likely than natives to be heavy users of welfare and less likely to be working. It's a mistake to think it can't happen here.
In a column last year for Reason, Shikha Dalmia warned that welfare programs undermine support for immigration.
…economists Alberto Alesina, Armando Miano, and Stefanie Stantcheva…administered online questionnaires to 24,000 respondents in six countries: U.S., U.K., France, Germany, Italy, and Sweden. The explicit aim was to study attitudes toward legal, not illegal, immigration. …restrictionists have succeeded most spectacularly is in depicting immigrants as welfare queens. …In America, over 25 percent of respondents said the person with the  ..immigrant-sounding name would pay less in taxes than he collected in welfare… The study's findings pose a particular dilemma for Democrats like Sen. Elizabeth Warren (D–Mass.), who wants to combine grandiose welfare schemes like free health care, pre-K, and college for everyone with generous immigration policies, because the mere mention of immigration reduces support for such schemes. Respondents who were asked about immigration became less concerned about inequality and less supportive of soak-the-rich schemes. …as long as immigrants are seen as succeeding through their own grit, natives may have no real objection to them. What is most likely to sour the public on immigration are the grandiose universal freebies… Immigrants should be wary of Democrats bearing gifts.
Both Riley and Dalmia raise good points.
My modest contribution to this discussion is to provide a practical example.
In his so-called American Rescue Plan, Joe Biden included a huge giveaway program that will shower $3,000-$3,600 to non-rich households for every kid they have.
This is a one-year, one-time handout, but many Democrats (and some Republicans!) want to make these enormous per-child payments a permanent part of America's welfare state.
If that happens, the incentive to move to the United States almost surely will skyrocket.
Here's a map I made, showing the annual handout for two children in the United States and the average per-capita income in some nearby nations.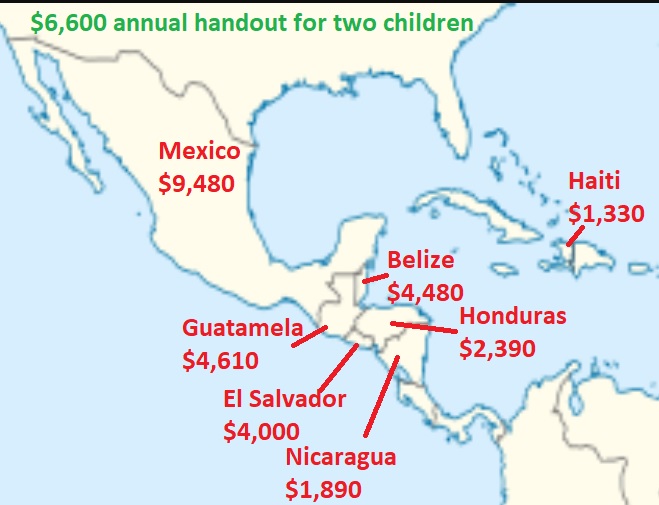 At the risk of stating the obvious, there will be a huge incentive to migrate to America – but not for the right reasons. And my little example doesn't include the value of any of the dozens of other redistribution programs in Washington.
The bottom line is that we shouldn't have a welfare system that rewards dependency, whether for people in the country legally or illegally.
And if you like immigration in theory, you should be especially opposed to handouts that will undermine public support for newcomers in practice.
P.S. It's much better to have immigration policies such as the ones proposed by former Congressman Jared Polis and current George Mason University Professor Tyler Cowen.