Yesterday's column explained that lobbyists are big winners when the size and scope of government increases.
For instance, a bigger budget means special interests hire lobbyists to obtain ever-larger slices of pork.
Moreover, added red tape means lobbyists get more clients seeking to manipulate the regulatory process.
And Biden's grossly misnamed Inflation Reduction Act will make both of those problems worse, enabling more corruption.
But there's a third problem to consider. Biden's agenda also calls for a massive expansion of special tax privileges.
From a libertarian perspective, I like when the law allows people to keep more of their money.
As an economist, however, I don't like when people are lured into make inefficient choices simply because of a convoluted tax system.
And, as a decent human being, I despise a process that enriches lobbyists, politicians, and other insiders. This corrupt process is succinctly captured in this flowchart put together by my former colleague Chris Edwards.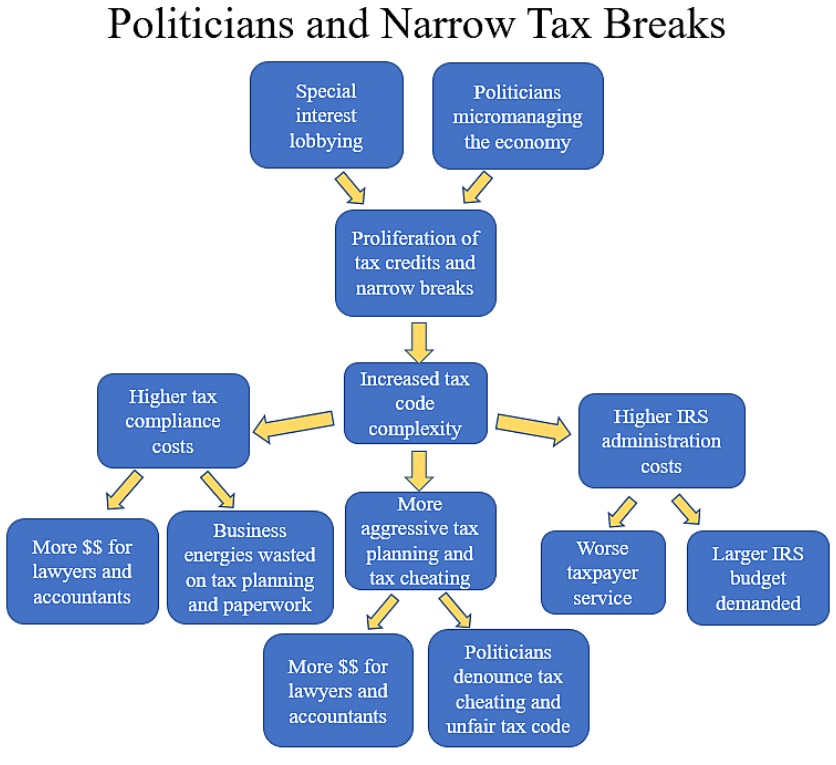 Chris' main point is that we should be reforming and simplifying the tax code rather than dramatically expanding the budget of a corrupt Internal Revenue Service.
You can't argue with that goal (assuming you want what's best for the nation). Even folks on the left should agree.
The bottom line is that a complicated and convoluted tax code is great for lobbyists and a boon for corruption.
P.S. If you want to know the world's most surprising loophole, click here.
P.P.S. Assuming loopholes are properly defined, the ideal policy is to eliminate them in tandem with enactment of lower tax rates.