Back in July, I made the case for the right kind of entitlement reform in a discussion with the folks at Live and Let Live.
Today, I want to underscore why it is important to focus on "the right kind" of reform.
On paper, you can save money with "means testing" of benefits, but that creates an indirect penalty on work, saving, and investment.
You can also, on paper, save money by imposing price controls on health care, but that policy has a long track record of failure.
At the risk of understatement, either of those approaches represents "the wrong kind" of entitlement reform. Indeed, those policies are not really reform. Instead, they are tinkering with systems that are fundamentally broken.
For what it is worth, most politicians do not support good reform or bad reform.
As predicted by "public choice," their preferred approach is kicking the can down the road.
Which is what Greek politicians did for many years.
But they learned in Greece that ignoring a problem does not make it disappear. Instead, it is a recipe for fiscal crisis (and we will probably have to re-learn that lesson in Italy).
So my other goal today is to show why something needs to be done.
We'll start with a look at Medicare from Brian Riedl's chartbook.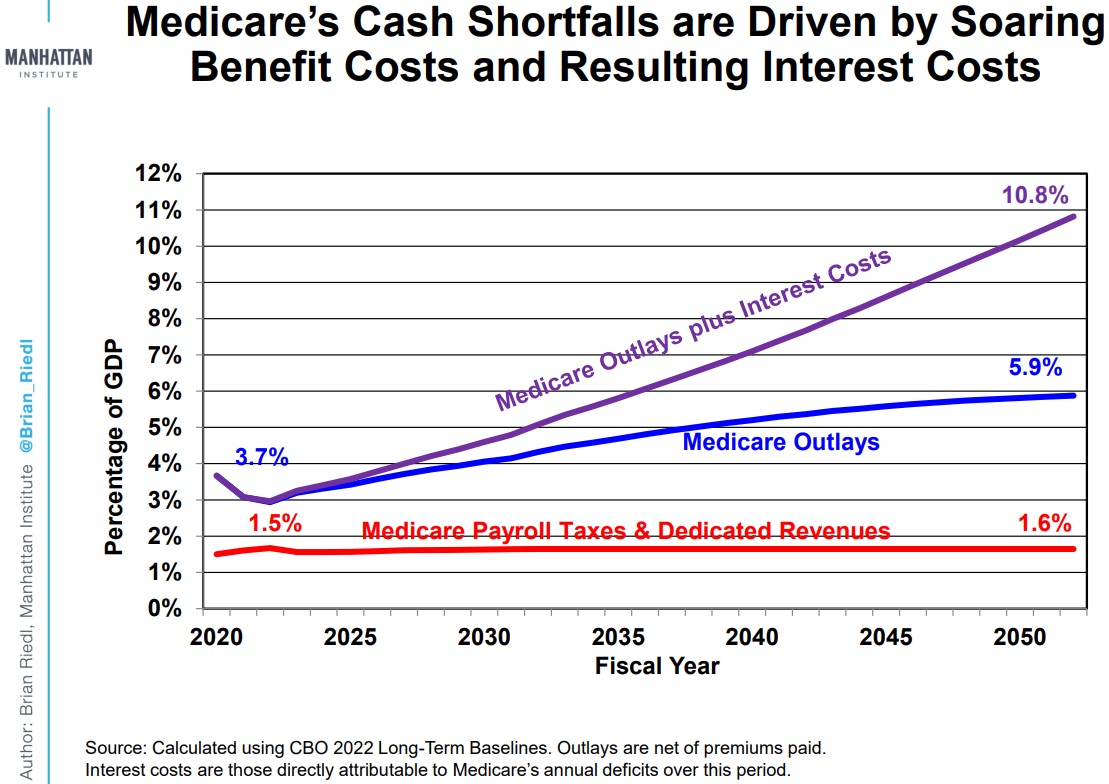 That's a very sobering image, so now I'll share some very sobering words.
James Capretta of the American Enterprise Institute summarizes America's grim fiscal future.
In 2001, the Treasury estimated the government's net unfunded liabilities, in present value terms, at $6.5 trillion, or 61 percent of GDP, with federal debt accounting for $3.3 trillion of the measured obligations. …By 2021, the government's net position had deteriorated to minus $29.9 trillion, or 128 percent of GDP, with federal debt accounting for $22.3 trillion of the liabilities. The government's unfunded commitments beyond public debt had grown by $2.9 trillion over ten years. …The financial hole is actually deeper than these numbers reveal because they exclude the dramatic effects of Social Security and Medicare. …with Social Security and Medicare included in the assessment, the federal government's unfunded liabilities in 2021 are $93.1 trillion, or nearly 400 percent of annual GDP. That compares with $11.1 trillion as calculated in the 2001 Treasury report, which was 105 percent of GDP. …The problem posed by unfunded public liabilities is a relatively new one in U.S. history. It has only been over the past half century that the combination of an aging population and the modern entitlement system has pushed the federal government toward a financial crisis.
Having shared all this depressing data, I'll now close with a couple of observations.
As I said in the above video, we need the right kind of entitlement reform so that we save money and have better policy for old people and poor people.
P.S. Entitlements are a ubiquitous problem in developed nations.