Two days ago, I shared data showing that people in the big nations of Western Europe only have about 75 cents of income for every $1 that Americans earn.
That's a remarkable gap, and it's getting larger rather than smaller, even though theory says that shouldn't happen.
But what's even more shocking is that a poor person in the United States would be middle class in most European nations.
And a low-income person in America is better off than the average European.
When I see numbers like this (and lots of other data I have shared over the years, all of which tells the same story), I have two reactions.
First, I want to laugh at anyone who thinks Europeans have a better distribution of income.
Second, I want to scream at anyone who things we should copy the European economic policy.
But my laughing and screaming obviously has no effect because Washington politicians are poised to enact a giant expansion of the welfare state.
And there's plenty of support for this risky concept from both Democrats and Republicans.
On the GOP side, Senator Mitt Romney has proposed a big tax increase to pay for a big increase in redistribution spending in the form of universal handouts for families with children, an idea that I criticized early last month.
And Oren Cass, a former campaign aide for Romney, has a slightly different plan to impose higher taxes to fund handouts for families with children. I recently critiqued that plan in an article co-authored with Veronique de Rugy of the Mercatus Center. Here's some of what we wrote.
…the proposal for a Family Income Supplemental Credit (Fisc) from Oren Cass and Wells King is misguided, mostly because it would raise tax rates and expand the burden of government spending. …the Fisc would cost $200 billion annually. …$80 billion per year, would be financed with tax increases. …this fact alone should make the Fisc a non-starter as a matter of fiscal policy. …Income tax rates already are too high, and President Biden wants to raise them further. Self-styled conservatives should not be aiding and abetting the push for class-warfare taxation by adding to the collection of proposed tax-rate increases on workers, investors, entrepreneurs, and business owners. …it would be desirable for families to have more economic opportunity and financial security. However, it doesn't follow that conservatives should support subsidizing child-bearing and -rearing. We do not think copying Europe and imposing more redistribution is the right approach. Americans enjoy far-higher living standards than people on the other side of the Atlantic Ocean, thanks in part to our smaller fiscal burden.
As you might expect, folks on the left are very excited about expanding the welfare state.
Biden's so-called stimulus plan also contains a big one-time handout to households with children (with proponents hoping the lure of free cash will lead those households to demand that Washington make such giveaways a permanent part of American life).
Scott Winship of the American Enterprise Institute pours cold water on all the above proposals. Except he focuses not on fiscal policy, but on the fact that these schemes will subsidize dependency and encourage out-of-wedlock births – thus undermining the very successful welfare reform of the 1990s.
A child allowance would send unconditional cash benefits to nearly all families on a per-child basis. …Child allowances run a very real risk of encouraging more single parenthood and more no-worker families, both of which could worsen entrenched poverty in the long run—an overreliance on government transfers, poverty over longer stretches of childhood, intergenerational poverty, and geographically concentrated poverty. …Poverty among the children of single parents fell from 50 percent in the early 1980s to 15 percent today, with an especially sharp decline during the 1990s. This was a period in which policy reforms encouraged work, by imposing time limits and work requirements on receipt of cash welfare and expanding benefits to low-income workers. …We should strive to reduce child poverty further, but it matters how we do so. Reducing this year's poverty while exacerbating entrenched poverty and reversing the progress we have made since welfare reform would be a hollow victory indeed. So much the worse if a child allowance leads to irresistible calls for a universal basic income, which would also increase nonwork among the childless.

Michael Barone is similarly perplexed that lawmakers are so intent on reversing the progress of welfare reform.
When public policies have produced disastrous results, and when alternative policies have resulted in immediate, seemingly miraculous improvement, why would anyone want to go back to the earlier policies? …births to unwed mothers and welfare dependency rose…from 1965 to 1975, violent crime and welfare dependency, both heavily concentrated among blacks, nearly tripled — tripled. For two more decades, crime and welfare dependency remained at the same high levels, sometimes zooming higher. …Reform, first by Thompson in Wisconsin and then by Newt Gingrich and Bill Clinton in the 1996 welfare bill, required mothers to work. Social workers' focus was changed from handing out more checks to helping moms get and hold jobs. The results: Welfare rolls plummeted; teen births plunged; kids raised by working moms did better in school and in life. Liberals have tried to stealthily roll back the reforms. They've been joined by some cultural conservatives, worried about population decline… These include Sen. Mitt Romney, who supports a child allowance that is fully refundable — which is to say that government will send a check to parents, married or unmarried… A version of this, limited to one year, has been inserted in the "COVID relief" bill of President Joe Biden's administration. A single parent with two kids, working or not, could qualify for $7,200 a year plus $6,400 in food stamps. …Mickey Kaus…argues that…"(A) large subset of recipients will go from one worker to zero workers." That means "millions of kids growing up in fatherless homes, where nobody goes into the labor force, where the mainstream world of employment is a foreign country." Past experience says he's right and that…the people most hurt will be black Americans.
So is there a real danger that per-child handouts will become law?
The obvious answer is yes since they are included in Biden's faux stimulus.
But that's just a one-year giveaway. It's unclear whether households will get addicted to that free cash and thus demand that the handouts get extended (based on my Second Theorem of Government, I'm pessimistic).
Robert VerBruggen has some polling data on this topic.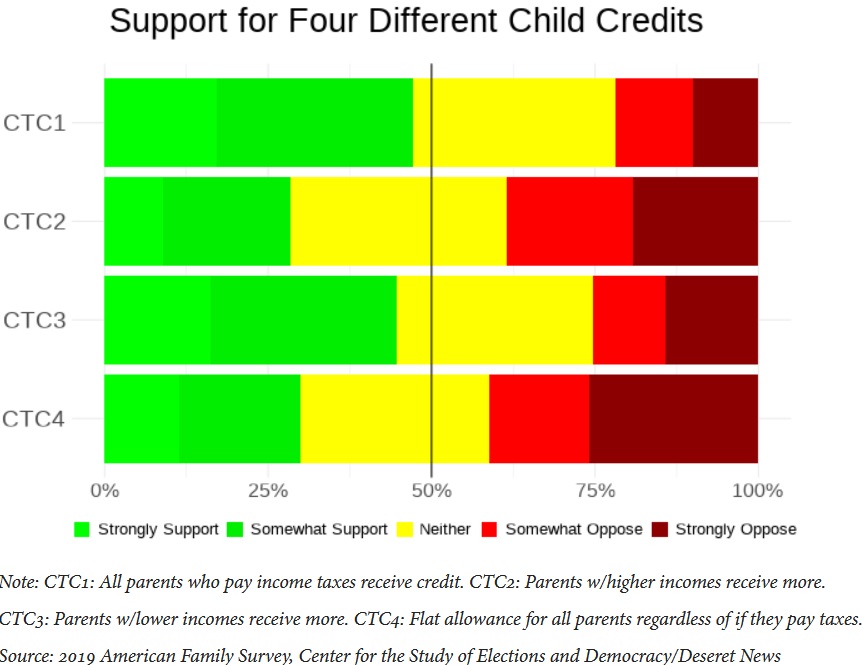 Here's how he characterized the results.
So, what does the average person think…? The 2019 American Family Survey, a poll covering 3,000 adults from the Center for the Study of Elections and Democracy, tested four different child tax credit proposals… The results give us a sense of how the public—and some key segments of it—see the issue. Interestingly, none of the ideas had majority support… Nearly half of Americans can support a credit sold as tax relief that's either broad-based (CTC1) or targeted to the lower-income (CTC3), but an across-the-board handout to parents just for being parents (CTC4) can't even garner one-third support. …the major takeaways are these: 1) The child tax credit, in general, is not as popular as one might think — even in questions that don't mention the taxes needed to pay for it, it never manages a majority; and 2) despite some energy on the pro-family intellectual right for flat, universal child allowances (CTC4), Republicans and even independents among the general public are really not fond of the idea.
This data is semi-encouraging. I'm definitely glad people are suspicious of big per-child handouts. And I suspect opposition will grow when people learn about the European-style taxes that would be needed to finance such a huge giveaway.
But it doesn't help the fight for sensible policy when some self-styled conservatives advocate for big expansions of the welfare state – especially when such ideas inevitably will erode societal capital.
P.S. As indicated by the above excerpt, Scott Winship's article concludes with a warning that universal per-child handouts could be the camel's nose under the tent for a "basic income," which is the crazy notion that government should give everyone money. That's an additional reason to reject the idea, as even Joe Biden once realized.
P.P.S. Some proponents use the term "child tax credit" to describe per-child handouts, but that's disingenuous at best. A handout doesn't magically become a tax cut just because the recipient happens to pay tax. Moreover, the handouts in these proposals generally are "refundable," which is simply fiscal jargon for handouts that also go to people who don't pay any tax.
P.P.P.S. The real-world evidence casts considerable doubt on the notion that per-child handouts will increase birthrates.