Most examples of Mitchell's Law involve government passing a bad law (increase in minimum wage) that leads to a bad consequence (fewer jobs), which then becomes the excuse for a new bad law (job training programs).
Sometimes, though, politicians don't even wait for bad results before coming up with new excuses for bigger government.
Last year, a handful of clueless Republicans in the Senate sided with Democrats to enact Joe Biden's scheme for industrial policy (the so-called CHIPS Act).
There were all sorts of reasons to oppose the proposal, including a miserable track record of failure for industrial policy in nations such as post-war Japan and modern-day China.
But it also should have been opposed because it opened the door for additional forms of government intervention.
Here's a tweet from Adam Ozimek that summarizes some of the ways that the Biden Administration is using subsidies as a lure to impose a dirigiste agenda.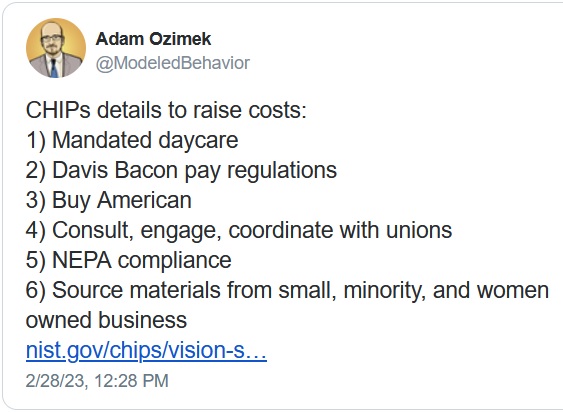 Here's what has happened. Politicians have driven a lot of manufacturing away from the United States because of red tape, mandates, and taxes.
So then politicians figured they could bring production back to American with a big package of subsidies for high-tech companies.
Yet those same politicians are now attaching lots of strings to those subsidies. Companies can only get the handouts if they accept red tape, mandates, and taxes.
Here's some of the Wall Street Journal's editorial on the topic.
Government subsidies are never free, and now we are learning the price U.S. semiconductor firms and others will pay for signing on to President Biden's industrial policy. They will become the indentured servants of progressive social policy. …the Administration is using the semiconductor subsidies to impose much of the social policy that was in the failed Build Back Better bill. …Start with child care, which chip makers applying for more than $150 million in federal aid will be required to provide to their employees and construction workers. …Chip makers will also have to pay construction workers prevailing wages set by unions and will be "strongly encouraged"—i.e., required—to use project labor agreements (PLAs), which let unions dictate pay, benefits and work rules for all workers. …chip makers will have to describe their "wraparound services to support individuals from underserved and economically disadvantaged communities," such "as adult care, transportation assistance, or housing assistance." The Administration is imposing a cradle-to-grave welfare system via corporate subsidies.
The editorial concludes with some very sensible observations about the willful stupidity of the self-styled national conservatives who were cheerleaders for this expansion of government power.
The irony is rich because chip makers have shifted manufacturing to Asia to reduce costs. Producing chips in the U.S. is 40% more expensive than overseas. One reason is the U.S. permitting thicket. But chip makers that receive federal largesse will still have to comply with more regulation under the National Environmental Policy Act. …What a wonderful life if you're a politician. First, pile on regulation that increase business costs. Then dangle subsidies to drive your social policy… We took a lot of grief from the big-government right for opposing the Chips Act, but these conservatives look like chumps for voting for an industrial policy that is now an engine for progressive policy. And one subsidy is never enough. …Welcome to French industrial policy.
The bottom line is that Biden got a victory, but the American economy suffered a defeat.
Politicians and bureaucrats now have a new tool that they can use to make government a bigger burden on the economy's productive sector.
At the risk of understatement, that's not a recipe for economic vitality and competitiveness.
American lawmakers should not by copying the policies of nations with much weaker economies.
Especially when we already know the right way to get more prosperity.