I wrote last year about an encouraging trend of lower tax rates at the state level.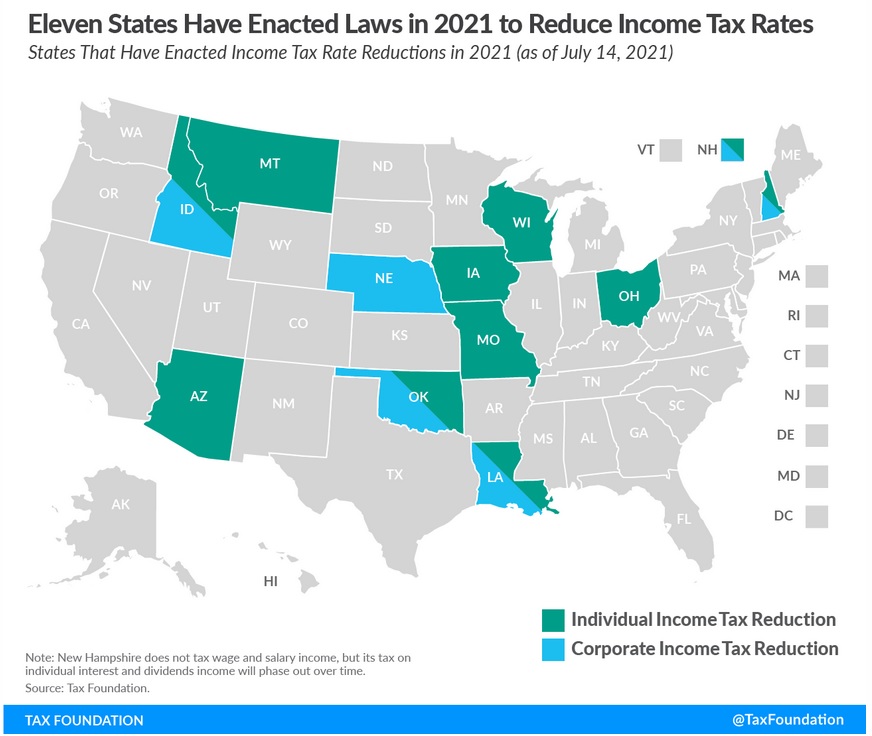 As you can see from this map, one of the states moving in the right direction is Iowa.
But Governor Kim Reynolds isn't satisfied with just lowering tax rates, which is a worthy goal, of course.
She is now proposing to get rid of the state's so-called progressive tax and replace it with a flat tax.
This would be very good news for Iowa's economy and Iowa's taxpayers.
An article in the Quad-City Times explains Governor Reynolds' proposal.
In four years, every Iowan's income would be taxed at 4% by the state under a new proposal from Gov. Kim Reynolds. Reynolds introduced her flat income tax proposal during last week's annual Condition of the State address to the Iowa Legislature, encouraging the lawmakers to pass her idea."Flat and fair," Reynolds proclaimed during the speech. …Ten states currently have a flat state income tax, including Iowa's eastern neighbor, Illinois. The list includes more blue states like Michigan and Massachusetts, but also red states like Kentucky and Utah. …Under Reynolds' new plan, top state income tax rate would be eliminated each year over the next four years, until in 2026 every Iowa worker, regardless of income level, pays 4 percent. …The plan would reduce state revenue by $226 million in the first year, and by $1.6 billion at full implementation… Reynolds said during her speech. "Yes, we'll have less to spend once a year at the Capitol, but we'll see it spent every single day on Main Streets, in grocery stores, and at restaurants across Iowa. We'll see it spent in businesses instead of on bureaucracies." …Republican legislative leaders praised Reynolds' proposal and said they are eager to begin working on legislation.
The article also explains the previous tax reform, which focused on lowering marginal tax rates.
In 2021, Iowa had nine state income tax rates, tied for the second-most in the country. Most Iowa workers' income was taxed at between 4.14%, with rates increasing as income increased, up to a top rate of 8.53% for those earning over $78,435 of taxable income. As a result of tax reform passed by the Iowa Legislature and signed into law by Reynolds in 2018, the number of tax brackets will be reduced to four, ranging between 4.4 and 6.5%.
I showed last year how that legislation moved Iowa up one level in a ranking of state income taxes.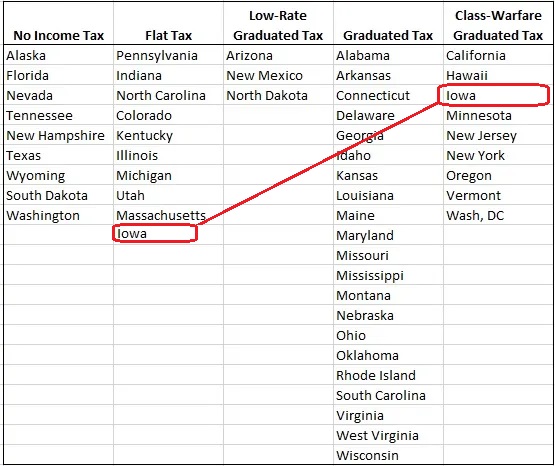 Well, here's an updated look at the state's total improvement if the governor's plan for a flat tax is enacted.
Iowa jumps from the worst column to the next-to-best column.
And if I ranked states by the rate of their flat tax, Iowa's 4 percent rate would be lower than the rates in North Carolina, Kentucky, Illinois, Michigan, Utah, and Massachusetts.
Not as good as the states with no income taxes, but still impressive.
P.S. I'll be curious to see how much Iowa will improve in the Tax Foundation's rankings if the proposed flat tax gets approved.