It's an annual tradition (2021, 2020, 2019, 2018, etc) to list a handful of things that I hope might happen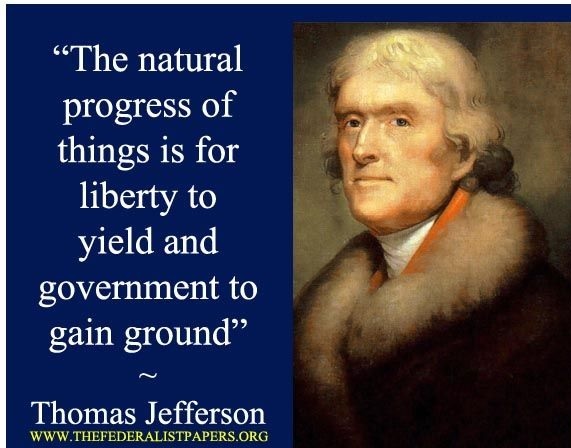 in the upcoming year, as well as the things I fear may happen.
Sadly, since I understand the economics of "public choice" (something Thomas Jefferson also implicitly understood) it's always easier to envision the latter category.
But it's good to begin a new year with optimism, so here are the good things that hopefully will happen in 2022.
Biden's So-Called Build Back Better Stays Dead – The President squandered money on a fake stimulus and an infrastructure boondoggle, but we dodged the biggest bullet when Democrats couldn't get all 50 of their Senators to support a multi-trillion dollar, growth-sapping expansion in taxes and spending.
The Supreme Court Ends Civil Asset Forfeiture – This was on my list last year, but the odious practice of "theft by government" continues. That being said, I still think it won't survive if the Supreme Court has a chance to make a ruling (especially since America's best Justice is very aware of the problem).
Republicans Win Congress in 2022 – I don't have much faith in Republicans to do the right thing (especially when a Republican is in the White House), but I hope they win the House and Senate in November because they will oppose big tax increases while Democrats control the White House – even if only for partisan reasons.
In the "honorable mention" or "runner-up" category, I also hope to see further progress for school choice in 2022.
And I used to list a collapse of Venezuela's reprehensible socialist government as one of my annual "hopes," but I've largely given up (particularly since Latin Americans seem foolishly susceptible to "leftist saviors").
Now let's shift to the bad things that I fear will happen over the next 365 days.
Biden's BBB Budget Plan Springs Back to Life – The President's "Build Back Better" plan may be on life support, but sadly it's not quite dead. I fear a scaled-down (but still horrible) version of the legislation may get approved this year. Senator Manchin of West Virginia, for instance, says he is willing to support a $1.5 trillion package and I fear the left eventually will decide that 50 percent of a (moldy and weevil-ridden) loaf is better than none.
Biden's Remains a Protectionist – I hoped last year that Biden would reduce government trade taxes. Not because he believes in economic liberty, but simply because he wouldn't want to continue a Trump-era policy. But that didn't happen, and I now fear he'll continue with protectionism in 2022. I don't even have much hope that he'll resuscitate the World Trade Organization.
New Tax Cartels – One of last year's big defeats was the creation of a global tax cartel by governments.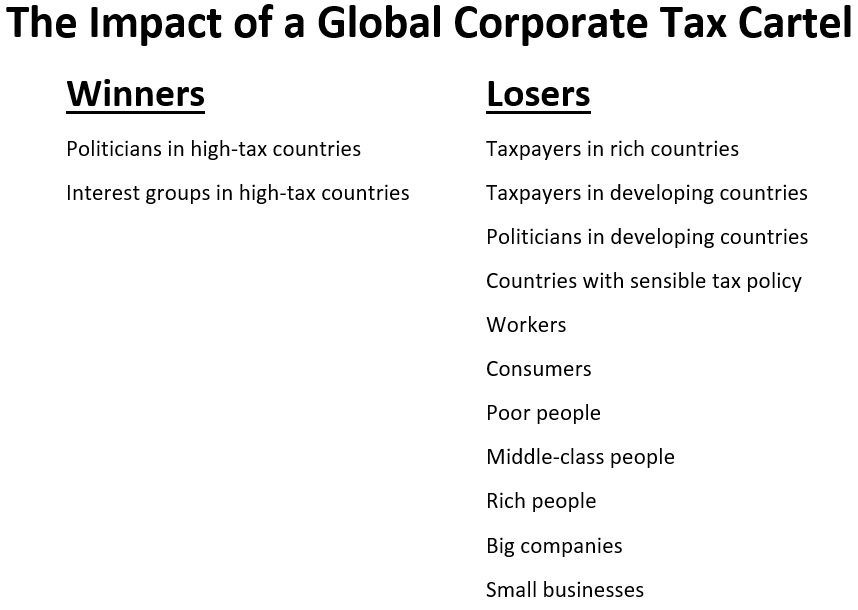 Barring some sort of miracle that prevents implementation, greedy politicians have set up a system that will require all nations to have a minimum corporate tax of 15 percent. That's very bad news for workers, consumers, and shareholders, but I'm even more worried about the precedent it creates for additional tax cartels and ever-higher tax rates.
I'll close by noting that last year's list included the possibility of Kamala Harris becoming president.
But Biden has been so bad that it's unclear that Harris would make things worse.
P.S. For the "fears" category, I could – and probably should – list entitlements every single year. Simply stated, the country is in deep long-run trouble because of an aging population and poorly designed tax-and-transfer programs. Years ago, I was semi-hopeful that we would get Medicaid and Medicare reform.
Now that seems like a distant dream and the real battle is preventing further entitlement expansions such as Biden's per-child handout.