The European Union started as a good idea (unfettered free trade between member nations) and has morphed into a troubling idea (a super-state based on centralization, harmonization, and bureaucratization).
And I fear it is heading further in the wrong direction since many European politicians want European-wide taxes and spending to facilitate more redistribution (on top of all the taxes and spending by member nations!).
Even if it means breaking existing EU rules in order to make government bigger.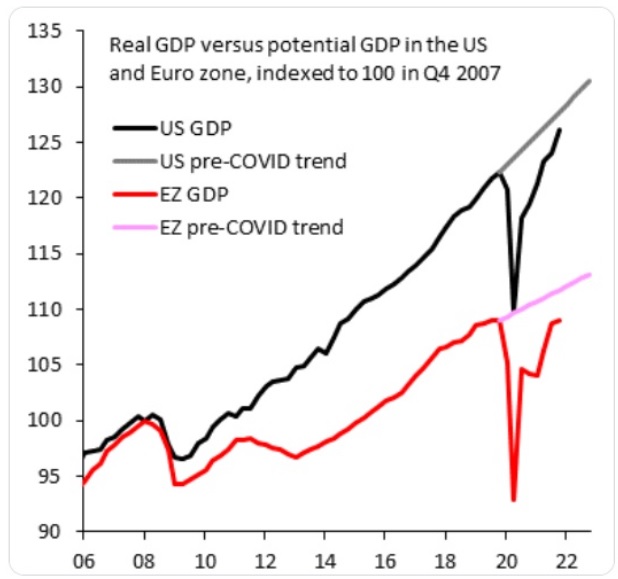 Today, as part of "European Fiscal Policy Week," let's assess whether the EU is a positive or negative force.
And I'll start by observing that the economic data is unfavorable when compared to the United States. Not only are living standards lower in EU nations, but those countries also are continually falling further behind.
It's possible, of course, that these countries would be even further behind if there was no European Union, but the academic evidence points in the other direction.
In an article for Law & Liberty, Douglas Carswell questions the very existence of the European Union.
Instead of asking if Europe can hold together, we should be asking if Europe should be held together at all. Why is it felt necessary to unify Europe's disparate peoples in the first place? What is it that compels European leaders to support pan-European systems of governance at all? It is not as if European integration has been a success. …If the Euro was supposed to give Europe a competitive edge, how come the Eurozone lags behind the rest of the world by almost every measure of output and innovation? …The urge to integrate came about, it is often suggested, to prevent Germany from becoming overbearing… Seriously? Does anyone really believe that if it was not for an army of bureaucrats in Brussels these past thirty years, Germany might have invaded France again? …Maastricht, and indeed the various subsequent EU treaties, need to be seen for what they are: a power grab by Europe's political elites. …Thirty years after Maastricht, the European Union is no more capable of making the kind of reforms it needs to save itself than it was back then. Rather like the Habsburg Empire, to which it is in many ways the successor, the European Union will stumble on, lurching from crisis to crisis, bits of it breaking away from time to time, as a once-great civilization becomes a cultural and economic backwater.
In a way that appeals to me, Liam Warner explains in National Review that the European Union represents the wrong type of globalism.
The 1957 Treaty of Rome established the European Economic Community, for example, was a customs union by which member countries agreed to trade freely with one another and maintain common external tariffs. With the 1993 Treaty of Maastricht, which established the EU, and its subsequent amendments, European integration began to look less like a cooperation of equals and more like a submission to a supranational authority. …internationalism in its modern form has often been a means of…imposing on the world a stultifying monotony… The deep flaws of the present system having been exposed, European leaders must give up their dream…and revisit their ancestors' healthier forms of globalism.
That "healthier form of globalism" should be based on jurisdictional competition and mutual recognition.
Is that remotely feasible?
A few European leaders realize that there's too much centralization. Kai Weiss highlighted the views of the Dutch Prime Minster in a column for CapX.
In his Strasbourg speech on the future of Europe, Mark Rutte struck a markedly different tone and delivered an entirely different message to Macron and others. The Prime Minister of the Netherlands has recently come to the fore as one of Europe's more sceptical voices. Speaking in front of the European Parliament, he once again made it clear that for him, more and more EU is simply not the answer to today's problems. "For some, 'ever closer union' is still a goal in itself. Not for me," Rutte said… Instead of finding ever new competences and tasks, Rutte argued that Brussels should hold onto the "original promise of Europe", the "promise of sovereign member states working together to help each other achieve greater prosperity…" For Rutte, this means focusing on the core benefit of the EU: free trade. …the emergence of the Netherlands, as well as Nordic and Baltic states, as vocal critics of Macron's federalist plans should be the source of much hope for Europe's future.
I applaud that there are a few leaders and a few governments trying to block further centralization.
But I have three reasons for being a pessimist about the European Union.
First, I don't think there's any hope for achieving any decentralization. Indeed, the more sensible people in Europe will face endless battles to stop bad ideas.
Second, Europe's demographics are terrible. And that will specifically mean lots of pressure for redistribution by imposing EU-wide taxes and spending.
Third, public policy is moving in the wrong direction at the national level. This compounds the damage of bad policies imposed by EU bureaucrats in Brussels.
Here's a chart, based on the latest edition of Economic Freedom of the World, showing how economic liberty is declining in the nations that dominate the European Union.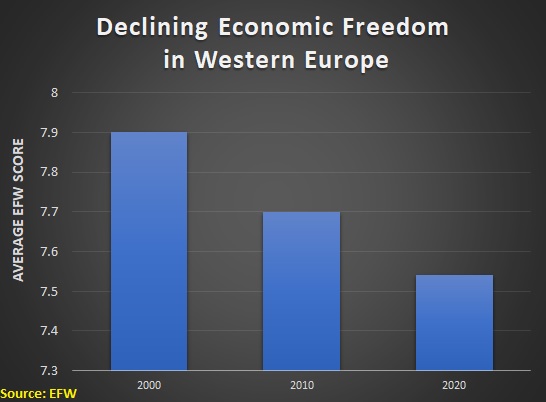 P.S. For amusement value, here's a cartoon showing the future of the European Union.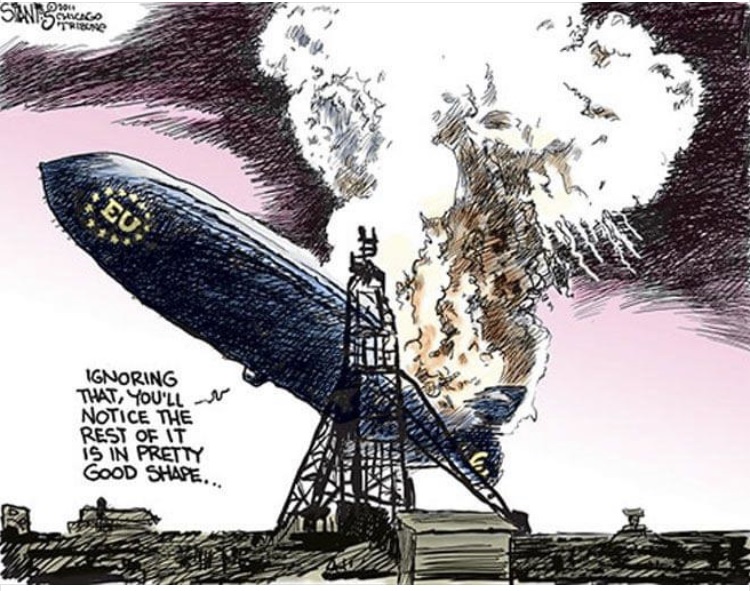 P.P.S. If you like European-themed satire, click here, here, here, here, here, here, and here.
P.P.P.S. On a related note, Brexit-themed humor can be found here, here, here, and here.