I wrote last week about President Macron's very modest effort to slow down the growth of the welfare state and started with a chart showing that France has the highest overall burden of government spending in the developed world.
The good news (relatively speaking) is that France is in third place, based on this chart from the OECD, when looking at the burden of government-provided retirement benefits.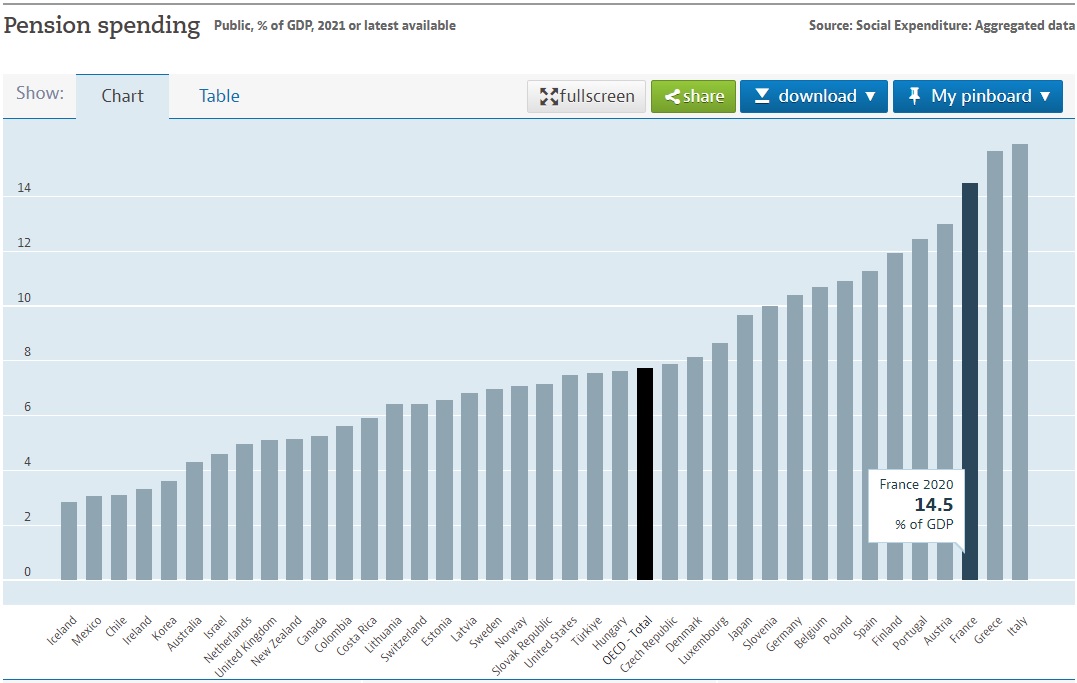 To be sure, having the third-highest burden of retirement spending is hardly something to celebrate. And it is not exactly a big achievement to be slightly less worse than Greece and Italy.
This is why President Macron is pushing to increase the retirement age from 62 to 64.
But French voters and French lawmakers have an entitlement mentality and Macron's initiative was faltering. So the government used executive authority to unilaterally impose the law.
Needless to say, this has triggered a lot of outrage. Here are some details from an article by Rich Noack in the Washington Post.
The French government used its executive powers Thursday to raise the retirement age to 64 and avoid a vote on an unpopular bill, outraging lawmakers who could retaliate with a no-confidence motion… Two-thirds of the French public have opposed the plans, and within minutes of Borne announcing the law's adoption, demonstrators assembled near Parliament for their ninth day of mobilization, with some of them clashing with authorities. …Macron has been pushing for changes to the country's pension system since he was elected in 2017… France has a lower minimum retirement age than many of its European neighbors… Germany, for instance, is preparing for an increase in the retirement age from 65 to 67, and lawmakers there have faced little public backlash. …Macron and his allies argue that the retirement age needs to reflect that increase if the country wants to preserve a welfare system that relies on a sufficiently large base of working-age contributors.
Here's a chart from the article to show the excesses of the French system.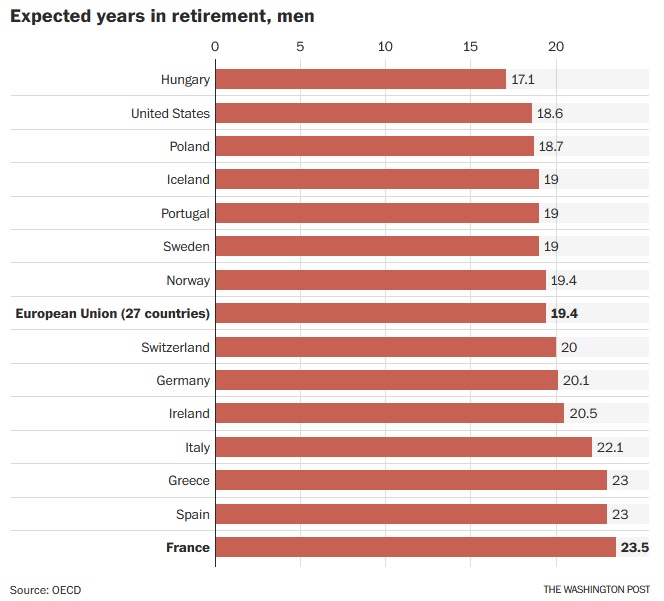 The Wall Street Journal opined this morning on the controversy.
The political difficulty of reforming pensions in Western democracies has been on display in France, with strikes and mass protests against Emmanuel Macron's modest pension reform. …Give Mr. Macron credit for persistence—and political brass. …Thursday Prime Minister Elisabeth Borne invoked Article 49 of the French constitution, which enabled the Macron government to strong-arm a bill through the National Assembly without a vote. The National Assembly's remaining recourse to block reform is to pass a motion of no confidence. That would block the legislation, oust Ms. Borne, and dissolve the government. …The opponents are on the populist left and right, including his presidential opponent in 2022, Marine Le Pen, who accused Mr. Macron of choosing "to govern with brutality" and called for Ms. Borne's ouster. The cold reality is that France needs reform because its pay-as-you-go pension system is unsustainable. The retirement age is 62, one of the youngest in Europe, and Mr. Macron would stretch it only to 64 with some exceptions. The worker-to-retiree ratio has shrunk to 1.7 to 1 from 3 to 1 in 1970. French pensions already consume 14% of the economy.
The second-to-last sentence of the above excerpt deserves some emphasis.
Back in 1970, there were three workers (taxpayers) for every retiree. Now the ratio if 1.7 workers to every retiree, and that situation is going to get much worse over the next few decades (the same problem of demographic change exists in the United States).
So the real-world choice is reform or bankruptcy (especially since taxes already are maxed out).
P.S. Macron's reform is better than the status quo, but it would be far better to shift to personal retirement accounts – which is something that has happened in dozens of nations.