My primary problem with bureaucrats is that they often work for agencies and departments that should not exist.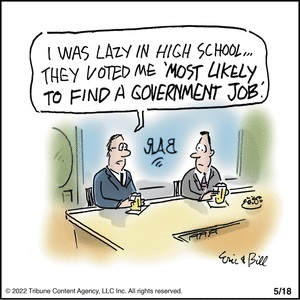 My secondary problem is that they generally get overcompensated compared to workers in the economy's productive sector.
And my tertiary problem with government employees is that they have job protections that encourage bad behavior – everything from sloth to crime.
When selecting new members for the Bureaucrat Hall of Fame, I usually pick from that final group.
And that's the purpose of today's column. We have a bureaucrat from Washington, DC, who deserves to be honored.
But he's not a federal bureaucrat. He's a cop with the DC metropolitan police. Here are some details of his misdeeds, as reported by Amanda Michelle Gomez.
The former vice chair of D.C. Police Union, Medgar Webster Sr., was arrested on Saturday for allegedly defrauding the D.C. government by working a second job at Whole Foods Market while reporting as on duty for the Metropolitan Police Department. …MPD paid Webster $33,845, including overtime and holiday pay, for hours he was simultaneously on the clock at Whole Foods, according to an arrest affidavit. Webster allegedly worked at two locations for the grocery chain between January 2021 and April 2022, and earned $45,946 at one of those stores along H Street Southeast. …Webster earned an hourly rate of $53.11 as an officer, which was adjusted to $79.67 for overtime work, per the affidavit.
If nothing else, I guess we can say he's not lazy. I imagine other cops don't bother doing any work, but they're probably home napping instead of working a second job.
So congratulations…sort of.
But here's the part of the story that definitely makes Mr. Webster a Hall of Famer.
He was caught double-dipping only because he got in trouble for sexual harassment at his second job.
The police spokesperson says agents discovered Webster was allegedly working a second job while on the clock at MPD during an "unrelated [Internal Affairs Division] investigation." Webster was being investigated for engaging in an "unwanted sexual contact" with an individual at the Whole Foods.
Apparently he was trying to double-dip in more than one way.
Seems like he has something in common with Mr. Geary.
P.S. My all-time favorite example of anti-bureaucrat satire is this video, though this top-10 list from David Letterman is a close second.
P.P.S. Since we're making fun of bureaucrats, here's a good jab at the Post Office from Jimmy Kimmel and a clever one-liner from Craig Ferguson. And to see how government operates, we have the Fable of the Ant. But this Pearls before Swine cartoon strip is very clever. Also, here's a new element discovered inside the bureaucracy, and a letter to the bureaucracy from someone renewing a passport.