After the people of the United Kingdom voted to escape the European Union, I wondered whether the Conservative Party would "find a new Margaret Thatcher" to enact pro-market reforms and thus "take advantage of a golden opportunity" to "prosper in a post-Brexit world."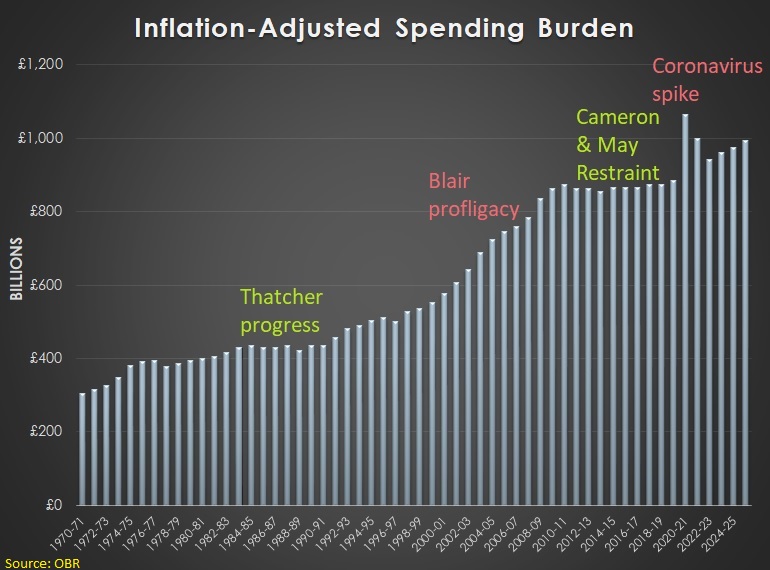 The answer is no.
The current Prime Minister, Boris Johnson, deserves praise for turning the Brexit vote into Brexit reality, but his fiscal policy has been atrocious.
Not only is he failing to be another Margaret Thatcher, he's a bigger spender than left-leaning Tory leaders such as David Cameron and Theresa May.
Let's look at some British media coverage of how Boris Johnson and Rishi Sunak (the Chancellor of the Exchequer) have sided with government over taxpayers.
Allister Heath of the Telegraph has a brutal assessment of their profligacy.
Rishi Sunak's message, repeated over and over again, as he unveiled a historic, epoch-defining rise in public spending financed by ruinous tax increases. It was a Labour Budget with a Tory twist and the kind of Spending Review that Gordon Brown would have relished… the cash was sprinkled in every possible direction. Sunak is Chancellor, but he was executing Boris Johnson's cakeist vision: a meddling, hyperactive, managerialist, paternalistic and almost municipal state which refuses to accept any limits to its ambition or ability to spend. …The scale of the tax increases is staggering. …This will propel the tax burden from 33.5 per cent of GDP before the pandemic to 36.2 per cent by 2026-27, its highest since the early 1950s… The picture on spending is equally grim: we are on course for a new normal of around 41.6 per cent of GDP by 2026-27, the largest sustained share of GDP since the late 1970s. …The Budget and Spending Review are thus a huge victory for Left-wing ideas, even if the shift is being implemented by Right-wing Brexiteers who have forgotten that the economic case for Brexit wasn't predicated on Britain becoming more like France or Spain. …Labour shouldn't be feeling too despondent: the party may not be in office, but when it comes to the economy and public spending, they are very much in power.
Writing for CapX, James Heywood explains one of the adverse consequences of big-government Toryism.
Simply stated, the U.K. will go from bad to worse in the Tax Foundation's International Tax Competitiveness Index.
…in the Cameron-Osborne era, the Conservatives focused on heavily on making Britain competitive and business-friendly, with significant cuts to the headline rate of corporation tax. …in his recent Tory conference speech, Boris Johnson trumpeted the virtues of an 'open society and free market economy', promising that his was a government committed to creating a 'low tax economy'.  Unfortunately, when it comes to UK tax policy the direction of travel is concerningly divorced from the rhetoric. The latest iteration of the US-based Tax Foundation's annual International Tax Competitiveness Index placed the UK 22nd out of 37 OECD countries when it comes to the overall performance of our tax system. …Nor does the UK's current ranking factor in the Government's plans for future tax rises. …the headline rate of corporation tax had fallen to 19% and was set to fall to 17% by 2020. That further fall had already been cancelled during Sajid Javid's brief stint as Chancellor, in order to pay for additional NHS spending. At the last Budget, Rishi Sunak went much further, setting out plans to gradually raise the rate from 19% to 25% in April 2023. That is a huge tax measure by anyone's standards… On top of that we have the recently announced Health and Social Care Levy… If we factor all these new measures into the Tax Foundation's Competitiveness Index, the UK falls to a dismal 30th out of 37 countries.
For what it's worth, the United Kingdom's competitiveness decline will be very similar to the drop in America's rankings if Biden's fiscal plan is enacted.
In other words, there's not much difference between the left-wing policy of Joe Biden and the (supposedly) right-wing policy of Britain's Conservative Party.
No wonder a British cartoonist thought it was appropriate to show Rishi Sunak morphing into Gorden Brown, the high-tax, big-government Chancellor of the Exchequer under Tony Blair.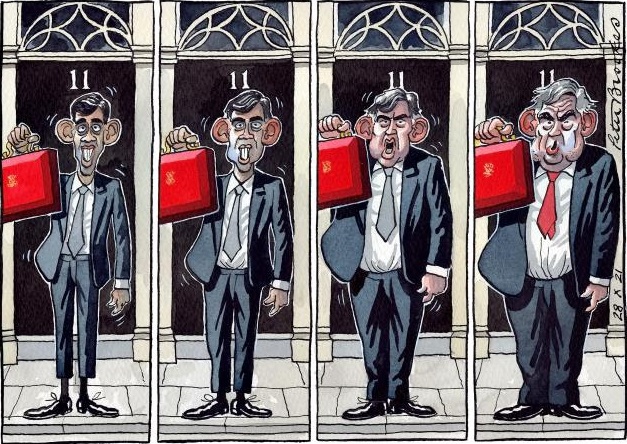 I'll close with the observation that conservatives and libertarians in the United Kingdom need to create their own version of the no-tax-hike pledge.
That pledge, organized by Americans for Tax Reform, has helped protect many (but not all) Republicans from politically foolish tax hikes.
It is good politics to have a no-tax pledge, but I'm much more focused on the fact that opposing tax hikes is good policy.