Assuming they behave ethically and earn money honestly, I applaud big companies and their wealthy owners.
That's why I recently defended Jeff Bezos' large fortune. The owner of Amazon mostly (but not entirely) became rich by providing value to the rest of us.
Today, though, I'm very disappointed in Bezos and Amazon. Why? Because the company wants to use the coercive power of government to screw over its competitors in the small business community.
Here's a look at the company's full-page advertisement in support of a higher minimum wage.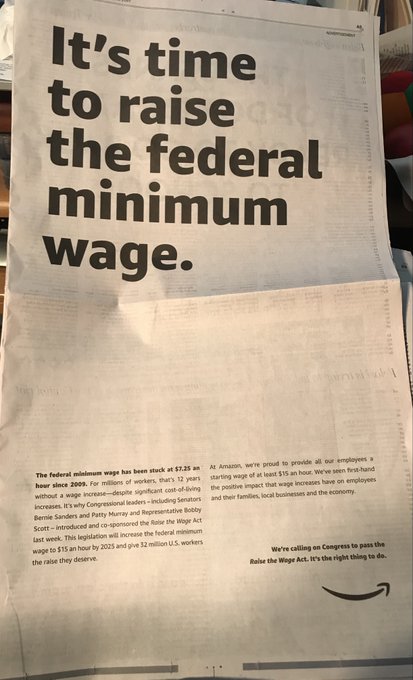 As a very rich company that already relies on a high degree of automation, it easily can afford to pay $15 per hour and above to every employee.
Indeed, it made a very showy decision back in 2018 to have a company-wide floor on compensation. Which is their choice.
But it's utterly despicable to then climb in bed with politicians and urge a costly mandate on small-business competitors.
And it's utterly callous for the company to take such a step when it will means unemployment for hundreds of thousands – if not millions – of workers with marginal skills.
The company is behaving just as badly as the unions that push higher minimum wages in order to push competing workers out of the market.
P.S. Don't forget that many state governments already screwed over small businesses by mandating their closure while not imposing the same pandemic-related restrictions on Amazon and big box stores.
P.P.S. It is possible that Amazon is also motivated by a desire to appease the Biden Administration and the Democratic-controlled Congress. In other words, the company openly endorses statist policies such as the higher minimum wage in hopes that it won't be targeted with other actions (antitrust, wealth tax, etc). Or maybe Amazon has a deal to support the higher minimum wage in exchange for the Biden Administration opposing the European Union's tax raid on American tech companies. But those excuses don't justify screwing over small businesses and low-skill workers.