I was a big fan of (and occasional guest on) John Stossel's TV show, and I'm now a big fan of his videos (see here, here, here, here, here, here, and here).
So it was an honor to appear in his latest video about "Capitalism Myths."
It's a two-part series. In this first video, we discussed three myths about free enterprise.
Myth #1 – Capitalists get rich by 'taking' money from others.
Since voluntary exchange, by definition, is mutually beneficial, this is a truly absurd argument. Indeed, only the most vapid politicians and pundits suggest otherwise.
The most definitive research in this area came from Professor William Nordhaus of Yale, who estimated that, "innovators are able to capture about 2.2 percent of the total social surplus from innovation."
Translated from economic jargon, that means the rest of society gets nearly 98 percent of the value created by rich entrepreneurs.
Myth #2 – The rich getting richer, and the poor getting poorer.
This is an issue I've repeatedly addressed, showing how poverty was the natural state of humanity until capitalism appeared a few hundred years ago.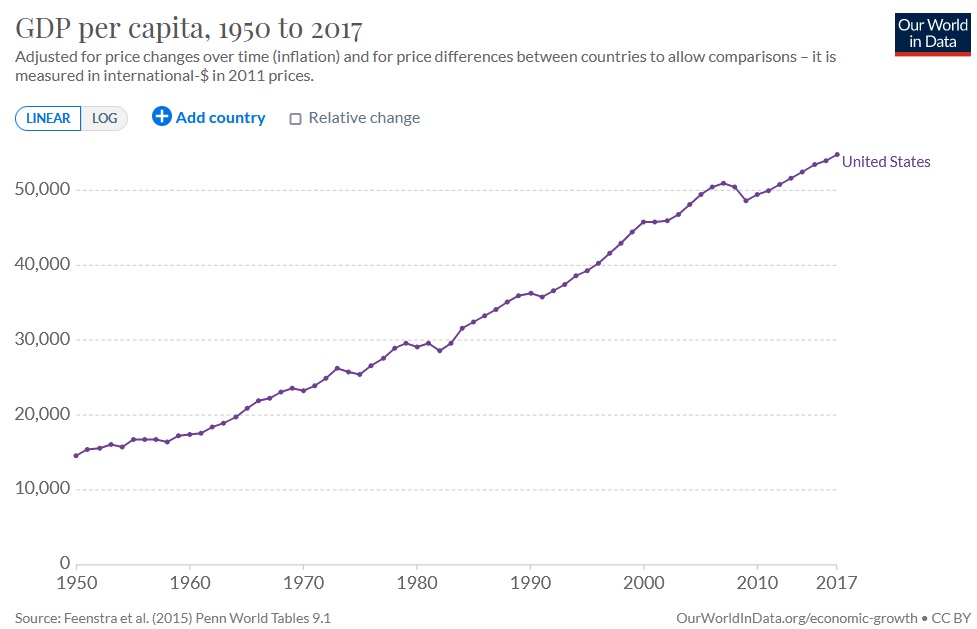 Now we are incomprehensibly rich by comparison. At least in market-oriented nations.
Focusing on more-recent data, I've shown that living standards have dramatically increased in the post-World War II era.
In the video, John and I also discussed the Census Bureau's data showing that the middle class is shrinking, but only because more people are becoming rich.
Myth #3 – Monopolies destroyed the free market.
Supporters of government intervention commonly argue that capitalism produces monopolies, meaning big producers capture the market and exploit consumers.
This is a rather puzzling argument since monopolies almost always are the result of government favoritism.
Even if we go back to the days of the so-called Robber Barons, we find that the consumers were only exploited when politicians decided to prohibit competition.
P.S. Next week, the second video will look at four other myths about capitalism.
P.P.S. On a related note, I have a five-part series (Part I, Part II, Part III, and Part IV, and Part V) on "The Case for Capitalism."