I don't like shoveling more money at a corrupt IRS, hurting jobs with higher taxes on "book income," price controls on prescription drugs, or green-energy pork.
But, as explained in this video clip, the insult added to injury is that the resuscitated "Build Back Better" is being sold as the "Inflation Reduction Act."
If a private company said that candy bars help you lose weight or that it is okay to stick your hand under a running lawnmower, it would be dragged into court for false and/or dangerous advertising.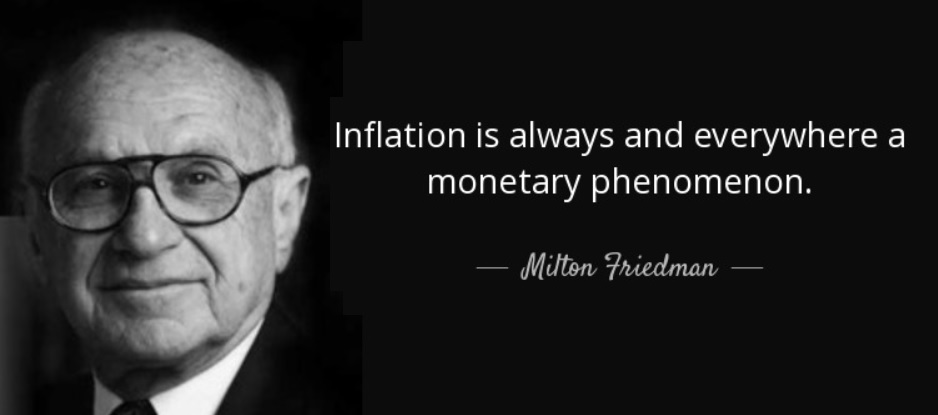 But when politicians make utterly dishonest claims about legislation, we have to grit our teeth and endure their lies.
The bottom line is that rising prices inevitably are a consequence of bad monetary policy.
That's true in the United States, and that's true elsewhere in the world.
So why, then, did Biden, Schumer, and Manchin decide to affix such an inaccurate label to their tax-and-spend package?
The answer presumably is political. Inflation is a problem for the incumbent party, so why not pretend the budget plan will somehow reduce inflation. Heck, if they could get away with it, they would probably call it the "Inflation Reduction and Cancer Elimination Act."
But, to be fair, perhaps some of them actually believe a big-government plan will have an impact on inflation. For instance, the misguided but honest folks at the Committee for a Responsible Federal Budget released an endorsement letter from 55 supposed experts based on the assumption that higher taxes will lead to lower prices.
Here are some excerpts.
With inflation at a 40-year high…, we are writing to encourage you to pass legislation to reduce budget deficits in a manner that would help counter inflation… As President Biden has explained, "bringing down the deficit is one way to ease inflationary pressures." …Given the current state of the economy, we believe passing deficit reduction would send an important message to the American people that their leaders are serious about tackling inflation.
There are two big problems with the letter.
First, it is based on Keynesian economics, which assumes higher prices are caused by excessive "aggregate demand" and that deficit reduction (whether from tax increases or spending restraint) can help by slowing the economy.
Yet this is the theory that also told us that it was impossible to have rising prices and rising unemployment, like we saw in the 1970s. And Keynesians also said we couldn't have falling unemployment and falling inflation, like we enjoyed in the 1980s.
Second, even if one believes in the fairy tale of Keynesian economics, all of the alleged deficit reduction occurs in future years.
And even that is nonsense since every sentient adult knows that the massive expansion of the IRS's budget is not going to generate a windfall of new tax revenue. And every honest person also knows that lawmakers plan on extending the new Obamacare handouts in the bill.
These tweets summarize why even Keynesians should realize the legislation is fraudulent.
P.S. It is very disappointing (but perhaps not entirely surprising) that former Indiana Governor Mitch Daniels signed the CRFB letter. And it also is disappointing that a couple of people from the American Enterprise Institute added their names as well. They all deserve the Charlie Brown Award.
P.P.S. As I noted in the video, deficit spending can lead to inflation if a central bank buys government bonds in order to help finance additional government spending (the crazy Modern Monetary Theory agenda). Perhaps I am being too charitable, but I don't think that's the reason for the Federal Reserve's big mistake (though I fear it may be happening with the European Central Bank).