At the risk of understatement, economists are not good forecasters.
And they are especially incompetent when they make forecasts based on bad policy,
such as when the Obama White House projected that his so-called stimulus would quickly lead to falling unemployment.
In reality, the jobless rate immediately increased and then remained much higher than projected for the remainder of the five-year forecast.
The failure of Obama's stimulus should have been a learning moment for Washington politicians.
But Joe Biden must have slept through that lesson because his first big move after taking office was to saddle the nation with a $1.9 trillion "stimulus" package.
The White House claimed this orgy of new spending would lead to four million additional jobs in 2021, on top of the six million new jobs that already were expected.
So what happened? Matt Weidinger of the American Enterprise Institute looked at the final numbers for 2021 and discovered that employment actually fell compared to pre-stimulus baseline projection.
The nonpartisan Congressional Budget Office projected on February 1, 2021…a gain of 6.252 million jobs over…2021…we now know payroll employment in the fourth quarter of 2021 averaged 148.735 million — an increase of 6.116 million compared with the average of 142.619 million in the fourth quarter of 2020. That means the job growth the President praised this week has fallen 136,000 jobs short of what was expected under the policies he inherited. …President Biden and congressional Democrats promised their $1.9 trillion American Rescue Plan would create millions of additional new jobs this year — on top of what White House economists called the "dire" baseline of 6.252 million new jobs reflected in CBO's projection without that enormous legislation. …House Speaker Nancy Pelosi (D-CA) repeated that claim, stating that "if we do not enact this package, the results could be catastrophic," including "4 million fewer jobs." Yet…not one of those four million additional jobs supposedly resulting from that $1.9 trillion spending plan has appeared, as job creation in 2021 did not even match CBO's projection without that legislation.
Below you'll see the chart that accompanied the article.
As you can see, the White House projected more than 10 million new jobs (right bar).
Yet we would up with 6.1 million new jobs (left bar), about 140,000 less than we were projected to get (center bar) without wasting $1.9 trillion.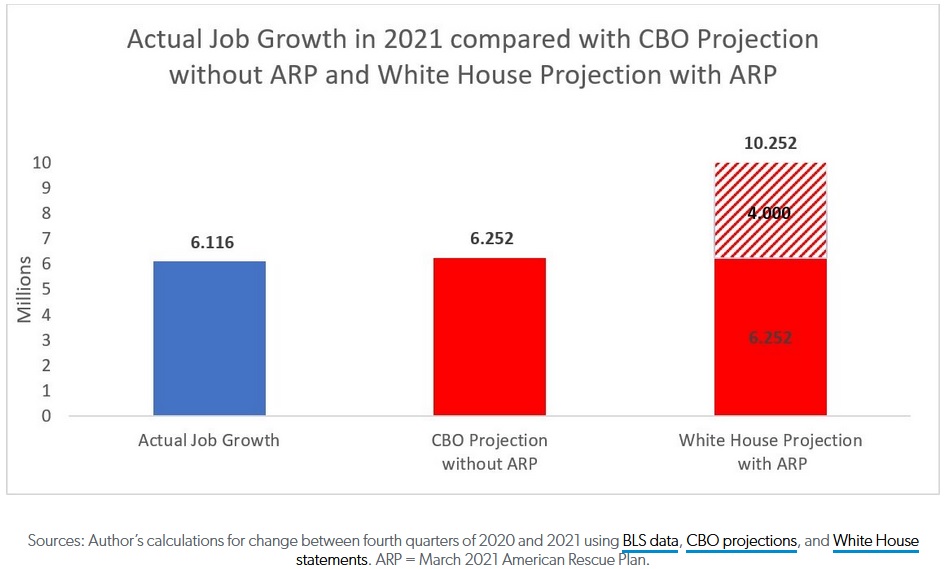 If pressed, I'm sure the Biden Administration would use the same excuse that we got from the Obama White House (and from the Congressional Budget Office), which is that the initial forecast was wrong and that the so-called stimulus did create jobs.
In other words, the Biden economists now would say they should have projected 2 million new jobs, which means that the $1.9 trillion spending spree added 4 million jobs, for a net increase of 6 million.
You may think I'm joking, but that is exactly how the Keynesian economists tried to justify Obama's stimulus failure.
The moral of the story is that the best way to really create jobs is to get government out of the way rather than adding new burdens.