Copying some self-styled national conservatives, Donald Trump this week endorsed major tax increases on lower-income and middle-class Americans.
But he embraced huge tax increases in an indirect fashion.
He did not say "let's adopt money-siphoning value-added taxes" like they have in Europe.
Nor did he say "let's impose very high income tax rates on ordinary people" like they do in Europe.
And he didn't say "let's have much higher payroll tax rates" like they have in Europe.
Instead, Trump embraced huge tax increases by default. He told congressional Republicans to ignore America's slow-motion crisis of entitlement spending.
For all intents and purposes, that is the same as embracing huge tax increases.
To be more specific, if you endorse European-style government spending, you are necessarily and unavoidably endorsing European-style tax policy.
And that's what Trump did. Here are some excerpts from a report in the Hill by Brett Samuels.
Former President Trump on Friday urged Republicans in Congress not to cut "a single penny" from Medicare or Social Security… "Under no circumstances should Republicans vote to cut a single penny from Medicare or Social Security…," Trump said in a recorded video statement posted to Truth Social. …The former president's message about protecting Social Security and Medicare is consistent with his previous comments on the issue as a candidate in 2016.
For what it's worth, I'm not surprised at what Trump said.
He favored big government as a candidate in 2016 and he expanded the burden of spending when he was President.
But some of us don't want to surrender and doom the United States to European-style economic stagnation.
Which is why I've decided to take a sentence I wrote last month and turn it into the 15th Theorem of Government.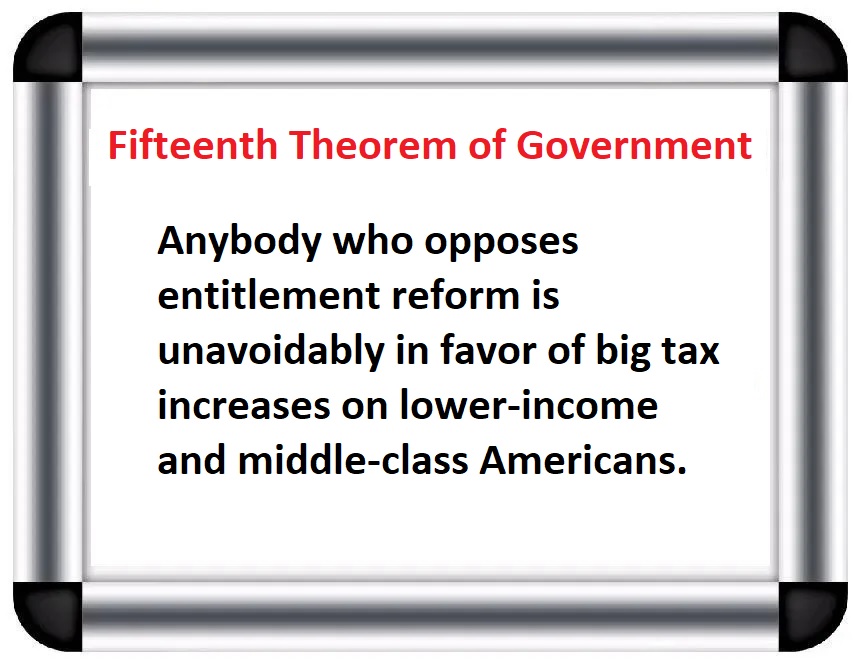 Here's the bottom line: Genuine patriots recognize America has a problem and they have the courage to advocate reforms that will actually solve the problem.
It will be interesting to see how many Republicans fit that definition.
P.S. I'm not a never-Trumper or anti-Trumper. For instance, I praised his tax policy and said nice things about his record on regulation. But I'm loyal to ideas, not to people, so I don't hesitate to criticize any politician who pushes ideas that are bad for America.
P.P.S. Here are the other 14 Theorems of Government.