A big argument for free enterprise over statism is that the former delivers growth while the latter leads to stagnation.
And that's very apparent when you review decades of data.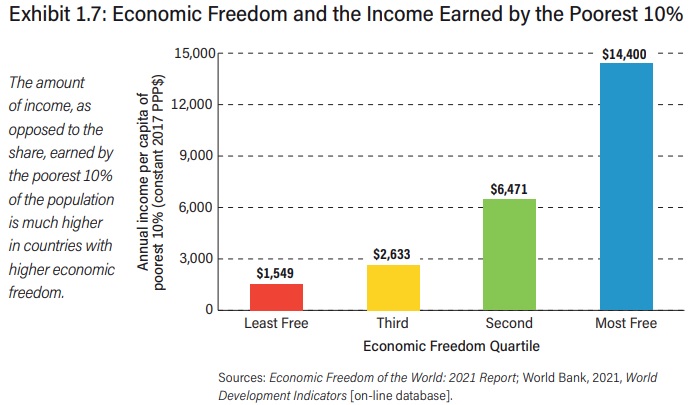 The case for capitalism is especially powerful if you care about what's best for the disadvantaged. As the chart from Economic Freedom of the World illustrates, poor people enjoy much higher levels of income in nations that have higher levels of economic liberty.
So why, then, do our friends on the left support bigger government?
There are several possible answers, but today let's focus on their understandable desire to do things that seem compassionate. Particularly things that seem to offer immediate help.
I think that's a big reason why some well-meaning leftists support a big welfare state even though there is plenty of evidence that poor people get trapped in dependency. They are so focused on doing something that ostensibly alleviates today's problems that they do not appreciate the risk of harmful long-run consequences.
This problem is so pervasive that we need to create a new Theorem of Government.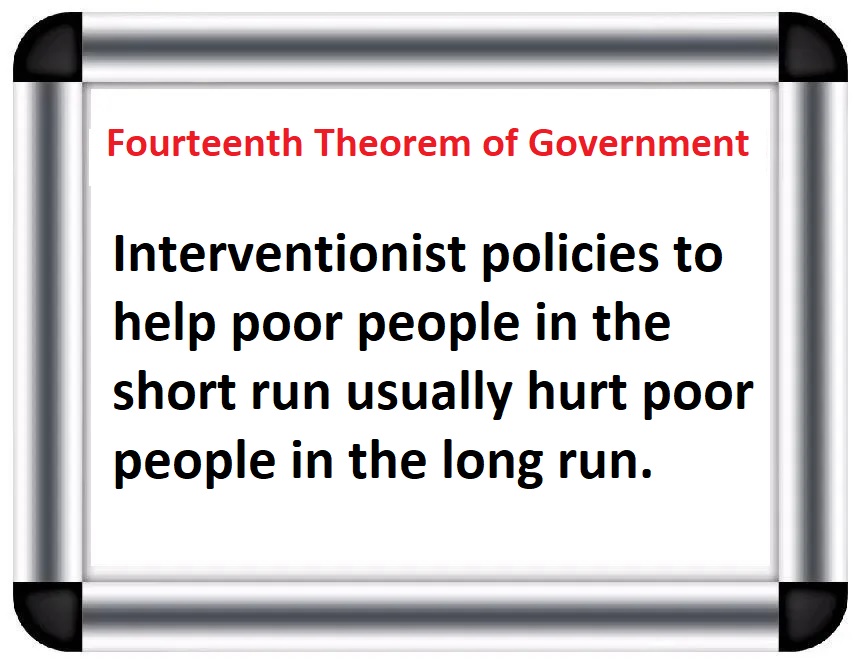 If you want an example of this Theorem, we can look at a story in today's New York Times.
Reporters Jeanna Smialek and Ben Casselman document how low-income people are being hurt by inflation and will probably be hurt by what will be needed to curtail inflation.
…data and anecdotes suggest that lower-income households, despite the resilient job market, are struggling more profoundly with inflation. That divergence poses a challenge for the Federal Reserve, which is hoping that higher interest rates will slow consumer spending and ease pressure on prices across the economy. Already, there are signsthat poorer families are cutting back. …The Fed might need to raise interest rates even more to bring inflation under control, and that could cause a sharper slowdown. In that case, poorer families will almost certainly bear the brunt again, because low-wage workers are often the first to lose hours and jobs. …America's poor have spent part of the savings they amassed during coronavirus lockdowns, and their wages are increasingly struggling to keep up with — or falling behind — price increases.
The story is filled with anecdotes about poor people suffering from inflation.
And, as the above excerpts captures, it has plenty of fretting about how the less fortunate will suffer as the Federal Reserve tries to fix the mess.
But what you won't find in the story is any acknowledgement that poor people would not be dealing with this hardship if the Federal Reserve had not made the mistake of creating too much liquidity in the first place.
Yet this is the big lesson all of us should learn.
The Federal Reserve wanted to offer short-run help to the economy, motivated in part by a desire to help poor people by propping up the economy during the pandemic.
Yet any short-run help has been swamped by subsequent negative consequences.
And this is not unique. The big lesson from the so-called War on Poverty is that poverty rates suddenly stopped declining. In other words, government tried to help, but wound up doing harm.
P.S. Here are the other 13 Theorems of Government.