Every six months or so, the Congressional Budget Office produces a 10-year forecast and most fiscal experts focus on the projections for deficit and debt.
Those are important (and worrisome) numbers, but I first look at the data showing what will happen to taxes and spending.
And you can see from this chart that the fiscal burden of the federal government is projected to grow at a very rapid pace over the next decade.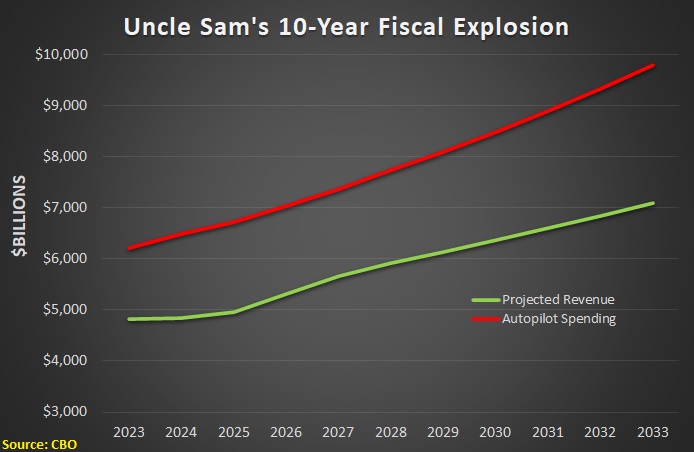 Other fiscal experts fret that deficits and debt are increasing between now and 2033, but the above chart shows that the real problem is that the spending burden is rising faster than the tax burden.
The real fiscal fight in Washington is how to close the gap between the red spending line and the green revenue line (supporters of Modern Monetary Theory say we can just print money to finance big government, but let's ignore them for purposes of today's column).
Since I think Washington is spending far too much, I want to close the gap by restraining the growth of government.
So here's a second chart illustrating what would happen if there was some sort of spending cap. As you can see, a spending freeze (like we had from 2009-2014) would balance the budget by 2030.
And spending would have to be limited to 1.3 percent annual growth if the goal is to balance the budget within 10 years,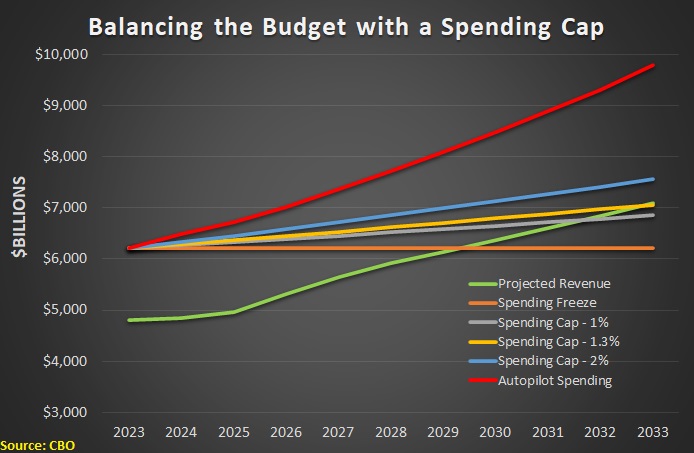 We can solve the problem. That's the good news.
The bad news is that politicians don't want to restrain spending.
And, even if they did want to do the right thing, adhering to a 1.3 percent spending cap would require serious entitlement reform. So don't hold your breath hoping for immediate progress.
P.S. The numbers are out of date, but here's a video that explains how spending restraint is the key to fiscal balance. And here's a video on how some other nations made enormous progress with multi-year spending restraint.