I wrote last month about a tax-and-spend proposal for single-payer healthcare in California (sort of a state version of "Medicare for All").
I also analyzed the scheme in this discussion with Gene Tunny of Australia.
What's remarkable, as Gene mentioned in his preface, is that the left's push for single payer failed – even though Democrats have complete control of the Golden State, including more than three-fourths of the seats in both chambers of the state legislature.
So why didn't those politicians hasten the state's slow-motion economic suicide?
Almost certainly, the biggest reason is that even folks on the left have second thoughts about the enormous tax increase that would have been required.
As I noted back in 2016, big government is only fun when somebody else is picking up the tab.
Which motivates me to unveil a Thirteenth Theorem of Government.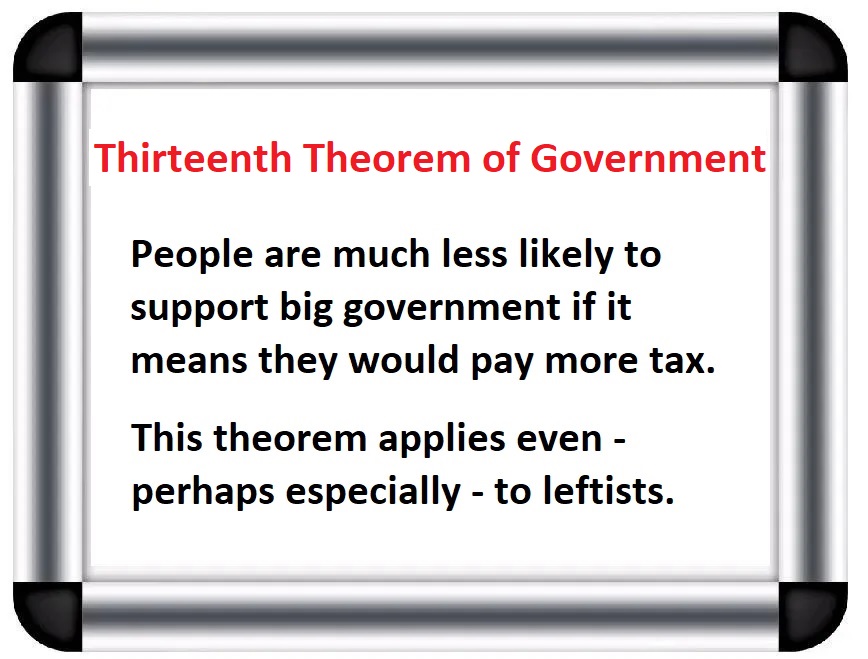 Let's take a closer look at what happened with single payer in California.
Here are some excerpts from a report by Sophia Bollag for the Sacramento Bee.
Efforts to create a government-run health care system for all Californians stalled Monday when the lawmaker pushing the legislation announced he didn't have the votes in time for a key deadline. Assembly Bill 1400 aimed to create a so-called single-payer health care system in California that would essentially replace private insurance with a state-run health system. …To fund it, lawmakers would have also needed to pass a separate bill to increase taxes… The taxes Kalra proposed would also require voter approval. …Kalra said the fight for single-payer health care won't die with AB 1400. Lawmakers could craft a different bill to implement such a system in the future. The bill's failure represents a blow to the California Nurses Association, which had backed the bill. …This isn't the first time a bill to create a single-payer system has died in the Assembly. The Senate advanced a similar bill in 2017, but it died in the Legislature's lower chamber. Gov. Gavin Newsom…has said he supports single-payer health care.
Giant tax increases were the big obstacle (as was the case a few years ago).
…higher taxes are a tough sell, even in the California Legislature where Democrats hold a super-majority. …Fiscal analyses estimate the bill could cost between $314 billion and $391 billion per year if it were implemented. That would dramatically increase total state spending; California's current budget is $262 billion. To pay for it, Kalra proposed taxing businesses 2.3% of their income after the first $2 million through a proposed amendment to the California Constitution. His proposal would also have imposed a 1.25% payroll tax on employers of 50 or more people and an additional payroll tax on wages for California residents over $49,900 per employee. The measure would have added progressive income taxes starting at .5% for people making more than $149,500, up to 2.5% for people making more than about $2.5 million per year.
By the way, the higher income tax rates mentioned in the last sentence would be in addition to California's already-highest-in-the-nation income tax rates.
In a column for Forbes, Patrick Gleason points out that the failure of single payer in California is part of a pattern.
For progressive lawmakers and activists who want to enact a national single-payer health care system, rejection of a state-level "Medicare For All" proposal in one of the bluest states in the nation, where Democrats have sweeping control of state government, is seen as a major set back. …California isn't the only state, let alone the only blue state, where single-payer health system legislation has crashed and burned. New York Assemblyman Richard Gottfried (D), the longest serving member of the history of the New York Assembly, has long pushed for the New York Health Act, a single-payer proposal for the Empire State. Assemblyman Gottfried's bill was approved by the New York Assembly five times between 1992 and 2018, only to see the state senate decline to take it up. As in California, exorbitant cost projections have been the main obstacle to single-payer's enactment. …it is single-payer champion Bernie Sanders' state of Vermont where state-level Medicare-For-All first proved to be unworkable. More than a decade ago, Vermont state lawmakers enacted legislation to implement a single-payer system called Green Mountain Care. …Shortly after the single-payer bill was enacted in 2011, Vermont officials were confronted with the reality that "free" health care is actually pretty costly for taxpayers. Governor Shumlin and Vermont lawmakers discovered they would need to impose a new 11.5% state payroll tax and a 9.5 percentage point income tax increase to pay for the new entitlement. Together these tax increases would've represented a more than 150% hike in the state's income tax.
If you want more information, I wrote about deep-blue Vermont's disastrous (but fortunately temporary) experiment with single payer back in 2014.
The article also should have mentioned that blue-leaning Colorado voters had a chance to adopt a single-payer scheme in 2016. By a stunning margin of 80-20, they voted it down.
The bottom line is that people (sadly) are willing to use government as a tool to steal from their neighbors. But the message of the Twelfth Theorem is that they generally don't like to steal from themselves.
P.S. Here are the other 12 Theorems of Government.