I wrote one week ago about a big victory for education in West Virginia. The Mountain State arguably now has the most extensive system of school choice in the country.
This will be great for parents and children.
There's a lot of research showing better educational outcomes when families have options other than low-performing, monopoly-based government schools.
Now we have some additional good news.
Kentucky legislators have just overridden the governor's veto, meaning that students in the state will now have expanded educational opportunities. Eric Boehm of Reason has some of the details.
The new law, originally House Bill 563, allows students in Kentucky public schools to switch school districts, and it creates a new tax-advantaged education savings program for families to use for private school tuition, to pay for tutoring, or to cover other educational expenses. The most controversial part of the proposal was the creation of a $25 million scholarship fund—to be filled by donations from private businesses, for which they would receive state tax credits—that students in Kentucky's largest counties can tap to help pay for private school tuition. …With the passage of the first school choice bill in state history, Kentucky is now the 28th state with some form of school choice.
Speaking of other states, the Wall Street Journal editorialized about the beginning of a very good trend.
The pandemic has been a revelation for many Americans about union control of public schools… That awakening is helping to spur some welcome reform progress as several state legislatures are moving to expand school choice. One breakthrough is in West Virginia, where the Legislature passed a bill creating the state's first education savings account (ESA) program. …Meanwhile in Georgia, the House passed a bill last week that would expand eligibility for the state's voucher program for special-education students. The Senate, which had already passed the legislation, voted to approve House amendments on Monday and the bill is headed to Republican Gov. Brian Kemp's desk. In South Dakota this month, Republican Gov. Kristi Noem signed a bill that expands eligibility for the state's tax-credit scholarship program to students already enrolled in private schools. …in Kentucky, where Democratic Gov. Andy Beshear vetoed a bill last week that would establish a new tax-credit scholarship program. But the state legislature voted late Monday to override the veto… Nearly 50 school-choice bills have been introduced this year in 30 states. It's a testament to how school shutdowns have made the advantage of education choice more evident, and its need more urgent.
By the way, school choice has existed for a long time in Vermont. Yes, the state that regularly reelects Crazy Bernie has dozens of small towns that give vouchers to students. Laura Williams explains in an article for the Foundation for Economic Education.
Vermont's "tuition towns"…distribute government education funds to parents, who choose the educational experience that is best suited to their family's needs. If the school doesn't perform up to parents' expectations, they can take their children, and the tuition dollars they control, elsewhere. …Ninety-three Vermont towns (36 percent of its 255 municipalities) have no government-run school at all. …the funds local governments expect to spend per pupil are instead given directly to the parents of school-age children. This method gives lower- and middle-income parents the same superpower wealthy families have always had: school choice. …parents have the ability to put their kids in school anywhere, to buy the educational experience best suited to each child. …A variety of schools has arisen to compete for these tuition dollars. …Eligibility for tuition vouchers actually increased home values in towns that closed their public schools. Outsiders were eager to move to these areas… Having watched these models develop nearby, two more Vermont towns voted in 2013 to close their government-run schools and become "tuition towns" instead.
Rhode Island is another unexpected example. That deep-blue state recently expanded charter schools in Providence.
That's not as good a genuine school choice, but it gives parents some ability to escape traditional government schools. The Wall Street Journal opined last year on this development.
…this particular hell may have frozen over, as last week the state's education council voted to expand and open more charter schools to rescue students in the district. About 13% of Providence's 30,000 students attend 28 charter schools, some in other districts. But demand far exceeds supply. Only 18% of the 5,000 or so charter school applicants were offered a seat this school year, according to the state education department. …The state education council last week gave preliminary approval for more than 5,700 new charter seats in Providence and other districts. Three of four new charters that applied got a green-light to open, pending final approval in the spring, and three existing charters (two of which serve Providence) are expanding. …The teachers union isn't happy. In a letter to Gov. Gina Raimondo, three union leaders including American Federation of Teachers President Randi Weingarten complained… This is the usual rhetorical union trick. Charters are public schools, albeit without the barnacles and costs of union control.
Let's now add to our collection of evidence about the benefits of school choice.
In an article for National Review, James Piereson and Noami Schaefer Riley discuss the track record of the Children's Scholarship Fund.
Children's Scholarship Fund enables low-income children to attend private schools — and thrive. …parents who receive financial aid from the organization…send their children to inner-city private (mostly Catholic) schools. …When it came to how satisfied they were with their children's education, almost 90 percent graded their school a 4 or 5 out of 5. …Since its inception in 1998, the fund has helped more than 180,000 children attend private schools. CSF's high-school graduation and college matriculation rates far surpass those of the urban public schools that surround them. In Philadelphia, for instance, 96 percent of CSF eighth-graders graduated from high school on schedule — compared with Philadelphia's public-school graduation rate of only 62 percent. A study of CSF in Baltimore found that 84 percent of scholarship recipients were enrolled in college five to ten years after completing eighth grade, compared with fewer than half of students from local public schools. Nor are these high-priced private schools. The average tuition at these schools is about $5,300 per year, and the average scholarship award is $2,200.
Why do even low-cost private schools out-perform expensive government schools?
Because they have to deliver a good product. Either that, or parents will take their money elsewhere.
It's a simple question of incentives, as illustrated by this meme about why private schools have been much better than government schools during the pandemic.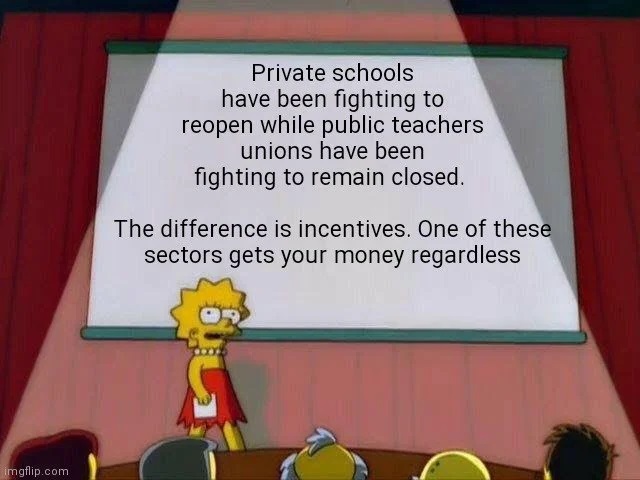 While the obvious argument for school choice is that it delivers better educational outcomes (and at lower cost), it's worth noting that there are all sorts of secondary benefits.
As explained by W. Bradford Wilcox in an article for the American Enterprise Institute, private schools produce better families.
The public debate surrounding the efficacy of private versus public schools tends to revolve around their relative success in boosting test scores, graduation rates, and college admissions. …But there is more to life than excelling at school and work. For instance, there is the opportunity to be formed into a woman or man of good character, a good citizen, or a good partner and parent. …Until now, however, we have known little about how different types of schools are linked to students' family life as adults. …In this report, we examine how enrollment in American Catholic, Protestant, secular private, and public schools is associated with different family outcomes later in life. …Adults who attended Protestant schools are more than twice as likely to be in an intact marriage as those who attended public schools. They are also about 50% less likely than public-school attendees to have a child out of wedlock. …Compared with public-school attendees, ever-married adults who attended a secular private school are about 60% less likely to have ever divorced. Catholic-school attendees are about 30% less likely to have had a child out of wedlock than those who attended public schools.
And Corey CeAngelis notes in this tweet that school choice reduces segregation.
And the Wall Street Journal editorialized last December about school choice improving mental health.
Teachers unions have pushed to shut down schools during the pandemic no matter the clear harm to children, just as they oppose charters and vouchers. Now comes a timely study suggesting school choice improves student mental health. Several studies have found that school choice reduces arrests and that private-school students experience less bullying. One reason is that charter and private schools enforce stricter discipline than traditional public schools. …The new study in the journal "School Effectiveness and School Improvement" is the first to…analyze the correlation between adolescent suicide rates and the enactment of private-school voucher and charter programs over the last several decades. They find that states that enacted charter school laws witnessed a 10% decrease in suicide rates among 15- to 19-year-olds. Private-school voucher laws were also associated with fewer suicides, though the change was not statistically significant. The effect would likely be larger if more students received vouchers. …The researchers also looked for any correlation between students who attended private school as teenagers and their mental health as adults. …individuals who attended private schools were two percentage-points less likely to report a mental health condition when they were roughly 30 years old.
Let's conclude with some excerpts from a strong editorial from National Review. The magazine points out that teacher unions wield power in blue parts of the nation and schools are run for their benefit rather than for the best interests of children.
…the interests of children and their families take a distant second place to the desires of the public-sector unions that dominate Democratic politics around the country and run the show practically unopposed in California. …unionized teachers…have turned up their noses at the children they are supposed to be serving and looked instead to their own two-point agenda: (1) not going to work; (2) getting paid. Randi Weingarten exercises more real practical political power than any senator or cabinet secretary, and her power is exercised exclusively in the interest of public-sector workers and the Democratic Party, which they effectively control. Perhaps it is time for Americans to take back some of that power.
And what's the way to take back power?
It's possible to reform labor laws so teachers don't have out-sized influence. That sort of happened in Wisconsin under Governor Scott Walker.
But that's difficult to achieve and difficult to maintain.
The best long-run answer is to have school choice so parents are in charge rather than union bosses.