When I shared the best and worst news of 2021, I expressed happiness about how school choice is spreading across the nation.
But it's not spreading as fast as it should because some establishment Republican state legislators would rather kowtow to teacher unions rather than promote better educational opportunities for the kids in their districts.
But parents are beginning to notice.
In a closely watched primary contest yesterday in Iowa, the Republican Chairmen of the House Education Committee (and a lackey of the teacher unions)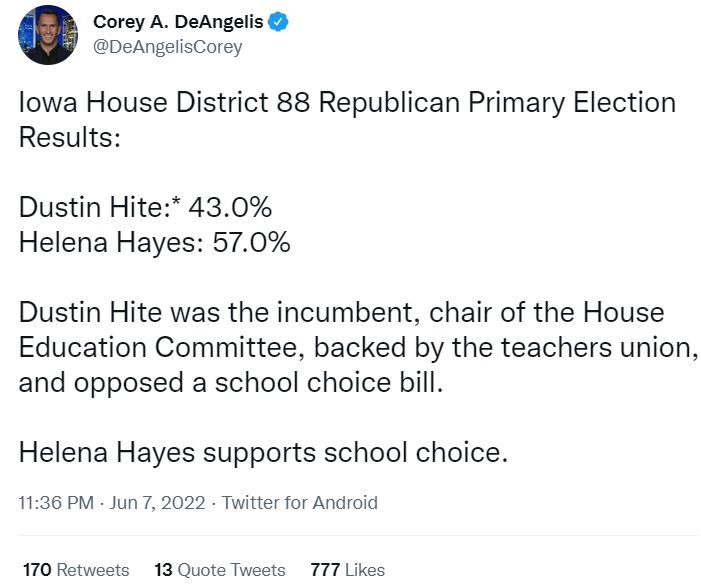 was being challenged by a supporter of school choice.
Needless to say, it's very difficult to defeat an incumbent politician. But, as Corey DeAngelis shared in a tweet, the challenger prevailed in a stunning outcome.
And if you peruse the press release from the American Federation for Children, that was just one of many victories in the Hawkeye State.
Indeed, it's just one of many victories in primaries across the country.
Corey wrote an article last week for National Review, co-authored by Jason Bedrick, that analyzed primary results in other states this year.
They start with some good news.
DeSantis made school choice a centerpiece of his campaign, and voters rewarded him. In a race decided by fewer than 40,000 votes, his unusually high level of support among black women (18 percent, or about 100,000 votes), who chose him over an anti–school choice black Democrat, Andrew Gillum, proved decisive. …Republicans began wrapping themselves in the mantle of parental rights and school choice, but the fulfillment of their promises has been mixed. States such as West Virginia and New Hampshire enacted bold new education-choice policies in 2021, while Florida, Indiana, and more than a dozen other states expanded existing choice policies.
They then share some bad news.
Nevertheless, choice initiatives stalled this year in Georgia, Idaho, Iowa, Oklahoma, and Utah, with some Republicans casting the deciding votes.
But they close with the best news of all.
In recent primaries, GOP voters threw their support to candidates who supported choice, even if it meant tossing out otherwise conservative incumbents. …Representative Phil Stephenson, an incumbent backed by the teachers' union, lost to school-choice supporter Stan Kitzman, who secured 58 percent of the vote despite spending less than half of what his opponent spent… Likewise, school-choice champions Ellen Troxclair and Carrie Isaac both defeated candidates who were endorsed by the Texas affiliate of Randi Weingarten's American Federation of Teachers. In all, eleven of 14 Texas House of Representatives candidates endorsed by the pro-school choice Texas Federation for Children PAC won their primary runoffs. …in Kentucky, an incumbent known to be the leading opposition to school choice in the Republican caucus, Representative Ed Massey, suffered a devastating primary defeat by school-choice champion Steve Rawlings, who garnered 69 percent of the vote despite being significantly outspent. Candidates endorsed by American Federation for Children Action Fund and its affiliates won their primaries or advanced to runoffs in 38 of 48 races in Texas, Arkansas, Idaho, Georgia, and Nebraska so far this year.
Actually, the best news of all is not what happens in elections. Instead, the best news is when legislation is approved that expands school choice. Like we saw last year in West Virginia and other states.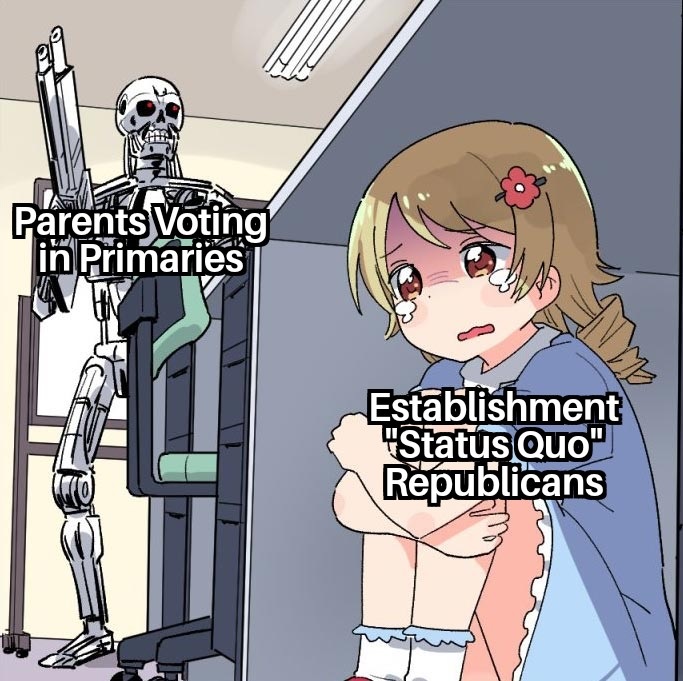 I'll close with some political analysis.
I'm a big fan of the no-tax-pledge organized by Americans for Tax Reform.
Why? Because it is a way of targeting politicians who are sympathetic to tax increases.
Signing the pledge does not guarantee that a candidate is good (they can vote for debt-financed spending without violating the pledge).
But a candidate who does not sign the pledge almost certainly is bad. And voters now have a way of identifying – and rejecting – those politicians.
We need something similar for school choice. Maybe that's a pledge. Maye it's simply endorsements by the American Federation for Children.
All that matters is that politicians learn that there are negative consequences if they side with teacher unions instead of children.
P.S. Politicians who oppose school choice often are reprehensible hypocrites, as noted by Democratic state senator Justin Wayne of Nebraska.