I've been pontificating in favor of school choice from the early days of this column, in part because I believe in the benefits of competition and in part because there's such overwhelming evidence that government schools have deteriorated.
In recent years, I've shared good news about states implementing and expanding school choice, with Arizona and West Virginia deserving special praise.
But I've always wondered which states do the best job and which states do the worst job with education policy.
Thanks to the Heritage Foundation, we now have an answer. Its Education Freedom Report Card looks at four variables (choice, transparency, regulation, and spending) to rank the states.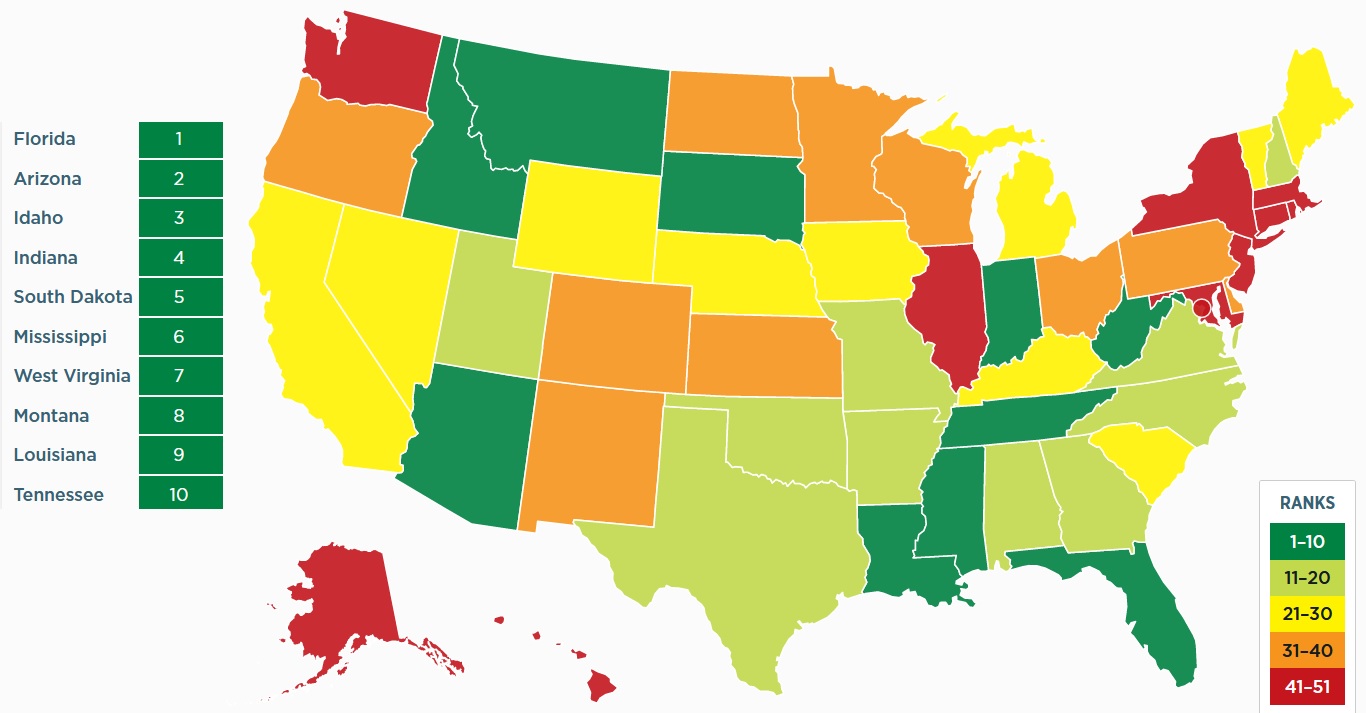 As you can see from this map, Florida is in first place for overall education policy, followed by Arizona, Idaho, Indiana, and South Dakota.
The worst state isn't a state. It's the District of Columbia.

New York is next, followed by New Jersey, Maryland, Massachusetts, and Connecticut.
The best part of the report is that you can also see how states rank in the four categories.
As a fiscal policy person, I'm naturally interested in how states rank with regards to spending, especially since that variable shows that you can get good results without spending a lot of money (congratulations to Idaho for winning that category, followed by Utah and North Carolina).
Very similar to the "ROI data" on cities that I looked at back in 2015.
But the data that really intrigues me is the ranking on school choice.
For background, here its some of what's written in the report.
Our report card measures four broad categories (School Choice, Transparency, Regulatory Freedom, and Spending) that encompass more than two dozen discrete factors. ...Florida is the top-ranked state across the board. Families looking for a state that embraces education freedom, respects parents' rights, and provides a decent ROI for taxpayers should look no further than The Sunshine State.
But I want to focus specifically on school choice. On that basis, Arizona is in first place, followed by Indiana, Florida, Missouri, and Oklahoma.
Hawaii is in last place, followed by Massachusetts and North Dakota.
Here's some discussion of the report's methodology.
States with more education choice have more educational liberty. "Education Choice" has five sub-categories: (a) Private School Choice, (b) Private School Choice Program Design, (c) Charter Schools, (d) Homeschooling, and (e) Public School Choice.
Charter schools are better than regular government schools, so it's good they're included.
And ranking states on their homeschooling laws is even better.
P.S. There are very successful school choice systems in Canada, Sweden, Chile, and the Netherlands.
P.P.S. Getting rid of the Department of Education would be a good idea, but the battle for school choice is largely won and lost on the state and local level.