If you want visual proof of Chile's "improbable success," this chart tells you everything you need to know.
Thanks to free-market reforms in the 1980s and 1990s, growth exploded, Chile became the Latin Tiger and poverty plummeted.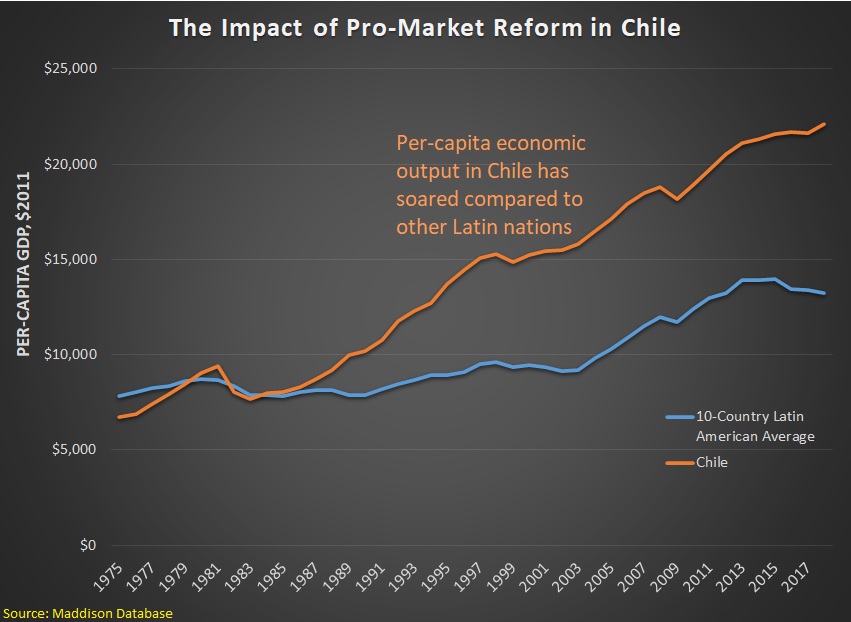 It's remarkable how quickly per-capita GDP has increased compared to the average of other major Latin American economies (Argentina, Bolivia, Brazil, Colombia, Ecuador, Mexico, Peru, Paraguay, Uruguay, and Venezuela).
Some folks on the left (including editors at the New York Times) bizarrely think Chile's "neoliberal experiment" has been a failure. Given their upside-down perspective, they probably think Venezuela is a smashing success.
But today's column is not about what's happened in the past. It's about what may happen in the future because of an upcoming presidential election.
Let's start with this article from the Economist, which expressed concern back in November that the first round of the presidential election would lead to a stark ideological choice between the hard left and hard right.
…stable

Chile

disappeared two years ago, in an explosion of massive and sometimes violent protests…In a vote for the constitutional convention in May (in which only 43% turned out), support surged for the hard left while drying up for mainstream parties. As a result, the convention has become a theatre of wokeness, with calls to wage war against pivotal industries…,

alongside…for a bigger role for the state in pensions, health care and green regulation. …pessimists fear a Utopian list of unaffordable rights and anti-capitalism. …Gabriel Boric, the candidate of the hard left, has seemed poised to win the presidential election. A former student leader, …some of his allies…include the Communist Party… Mr Boric wants to expand tax revenues by 8% of gdp over six to eight years (impossible, say many

economists

) and review trade agreements in order to engage in industrial policy. …That is why support has grown for José Antonio Kast of the hard right. …Whereas Mr Boric promises the most left-wing government since the chaotic Socialist-Communist administration of Salvador Allende, Mr Kast offers the most right-wing one since the dictatorship of General Augusto Pinochet.
Sure enough, the November election put Boric and Kast in a runoff, which is scheduled for December 19.
I don't know if it would be accurate to say this is akin to a hypothetical Rand Paul-Bernie Sanders contest, but a report in the Wall Street Journal suggests that are very big economic implications.
After years of protests and political upheaval that seemed certain to shift Chile's politics sharply to the left, voters in the first round of a presidential election largely backed candidates who support the country's free-market economy… More than half of the ballots in the Sunday vote went to three right-wing candidates who support the market economy, led by first-place finisher José Antonio Kast with 28% of the vote. Gabriel Boric, the leftist candidate who backs dismantling a private pension system and creating a state-run lithium company, finished second with 26% of the votes… "People didn't buy the idea that Chile needs to dismantle the market-friendly model, they just want a stronger social safety net," said Patricio Navia, a Chilean political scientist at New York University. …The future of Chile's once-lauded economic model that bolstered foreign trade and slashed poverty over the last three decades has been in doubt since mass protests erupted two years ago… Mr. Kast, a 55-year-old former lawmaker…, says he is a democrat who is offering Chileans economic prosperity and freedom.
By the way, the presidential election isn't the only big thing that's about to happen in Chile.
The article also acknowledges something I wrote about last year, which is the possibility of a new constitution based on entitlements rather than liberties (i.e., positive rights vs negative rights).
The election is being held as a special assembly made up of mainly leftist delegates is writing a new constitution, which could weaken investor protections and expand social rights. The constitution is expected to be finished next year when it will be put to a referendum.
A Washington Post column published yesterday by Professor Michael Albertus summarizes what's at stake.
Chile's presidential runoff election on Dec. 19 is the country's most important election since its return to democracy in 1990. …Chile's election pits José Antonio Kast, a bombastic far-right politician whom many liken to Donald Trump and Jair Bolsonaro, against Gabriel Boric, a far-left lawmaker and former student organizer. …The stakes couldn't be higher. Chile's ongoing constitutional convention is poised to propose next year the biggest overhaul to the country's political system since the Pinochet dictatorship.
Prof. Albertus points out that the election isn't just about economics.
There are big fights about immigration, law and order, abortion, and indigenous rights.
For those of us who care a lot about prosperity, Mary Anastasia O'Grady of the Wall Street Journal opined two days ago on the implications of Chile's upcoming choice.
The stakes are high in Chile's Dec. 19 runoff presidential election pitting the free-market former Congressman José Antonio Kast against socialist Congressman Gabriel Boric. The country has been trending left for years. But Mr. Kast's surprise first-place finish in the election's first round—with 28% of the vote—and the center-right's strong showing in legislative elections suggests that Chileans are reconsidering national suicide. …If the vote goes left, Chileans can expect policy geared toward greater redistribution of the existing wealth-and-income pie—higher taxes, nationalization of pensions, populism, etc. If the vote goes right, there will be a chance to restore the fast growth of the 1990s by deepening the liberal economic agenda. …there's something much bigger at stake. That is the survival of the democratic institutions protecting the pluralism, property rights and public order that have made Chile one of Latin America's richest countries. Mr. Boric is backed by a coalition—Approved Dignity—heavily influenced by the Communist Party and other hard-left groups. …If Mr. Boric wins the runoff, you can bet they will demand their pound of flesh.
Ms. O'Grady's column notes that Chile's free-market reforms dramatically reduced poverty (for more details, see here, here, and here).
The market economy has been enormously successful in Chile. The share of Chileans living in poverty fell to 8.6% in 2017 from 68.5% in 1990, according to official data. Extreme poverty over the same period dropped to 2.3% from 48.8%. It's a development record that few countries in the world have achieved.
Last but not least, she makes a very important point that Chile's recent performance has not been very impressive.
…the clamor for change isn't irrational. According to Chilean economist and investor José Luis Daza, …In the five years before the pandemic in 2020, the country grew at an average annual rate of 1.9%, less than half that of the world economy. "After 2000," he told me in a phone interview from Santiago last week, "there has been zero productivity growth. In fact, it has been marginally negative." …It was in the midst of this economic malaise in October 2019 that extreme-left militants burst onto the scene in Santiago. …Mr. Daza recently put his work in New York on hold to join Mr. Kast's economic advisory team with a focus on growth.
I'm not surprised. There has not been any meaningful pro-growth reform this century. Indeed, the opposite is true. Policy has actually drifted in the wrong direction.
But if Boric wins this weekend, a drift in the wrong direction could become a tidal wave, washing away the Chilean Miracle.
The last thing Latin America needs is another Venezuela. Milton Friedman will be rolling over in his grave.
P.S. I'm especially concerned that a victory for the left could lead to the repeal of some of Chile's best policies, including social security personal accounts and nationwide school choice.