In a recent column about Haiti, I cited a New York Times column and expressed puzzlement that the author could write about that nation's poverty and barely mention the role of economic policy.
Today, we're going to focus on Nigeria.
Just like two days ago, let's start by laying out some facts about the quality (or lack thereof) of the country's economic policy.
We'll begin with some very bad numbers from the Heritage Foundation's Index of Economic Freedom. As you can see, Nigeria ranks #124, with failing grades in many key area.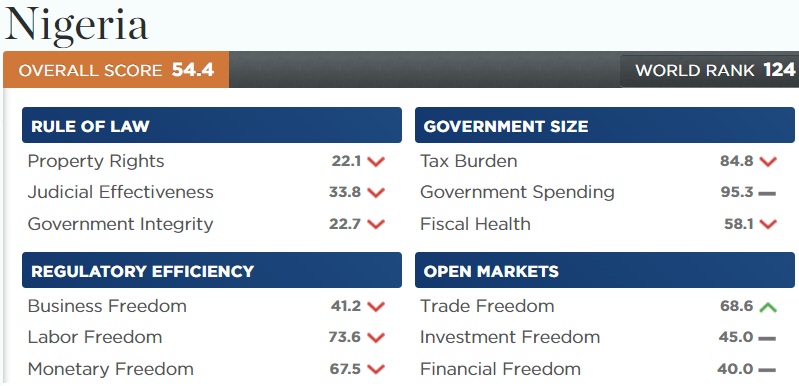 To be sure, ranking #124 is not as bad as being North Korea, which is in last place at #177. Or Venezuela, or Cuba, which are the next-to-last jurisdictions.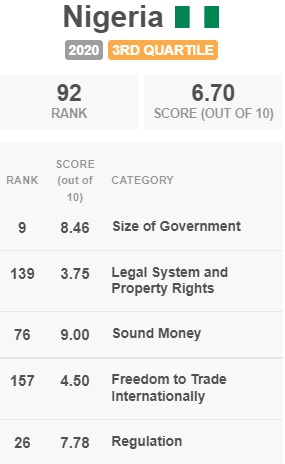 But we can safely say that Nigeria is a country with very little economic liberty.
And the Fraser Institute's Economic Freedom of the World tells a similar story. Nigeria is mired in the next-to-last quartile and ranks #92 (out of 165) in the world.
The country is especially bad on trade policy and the rule of law (legal system and property rights).
So why am I citing all this data?
Because I just read an article in Foreign Affairs about that nation's economic misery and – just like the article about Haiti – it cries out for correction.
In this case, though, the article actually focuses on the role of economic policy, but from a very misguided perspective.
Authored by Amaka Anku, it tells readers that the problem in Nigeria is that government is not strong enough or active enough.
…despite having the world's ninth- and tenth-largest natural gas and crude oil reserves, respectively; one of the world's largest swaths of arable land; and a young and entrepreneurial population, Nigeria has fallen far behind peer countries such as Indonesia and South Korea when it comes to gross national income, GDP per capita, and industrial production. …the state is unable to stimulate broad-based economic growth. …the view that a strong and capable state is required to create the conditions for economic transformation is slowly gaining ground. …Nigeria must aspire to much more…to strengthen the federal government… A better resourced civil service…would make it easier to attract talent and help transform an inefficient bureaucracy into one that can stimulate and effectively regulate local industry. …
Ms. Anku makes several bold assertions, such as the value of "a strong and capable state" and a supposed need "to strengthen the federal government," in part via "a better-resourced civil service."
There is an attempt to justify the aforementioned statements.
She claims that nations such as Singapore are the role model. Or even the United States in the 1800s.
…although the role of a strong state in stimulating the economic transformation of newly industrializing countries such as China, Singapore, and South Korea is relatively well understood, ideological blinkers have prevented many Western scholars and policymakers from acknowledging that a strong central government played a similar role in the United States' own economic takeoff. …Among the most important federal interventions—but by no means the only ones—were extensive subsidies for national transport infrastructure, strategic investments in emerging technologies, and strong support for fair labor and other redistributive policies that ensured a level playing field and improved worker productivity.
I have a semi-friendly response to Anku's article and a…well, let's call it a skeptical reaction.
The sympathetic response is that it's good to have a small-but-competent government. Indeed, that's the argument made by "state-capacity libertarians" and others who argue that the U.S. had such a system in the 1800s.
Nowadays, Singapore often is a role model for these people. So if Anku is suggesting that Nigeria should copy Singapore (the world's second-freest economy), I'll be the first to applaud.
But I suspect that's not what she has in mind. For instance, Ms. Anku expresses support for "redistributive policies."
That's not consistent with Singapore's approach. And South Korea has a relatively small welfare state compared to other OECD nations. Heck, the United States had no welfare state back in the 1800s.
Sadly, I fear Ms. Anku's concept of "a strong and capable state" is probably akin to what the IMF and other international bureaucracies are peddling.
In  other words, higher taxes and bigger government based on the anti-empirical notion that this will magically deliver prosperity.
Needless to say, that's bunk.
P.S. I also can't resist pointing out that it's silly for Ms. Anku to equate China, Singapore, and South Korea. Singapore and South Korea are examples of "tiger" economies. But China lags well behind because it does not have the pro-market policies that enabled the other two nations (as well as places like Hong Kong and Taiwan) to become very rich very fast.
P.P.S. Trump also misinterpreted U.S. policy in the 1800s.