When I wrote about the 2021 edition of Economic Freedom of the World, I noted that both Chile and Canada were drifting in the wrong direction.
In the just-released 2022 version, there's not any good news about those two countries, but I was more struck by the very bad news about the United Kingdom, which fell out of the top 20 thanks to a big drop in its score.- from 8.16 to 7.71 (more evidence that Boris Johnson was bad news).
Here are the jurisdictions with the most economic liberty.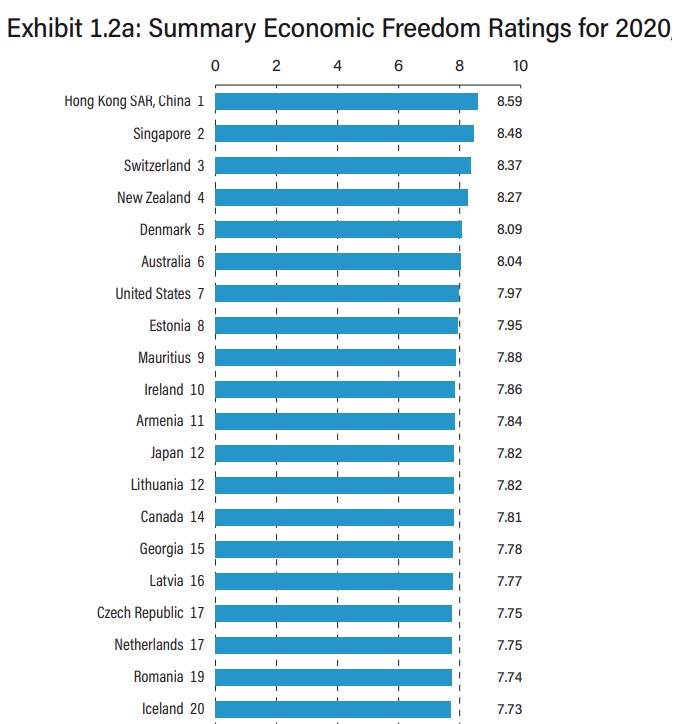 The bad news is that every nation in the top 20 had less economic liberty in 2020 than in 2019.
American readers will be interested to see that the United States dropped from #6 to #7.
And Switzerland leapfrogged New Zealand to claim the #3 slot.
Denmark, Japan, and Estonia jumped several spots in the rankings. Not because their scores increased, but rather because other nations moved in the wrong direction at an even-faster pace (note that Denmark now ranks above the USA).
By the way, few people will be surprised to see that Venezuela remains in last place, though fairness requires that I acknowledge that it was one of the few countries to get a better score.
Here are some of the other key findings.
The index published in Economic Freedom of the World measures the degree to which the policies and institutions of countries are supportive of economic freedom. …The EFW index rates 165 jurisdictions. The data are available annually from 2000 to 2020… The most recent comprehensive data available are from 2020. Hong Kong remains in the top position, though its rating fell an additional 0.28 points. Singapore, once again, comes in second. The next highest-scoring nations are Switzerland, New Zealand, Denmark, Australia, United States, Estonia, Mauritius, and Ireland. …lowest-rated countries are…Iran, Libya, Argentina, Syria, Zimbabwe, Sudan, and lastly, Venezuela. …Nations in the top quartile of economic freedom had an average per-capita GDP of $48,251 in 2020, compared to $6,542 for nations in the bottom quartile.
The final sentence in the above excerpt is key. More economic liberty is strongly associated with more national prosperity.
I was curious about whether Hong Kong would retain the #1 slot. And it did, even though its score dropped to 8.59. For what it's worth, the authors are not optimistic about the future.
Hong Kong has been…at the top of the EFW index for all years for which we have data, and this remains the case in 2020. In previous annual reports, we sounded the alarm bell about signs of declining economic—and other—freedoms in Hong Kong. In particular, we highlighted the new security law imposed in 2020 by the Chinese government with potential sentences of life imprisonment and the accompanying arrests in its aftermath. In this year's report, Hong Kong's overall EFW rating fell by a stunning 0.28 points to 8.59 for 2020 from 8.87 in 2019. …Hong Kong's decline was much larger than the world's average decline.
Speaking of declines, here's a very sad chart. It shows that global economic liberty suffered a big drop from 2019 to 2020.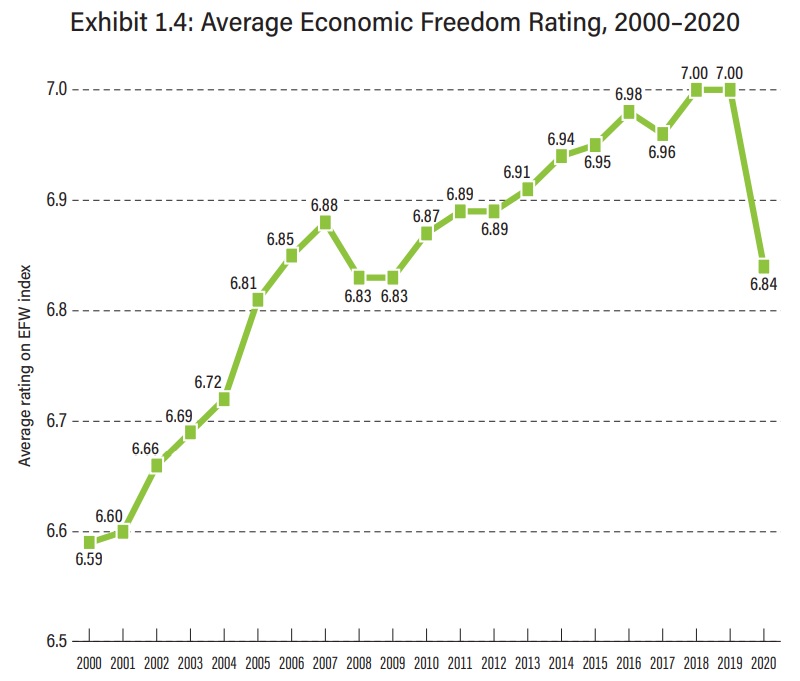 The pandemic is the main reason for the decline.
The policy responses to the coronavirus pandemic, including massive increases in government spending, monetary expansion, travel restrictions, regulatory mandates on businesses related to masks, hours, and capacity, and outright lockdowns undoubtedly contributed to an erosion of economic freedom for most people. Not surprisingly, virtually all jurisdictions, 146 out of the 165 to be exact, recorded lower scores in 2020 than in 2019, and the global average of the summary EFW index fell by 0.18 points. … these various policies…very well may have saved millions of lives, or they may have been completely ineffectual. That is a question for epidemiologists and health economists to work out. Our concern is economic freedom, and, on that margin, there is no question that government policies responding to the coronavirus pandemic have reduced economic freedom.
We'll probably have to wait two years to see whether governments undo pandemic-related policy mistakes.
Next year's version will reflect 2021 data, and many nations such as the United States were still imposing bad fiscal and monetary policy at that time.
It's possible that we will see some improvement next year, but I'll be even more curious to see EFW's 2024 edition, which will be based on 2022 data.
My fear is that politicians and bureaucrats will have self-interested reasons to retain the additional power they grabbed during the pandemic. But I'll keep my fingers crossed.
Let's close with a depressing look at the nations that lost the most economic freedom in the current edition.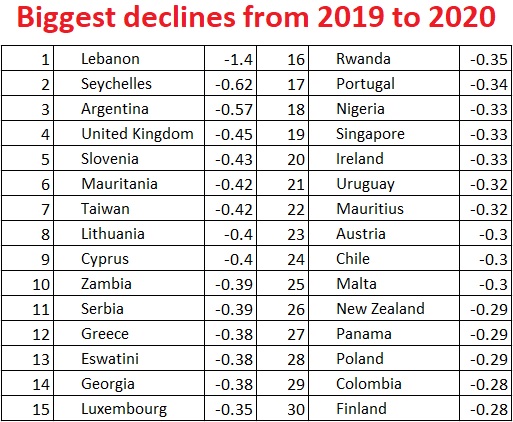 For personal reasons, I'm sad to see the big declines in Taiwan, Georgia, Singapore, and Panama.
And it's amazing (in a bad way) that Argentina and Greece managed to fall so much, given that they started with bad scores.
Sadly, every developed nation moved in the wrong direction. The industrialized countries that moved in the wrong direction by the smallest amounts are Switzerland (-.12), Australia (-.13), Sweden (-.14), and Denmark (-.14).