My late friend Walter Williams was a first-rate economist, an important public intellectual, and a truly great American. He also was an amazing communicator, with an unparalleled ability to make important points in a succinct and easy-to-understand manner.
My favorite Walter quote is about how capitalism enabled positive-sum wealth creation.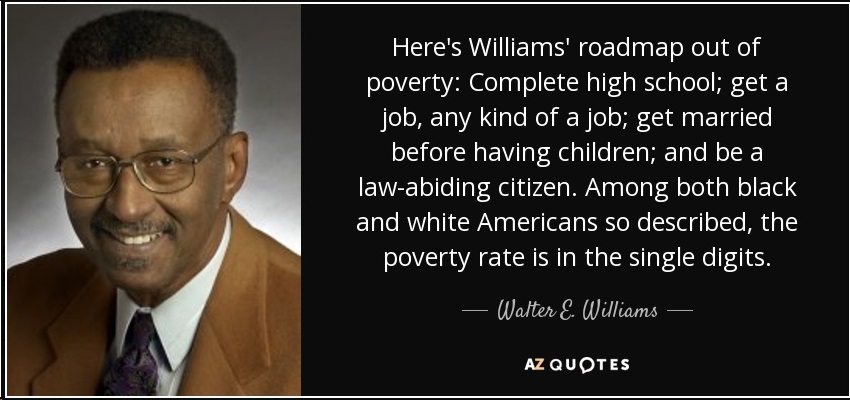 Today, though, I want to share Walter's quote about the simple rules for life that basically eliminate poverty.
Sadly, the current welfare state undermines those rules and instead lures many people into self-destructive behaviors. Choices that are bad for them and bad for society.
Have kids out of wedlock? No problem, Uncle Sam will take care of you with a plethora of handouts.
Watch TV on the sofa all day rather than work? No problem, Washington will provide you with benefits.
As an economist, I'm especially concerned that redistribution programs discourage employment. That's bad for the economy. Even more important, it's very bad for people who get trapped in lives of dependency.
Oh, and let's not forget that the welfare state also is a big burden on taxpayers.
The reason for highlighting these problems is that Senator Mitt Romney has unveiled a plan (the "Family Security Act") to have the federal government provide universal child allowances.
The good news is that his plan will mitigate some of the problems with the current system. The bad news is that his proposal will exacerbate other problems.
Here are some excerpts from the Senator's summary of the proposal.
The Family Security Act would provide a monthly cash benefit for families, amounting to $350 a month for each young child, and $250 a month for each school-aged child. …Promoting marriage; Providing equal treatment for both working and stay-at-home parents; and Reforming and consolidating outmoded federal programs, including by fully paying for the new proposal….a new national commitment to American families by modernizing and streamlining antiquated federal policies into a monthly cash benefit. …The bill consolidates overlapping and often duplicative federal policies into direct support for families. …deficit-neutral.
That description sounds nice, and the proposal would be beneficial in some ways.
Most notably, there would not be high implicit marginal tax rates on work (a big problem in the current system) since people would get the child allowances regardless of employment status.
But there are some serious drawbacks to the plan. Here are four things that cause concern.
First, it increases the burden of government.
Senator Romney (as well as proponents of the plan such as the Niskanen Center) highlight the fact that the plan is "deficit neutral." But that doesn't tell us whether the plan increases or reduces the size and scope of the federal government.
Unfortunately, if you take a close look at the Senator's summary, it's clear the proposal would be a net increase in the burden of spending.
Here's the relevant table, which ostensibly shows Romney's new spending along with the "spending offsets" that make the plan deficit neutral.

For what it's worth, I'm disappointed that the Senator (his staff?) chose to be dishonest. Three of the "spending offsets" are actually measures that would increase tax revenue (circled in red).
And when you fix that dodgy bit of accounting, Romney's plan would add more than $45 billion per year to America's fiscal burden.
Second, why would anyone think it's a good idea to copy Europe?
According to an article from HuffPost, "The U.S. is one of the only developed countries that doesn't pay parents a child benefit or child allowance. Romney's proposal shows there is bipartisan support for the policy."
This is an accurate observation, but it's hardly persuasive. Yes, European nations generally send people money simply because they have children.
But why on earth would we want to copy nations where living standards are far below American levels? Heck, poor people in America tend to be more prosperous than middle-class people in Europe.
By the way, some like Romney's plan because they think it will boost marriage rates and fertility rates (i.e., lure people into having more children). Seems like that might be theoretically true, but the data show that European birth rates are very low, significantly below American levels.
In other words, don't hold your breath waiting for more marriages and more children.
Third, it undermines federalism by giving Washington a bigger role rather than smaller role.
I've argued that the so-called War on Poverty has been very bad news. We have a Byzantine system of handouts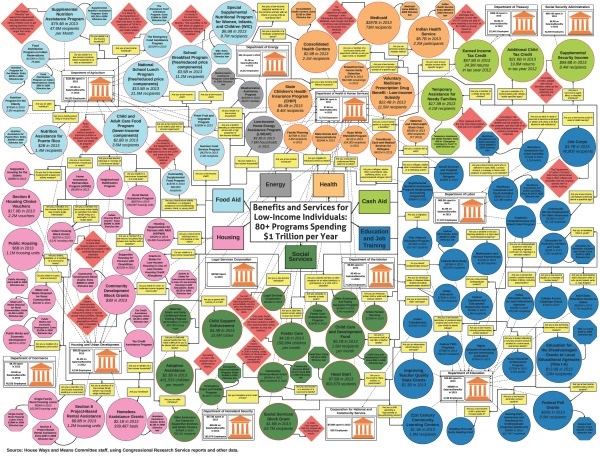 that require an army of bureaucrats to administer dozens of handouts that subsidize bad behavior.
It's created dependency and the data show it actually has had a negative impact on the trend of poverty reduction and self sufficiency (same thing has happened in other nations as well).
The right approach is to get Washington out of the business of income redistribution. We're far more likely to get good outcomes if we let states decide (and learn from each other on) how best to reduce poverty.
Fourth, it is akin to a "basic income" that may have a very corrosive impact on societal capital.
I was very opposed to Andrew Yang's plan to provide universal handouts, in large part because I feared it would undermine
personal independence, the work ethic, the spirit of self reliance, and other traits that are critical for a successful society. And I also didn't trust (for good reason) Yang's claim that his scheme would replace other redistribution programs.
Well, Romney's proposal is like a starter version of a basic income, but with the handouts based on the number of children.
I fear this will enable some people to decide they can drop out of the labor force.
Scott Winship of the American Enterprise Institute shares my concerns.
The Romney proposal would take us back to the bad old days in key ways, and policymakers are playing Russian roulette with low-income families' wellbeing. …some people (including future people) who would choose single parenthood or non-work except that the current safety net makes it unaffordable would be able to afford these choices under child allowances. For them, child allowances are allowances for behavior that would be expected to hurt their own long-term prospects and, more importantly, the wellbeing of their children.
I'll conclude by observing that Romney's plan is nowhere near as bad as Congresswoman Ocasio-Cortez's scheme for universal handouts.
But that's hardly the test for good legislation. For those who prefer smaller government, less dependency, and less centralization, Romney's plan is bad news.