Yesterday's column explained that Biden's proposals to expand the welfare state were bad news, in part because government subsidies often lead to inefficiency and higher prices.
That's not a smart strategy when inflation already is at 40-year highs.
President Biden did address the topic of rising prices during his speech, but his approach was so incoherent that even Larry Summers (Treasury Secretary for Bill Clinton and head of the National Economic Council for Barack Obama) felt compelled to share some critical tweets.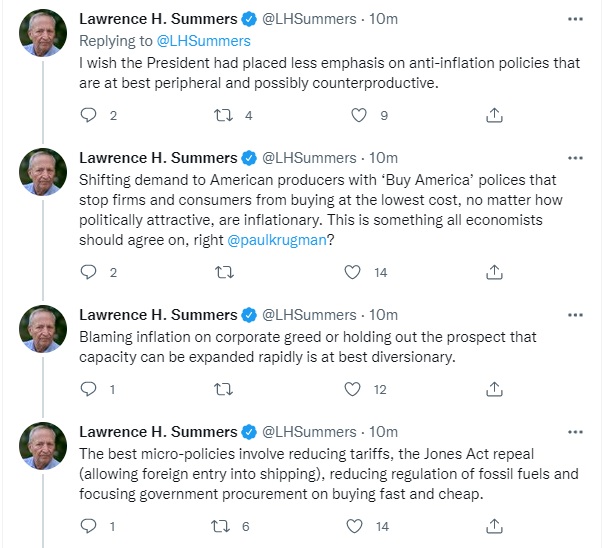 This is remarkable. I've spent the past three decades fighting against some of Summers' bad ideas on fiscal policy (he was a big supporter of the OECD's anti-tax competition project, for instance).
But now we're sort of on the same side (at least on a few issues) because Biden has embraced a reckless Bernie Sanders-type agenda of budget profligacy, class-warfare taxes, regulatory excess, and crass protectionism that is too extreme for sane people on the left.
Along with a head-in-the-sand view of monetary policy.
In a column for Canada's Fraser Institute, Robert O'Quinn and I addressed Biden's strange comments on inflation.
Here's some of what we wrote on that topic.
After a disastrous first year pursuing an agenda that became increasingly unpopular, President Biden had an opportunity to reset his administration in a centrist direction as part of his first State of the Union Address. But he didn't. On every domestic issue, he catered to the Democratic Party's hardcore left-wing activists… Inflation, as Nobel laureate Milton Friedman observed, is always and everywhere a monetary phenomenon. …In his speech, Biden ignored the true cause of inflation. Instead, he offered a grab bag of statist ideas such as aggressive antitrust enforcement, price controls on prescription drugs, and tax credits for energy conservation and green energy—policies that, whatever their merits, have little or nothing to do with inflation.
Our basic message is that Biden ignored the real cause of inflation (bad monetary policy by the Federal Reserve) and instead came up with ideas (either bad or irrelevant) to addresses the symptom(s) of inflation.
We also noted that Biden's nominees to the Federal Reserve are underwhelming.
Moreover, he has been pushing three controversial nominees to the Federal Reserve Board—Sarah Bloom Raskin, Lisa Cook and Philip Jefferson—who lack monetary expertise and are generally regarded as inflation doves. Raskin's primary "qualification" is her support for using the Fed's regulatory powers to divert credit away from oil and natural gas production. Cook and Jefferson have primarily written about poverty and race, which are outside of the Fed's legislative mandate.
What we need is a president – like Ronald Reagan – who understands that the inflation genie needs to be put back in the bottle and thus pushes the Federal Reserve in the right direction.
Instead, we have a president who thinks it's a place where left-leaning activists should get patronage appointments.
P.S. If you have the time and interest, here's an 40-minute video explaining the Federal Reserve's track record of bad monetary policy.
P.P.S. If you're constrained for time, I recommend this five-minute video on alternatives to the Federal Reserve and this six-minute video on how people can protect themselves from bad monetary policy.