I've been writing a series of columns about the failure of Bidenomics (see here, here, and here), but let's switch gears today and focus on some remarkably bad behavior by the bureaucrats at the Organization for Economic Cooperation and Development (OECD).
Regular readers know that I'm not a big fan of this Paris-based international bureaucracy. Yes, there are some economists at the OECD who do solid research, but the organization routinely advocates for higher taxes and bigger government, often by using dishonest data.
But even I was surprised to receive this email from the OECD, which explicitly urged a giant tax increase on the relatively impoverished people of Mexico.

And "giant" is not a throwaway adjective.
Joe Biden wants a massive tax increase for the United States, but his proposal to increases tax revenue by 1.3 percent of GDP makes him seem like a rabid libertarian compared to the OECD's plan to increase taxes by nearly three times as much in Mexico.
What's especially amazing is that the OECD is urging this huge tax increase in a report that supposedly shares "recommendations for improving medium-term growth prospects."
While I'm shocked by the size of the OECD's proposed tax increase, I'm not surprised that the bureaucrats are claiming that higher taxes and bigger government are good for growth.
They've done it before and I'm sure they'll do it again.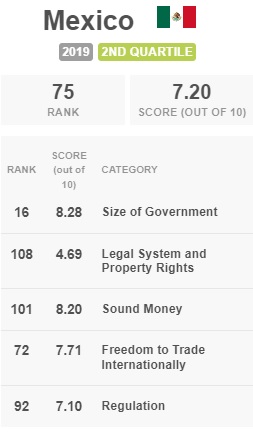 In China. In Africa. Everywhere.
So at least they are consistent, albeit in a very bad way.
I'll close by noting that Mexico actually is in desperate need of "recommendations for improving medium-term growth prospects."
But if you peruse the data for Mexico in the most-recent edition of the Fraser Institute's Economic Freedom of the World, you'll see that the country's economy is being hampered by bad scores for rule of law, monetary policy, trade, and regulation.
So it's baffling that the OECD's bureaucrats somehow decided to focus on pushing for bad fiscal policy.
P.S. For those who want more information, you can click here to access the OECD's report, along with other accompanying materials.
P.P.S. Incidentally, OECD bureaucrats are exempt from paying tax on the very lavish salaries they receive.
P.P.P.S. Adding insult to injury, American taxpayers finance the largest share of the OECD's budget.