Because of the negative impact on competitiveness, productivity, and worker compensation, it's a very bad idea to impose double taxation of saving and investment.
Which is why there should be no tax on capital gains, and a few nations sensibly take this approach.
But they're outnumbered by countries that do impose this pernicious form of double taxation. For instance, the Tax Foundation has a new report about the level of capital gains taxation in Europe, which includes this very instructive map.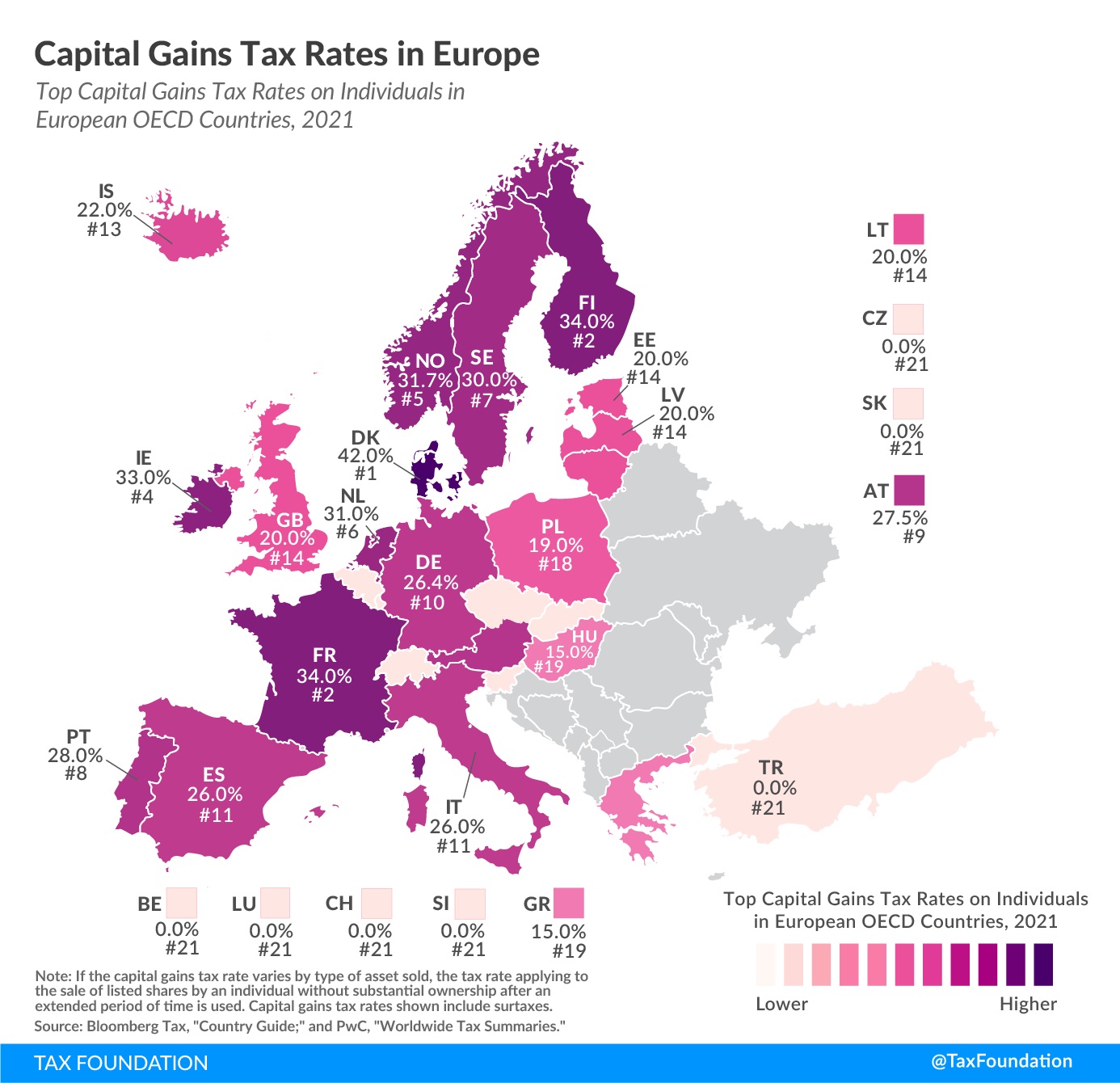 As you can see, some countries, such as Denmark (gee, what a surprise), have very punitive rates.
However, other nations (such as Switzerland, Belgium, Czech Republic, Slovakia, Luxembourg, and Slovenia) wisely don't impose this form of double taxation.
If the United States was included, we would be in the middle of the pack. Actually, we would be a bit worse than average, especially when you include the Obamacare tax on capital gains.
But if Joe Biden succeeds, the United States soon will have the dubious honor of being the worst of the worst.
The Wall Street Journal opined this morning about the grim news.
Biden officials leaked that they will soon propose raising the federal tax on capital gains to 43.4% from a top rate of 23.8% today. …Mr. Biden will tax capital gains for taxpayers who earn more than $1 million at the personal income tax rate, which he also wants to raise to 39.6% from 37%. Add the 3.8% ObamaCare tax on investment, and you get to 43.4%. And that's merely the federal rate. Add 13.3% in California and 11.85% in New York (plus 3.88% in New York City), which also tax capital gains as regular income, and you are heading toward the 60% rate range. Keep in mind this is on the sale of gains that are often inflated as assets are held for years without adjustment for inflation. Oh, and Mr. Biden also wants to eliminate the step-up in basis on capital gains that accrues at death.
Beating out Denmark for the highest capital gains tax rate is bad.
But it's even worse when you realize that capital gains often occur because investors expect an asset to generate more future income. But that future income gets hit by the corporate income tax (as well as the tax on dividends) when it actually materializes.
So the most accurate way to assess the burden on new investment is to look at the combined rate of corporate taxation and capital gains (as as well as the combined rate of corporate taxation and dividend taxation).
By that measure, the United States already has one of the world's most-punitive tax regimes, And Biden wants to increase all of those tax rates.
Sort of a class-warfare trifecta, and definitely not a recipe for good economic results.
For those interested in more details, here's a video I narrated on the topic back in 2010.
And I also recommend these columns (here, here, and here) for additional information on why we should be eliminating the capital gains tax rather than increasing it.
P.S. Don't forget that there's no indexing to protect taxpayers from having to pay tax on gains that are due only to inflation.
P.P.S. And also keep in mind that some folks on the left want to impose tax on capital gains that only exist on paper.