Last month, I wrote an article comparing Switzerland's admirable fiscal policy with the profligate tendencies of other European nations.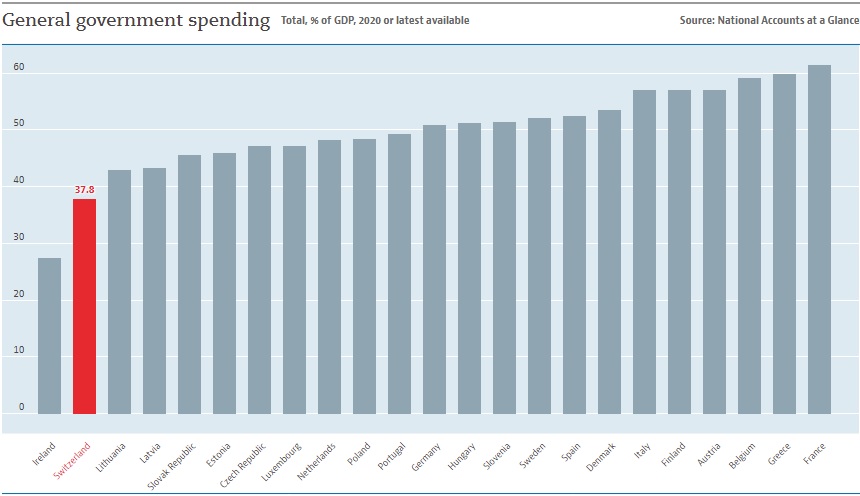 I included a chart showing that the burden of government spending in Switzerland is far below where it is in countries such as Belgium, Greece, and France – where the public sector consumes about 60 percent of economic output.
And then there are nations such as Germany, Spain, Sweden, Denmark, and Italy, where more than 50 percent of GDP is diverted to finance bloated budgets.
Given this background, I was not surprised to read an article in the New York Times about European politicians engaging in another spending binge.
Nationalizations. Subsidies. Cash handouts. Price caps. Profit taxes. …Governments are resorting to old-school solutions, …throwing vast amounts of money at the energy crisis engulfing the region… E.U. governments have already earmarked more than $350 billion to subsidize consumers, industry and utility companies; ministers met on Friday to narrow down their options for the bloc's direct intervention in markets to grab excess profits, cap electricity prices and subsidize utilities companies. "Government intervention is back in vogue in a really big way," said Mujtaba Rahman, Europe director at the consulting firm Eurasia. …The huge public spending is in addition to a nearly trillion-dollar stimulus package adopted over the past year to deal with the economic fallout from the pandemic, mostly through borrowing. …spending billions…may be the only way to keep voters on board with Europe's strong support of Ukraine against Russia.
The fact that Europe "turns once again to big spending" surely must win a prize for least surprising headline.
What is surprising, though, is some of the mistakes in the article. The reporter, Matina Stevis-Gridneff, seems to think that Europe has been some sort of bastion of laissez-faire fiscal policy.
It's back to 20th-century economics in Europe. …The standoff with Russia over Ukraine is upturning European economic orthodoxy at rapid speed with barely a peep of dissent at the European Union's headquarters in Brussels, a bastion of neoliberalism that not so long ago imposed brutal austerity on its own members, most notably Greece, even after it became clear it was harmful. …The ballooning debt load would have normally caused an uproar in the bloc, where fiscal conservatism has dominated policy and politics for years. …Paolo Gentiloni, the top E.U. economic official, ..said that the E.U. would begin to consider changes to its stringent fiscal rules
I'm not sure which part of the above excerpt is most at odds with reality.
Though, to be fair, Greece was forced to engage in real austerity for a few years last decade. Though that only happened after a lengthy period of profligacy.
And the Greek people suffered immensely because the government over-spent for so many years.
What's tragic is that other European nations, led by Italy, almost surely will suffer Greek-style fiscal crises. And the European Central Bank is making a bad situation even worse.
P.S. My other "least surprising headline" columns can be found here, here, and here.