As part of a panel discussion with the Texas Public Policy Foundation, I explained (with a frozen look) why spending caps (such as Switzerland's "debt brake") are better than balanced budget requirements.
This is a topic I've written about many times, noting that even left-leaning international bureaucracies like the IMF and OECD have reached the same conclusion.
For today's discussion, I want to focus on a wonky but important observation. I mentioned in the presentation that the European Union's "Maastricht Criteria" – which focus on controlling red ink – have not worked.
Those interested can click here for further background on these rules, but the key thing to understand is that eurozone nations agreed back in 1992 to limit deficits to 3 percent of economic output and to limit debt to 60 percent of GDP.
Has this approach worked?
Here's the data, from a 2019 European Parliament report, on government debt for eurozone nations. Incidentally, the euro currency officially began in 2002, though nations were supposed to comply with the Maastricht Criteria starting back in 1993.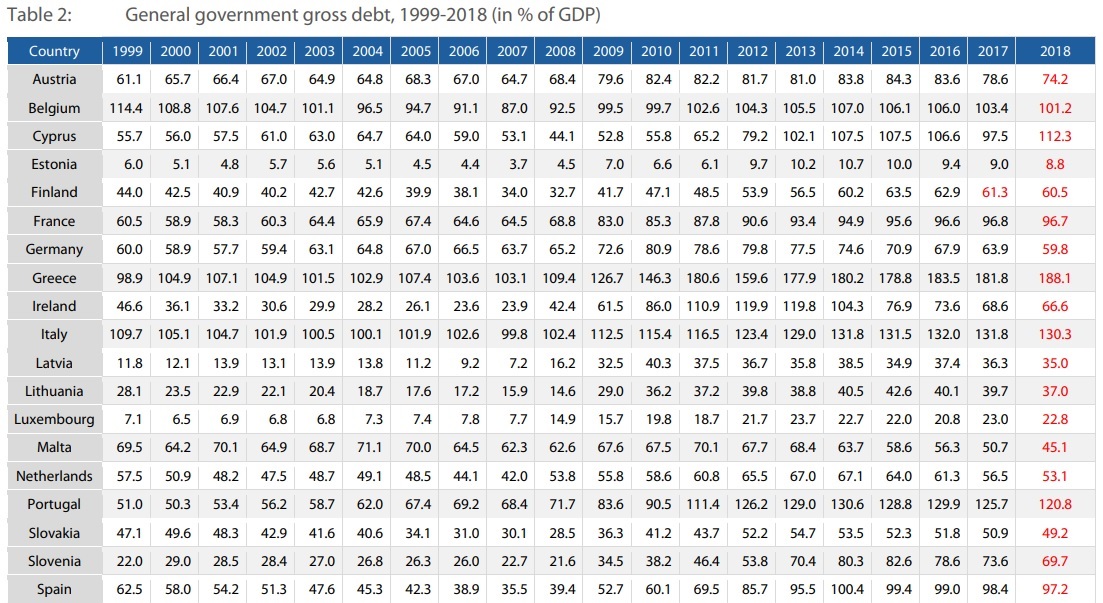 As you can see, debt has increased in most European nations. In may cases, debt is more than twice as high as the supposed maximum specified in the Maastricht Criteria.
And these are the "good" numbers. I deliberately chose data from a few years ago to make clear that the failure to comply with the Maastricht Criteria has nothing to do with the coronavirus pandemic.
In other words, debt in Europe is now far worse.
What went wrong? Why did anti-red ink rules produce more red ink?
A big part of the answer is that politicians use anti-deficit and anti-debt rules as an excuse to raise taxes
(which is what happened during Europe's prior debt crisis).
And we know that tax increases generally backfire, both because they undermine economic growth and because they give politicians leeway to spend even more money.
By contrast, spending restraint has a very good track record of reducing red ink.
P.S. To learn more about Switzerland's spending cap, click here. To learn more about Colorado's spending cap, click here.