Since this is America's Independence Day, I'm going to continue my tradition (see 2010, 2011, 2012, 2013, 2014, 2015, 2016, 2017, 2018, 2019, and 2020) of authoring a July 4-themed column.
What will make this year special, though, is that we're going to tackle the heavy topic of whether the United States lives up to its own ideals.
Two years ago, the New York Times unveiled the "1619 Project," which largely argues that slavery and racism are part of the nation's DNA. The NYT states that the project "aims to reframe the country's history by placing the consequences of slavery…at the very center of our national narrative."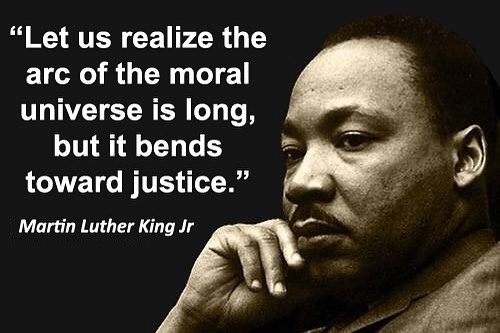 As a libertarian, I don't believe our government is good and pure today, and I also don't believe it was good and pure in the past. So I have no problem with a skeptical assessment of American history.
That being said, I have a positive view of America's founding and consider the Declaration of Independence in 1776 and the unveiling of the Constitution in 1787 as victories for liberty.
But only partial victories. What happened in the late 1700s should be viewed as the beginning of a process that slowly but surely has extended the blessings of liberty to the broader population.
Just as Martin Luther King stated back in 1964, "the arc of the moral universe…bends toward justice."
At the risk of oversimplifying, the 1619 Project has people fighting about two sides of the same coin.
Some people say the story of the United States is bad because of a legacy of slavery, segregation, and racism.
Other people say the story of the United States is good because of progress against slavery, segregation, and racism.
But the battle is about more than whether we have a glass-half-full or glass-half-empty view of history.
It's also about fanciful claims, such as the assertion that the War of Independence was fought to preserve slavery. In an article for Quillette, Phillip Magness points out that historians almost universally reject that interpretation.
Critics on both the Left and Right took issue with the paper's declared intention of displacing 1776 with the alternative date… For several months after the 1619 Project first launched, its creator and organizer Nikole Hannah-Jones doubled down on the claim. "I argue that 1619 is our true founding," she tweeted the week after the project launched. …the historical controversies around the 1619 Project intensified in late 2019 and early 2020. A group of five distinguished historians took issue with Hannah-Jones's lead essay, focusing on its historically unsupported claim that protecting slavery was a primary motive of the American revolutionaries when they broke away from Britain in 1776. …a historian who the Times recruited to fact-check Hannah-Jones's essay revealed that she had warned the paper against publishing its claims about the motives of the American Revolution on account of their weak evidence. The 1619 Project's editors ignored the advice.
Indeed, Magness' article discusses how the New York Times has largely conceded it made a mistake and has "stealth edited" the 1619 website.
Magness also has criticized the way supporters of the 1619 Project are attempting to promote statist economic policies.
Here's some what he wrote for the American Institute for Economic Research.
When I first weighed in upon the New York Times' 1619 Project, I was struck by its conflicted messaging. …certain 1619 Project essayists infused this worthy line of inquiry with a heavy stream of ideological advocacy. Times reporter Nikole Hannah-Jones announced this political intention openly, pairing progressive activism with the initiative's stated educational purposes. …A historical discussion about the Constitution's notoriously strained handling of slavery quickly drifted into a list of partisan grievances against the tax and health care policy views of congressional Republicans in the twenty-first century. …The 1619 Project, it seemed, could serve as both an enduring long-term curriculum for high school and college classrooms and an activist manual… This tendency finds its most visible display in…Matthew Desmond's essay on the relationship between slavery and modern American capitalism. …Lurking beneath it all was a long list of Desmond's own modern progressive political causes—economic inequality…and a general disdain for deregulation and free market thought. In short, Desmond was weaponizing the history of slavery to attack modern capitalism.
If you want to spend 79 minutes learning about why Desmond is wrong, this Reason interview with Magness is very informative.
I'll simply add that it's absurd to link slavery with capitalism. In a laissez-faire society, government's legitimate role is to protect the "negative rights" of life, liberty, and property.
Yet slavery is based on government laws that allow one person to own another person.
Let's wrap up today's column by looking at the future rather than the past.
In a book review for the Wall Street Journal, Jason Riley discusses Robert Woodson's concerns that the 1619 Project may promote a victim mentality and discourage upward mobility.
Mr. Woodson is a veteran community activist who broke with the traditional civil-rights leadership in the 1970s after realizing that the agenda of "racial grievance groups" like the NAACP was increasingly at odds with the actual wants and needs of the black underclass. …After the New York Times published its "1619 Project"…he became incensed. …Mr. Woodson responded by initiating his own project, "1776 Unites," which enlisted a group of black scholars, journalists and social activists "who uphold the true origins of our nation and the principles through which its founding promise can be fulfilled." …Mr. Woodson released "Red, White and Black: Rescuing American History from Revisionists and Race Hustlers." The book is a collection of essays by 1776 Unites participants, and its publication is a public service. …In the book's introduction, Mr. Woodson writes that his goal is not to offer point-by-point rebuttals. Rather, he wants to "debunk the myth that present-day problems are related to our past . . . specifically, debunking the myth that slavery is the source of present-day disparities and injustice." Mr. Woodson understands that pointing out the moral shortcomings of others might prove cathartic, but it will do little if anything to facilitate black upward mobility. And he flatly rejects the notion that "the destiny of black Americans is determined by what whites do—or what they have done in the past," which is otherwise known as critical race theory.
As I wrote a few days ago, critical race theory can be a helpful way to understand history, but it also can be harmful if it labels everyone as either a victim or an oppressor.
I much prefer how Walter Williams viewed race-related issues.