Weird items sometimes show up in my inbox, and this clip from Nikole Hannah-Jones (creator of the academically shoddy 1619 Project) definitely qualifies.
She actually cites the economic wasteland of Cuba as a role model for equality.
Ms. Hannah-Jones said that Cuba's results are because of socialism.
On that point, I'll agree, though I think it shows why that collectivist ideology is so destructive.
Let's look at some comparisons based on the Maddison data. This first chart shows how Cuba has fallen far behind Panama and the Dominican Republic, two other multi-racial nations in the region.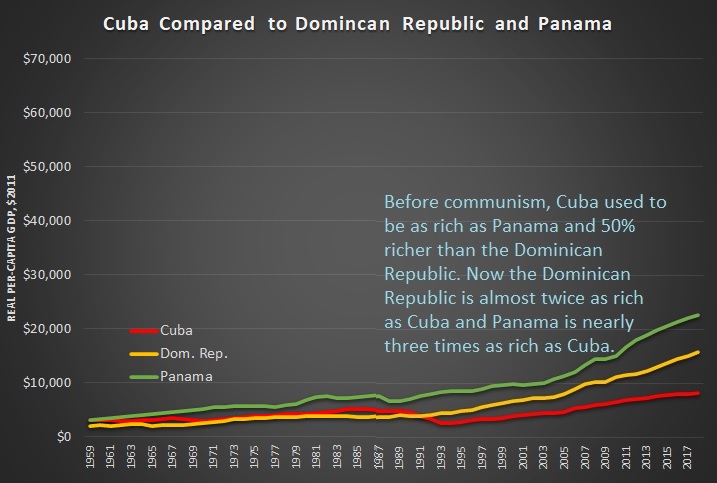 The key thing to realize is that Cuba was equal to (or richer than) those countries when the communists took power in Cuba.
But socialist policies have caused Cuba's economy to stagnate and now Panama is almost three times richer and the Dominican Republic is nearly two times richer (and you can click here is you also want to see comparisons with Chile and Costa Rica).
In other words, Cuba is a role model, but not for anything positive.
Let's drive that point home with another chart comparing three nations – Cuba, Singapore, and Taiwan – that were roughly equal back in 1959.
What makes this comparison especially instructive is that Cuba went for socialism and Singapore and Taiwan became pro-market reformers. So it should be no surprise that the latter two have far surpassed Cuba.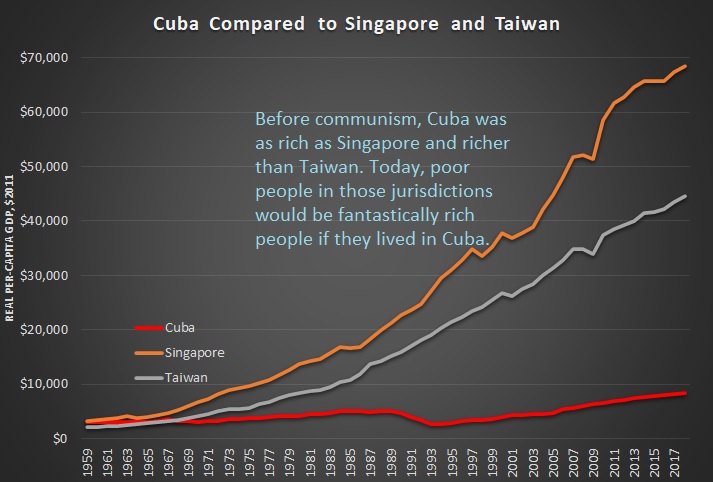 The same thing is true, by the way, if you compare Hong Kong and Cuba.
Let's conclude by addressing one final point.
Ms. Hannah-Jones asserted that Cuba deserves praise for having equality.
I doubt that's true since left-wing dictators usually steal lots of money while ordinary people suffer.
But even if she's right and Cuba genuinely has equality, it's only because socialism has impoverished everyone, including the ruling class.
Our friends on the left apparently think that's something to applaud, as Margaret Thatcher observed, but I'd rather be part of a society characterized by an "unequal sharing of the blessings."
P.S. Ms. Hannah-Jones may be even more wrong about Cuba than Bernie Sanders, Jeffrey Sachs, or Nicholas Kristof.