Some departments of the federal government should be shut down because of federalism. High on that list would be the Department of Education and Department of Transportation.
Other departments should be shut down because there is simply no role
for any government involvement at any level.
I usually cite the Department of Housing and Urban Development as an example, but the Department of Agriculture also should be terminated.
It's a rat's nest of special interest favors. I've previously written about inane intervention to enrich Big Dairy, Big Sugar, and Big Corn.
But I confess that I was unaware of Big Cranberry.
The Wall Street Journal opines about the nonsensical nature of cranberry intervention.
As you dip into the Thanksgiving cranberry sauce, here's a tart story that may make you want to drain the bog. This fall the U.S. Agriculture Department gave cranberry growers its approval to dump a quarter of their 2018 crop. Tons of fruit and juice—in the ballpark of 100 million pounds—will be turned into compost, used as animal feed, donated or otherwise discarded. The goal is to prop up prices.
Needless to say, there's nothing about propping up cranberry prices in Article 1, Section 8, of the Constitution.
This is also a common-sense issue, as the WSJ explains.
The USDA rule caps growers' production based on their historical output, with some exemptions. Small cranberry processors aren't covered, and neither are those that don't have inventory left over from last year. The trouble is that this reduces everyone's incentive to downsize… Among the many economic perversities of agricultural policy, this is merely a vignette. Still, America is growing 100 million pounds of cranberries and then throwing them away to raise prices per government order. Wouldn't it be better—and easier—to let the market work?
By the way, Trump's protectionism is also part of the problem.
President Trump's trade war hasn't helped. About a third of production usually goes overseas. But in June the European Union put a 25% tariff on U.S. cranberry-juice concentrate in retaliation for U.S. steel tariffs. A month later, China bumped its tariff on dried cranberries to 40% from 15%. Mexico and Canada also added duties.
A typical Washington cluster-you-know-what.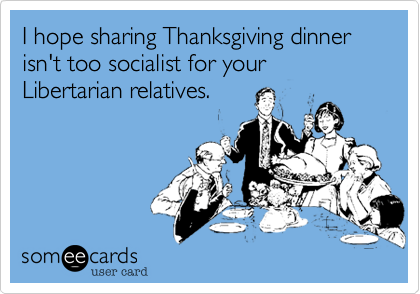 Though I don't recommend thinking about it too much, lest you get indigestion.
The solution is to copy New Zealand and get rid of all agriculture handouts.
P.S. If you like Thanksgiving-themed libertarian humor, the image at the bottom of this column augments the image to your right.
P.P.S. And if you like Thanksgiving-themed videos with libertarian messages, here's one option and here are two others.