The United States is laboring through the weakest economic recovery since the Great Depression.
Median household income is stagnant and labor-force participation is dismal.
Sounds awful, right?
Compared to the strong growth of the pro-market Reagan years and pro-market Clinton years, it is awful.
But maybe we should count our blessings
Here's a chart from a presentation. by economists from the European Central Bank, and it shows how much the United States has grown since 1999 compared to Japan and euro nations.
We've enjoyed nearly twice as much growth as Europe and almost three times as much growth as Japan. Which is remarkable since those countries aren't as rich as the United States and they should grow faster according to convergence theory.
So while it's true that Obamanomics hasn't been good for the United States, it's apparently not as bad as Abenomics in Japan and Hollandenomics (and Renzinomics and Tsiprasnomics) in Europe.
Allan Meltzer explains why Europe is lagging in an article for the Hoover Institution.
Europe has become the model for how democratic capitalism can give way to the welfare state. Following a surge of market-driven growth after World War II, there was a rise across the continent in income redistribution and regulations intended to protect workers and consumers, and to achieve "fairness." From the 1960s onward, high tax rates and heavy regulations slowed economic growth. And many welfare state programs became roadblocks to economic progress by resisting reforms and prolonging the current European recession. …France and Italy are not as far along to disaster as Greece, but their welfare systems are also difficult to reduce to regain competitiveness. …Monetary policy cannot overcome real, structural problems. Spain and Ireland showed that EU members can restore growth most effectively by making…painful real changes… Sluggish growth will continue until EU officials adopt policies that encourage private investment.
It's depressing to think that some American politicians want to copy European failure.
Some of the candidates in the 2016 presidential race offer more welfare state benefits as a remedy for current voter malaise. The promise is that the way to make everyone better off is by taxing high incomes and distributing more to others. That's the route that many in Europe took. Instead of the promised happy outcome, much of Europe got slow growth and high unemployment and an ever greater need to restore competitiveness by reducing the expanded welfare state. …Prime Minister Thatcher often said, "The welfare state will end when they run out of YOUR money." If she was right, the end for Europe is here. And the lesson for the United States is to adopt less costly policies before debt markets force the change. …the lesson for the United States is that we will not escape the problems of the welfare state.
Even the left-wing bureaucrats at the OECD sort of admit Europe is falling behind.
I've previously shared data from the OECD showing much higher living standards in the US than in Europe, and here are some excerpts from a recent report on global migration patterns for high-skilled workers.
…migrants to the EU are younger and less well educated than those in other OECD destinations. Of the total pool of highly-educated third-country migrants residing in EU and OECD countries, the EU hosts less than one-third (31%), while more than half (57%) are in North America. …most importantly, many labour migrants are not coming to the EU under programmes for skilled workers. …EU Member States covered by EU legal migration policies received annually less than 80 thousand highly qualified third country labour migrants. By comparison, Canada and Australia have annual admissions under their selective economic migration programmes for highly-qualified workers of 60 thousand each.
In the section on recommendations, you won't be surprised to learn that the OECD failed to suggest pro-market reforms.
There's boilerplate language about streamlining the process for high-skill immigrants, but nothing about the stifling tax burdens and expensive welfare states that cause European economies to be so stagnant and unappealing.
One very visible manifestation of inferior living standards in Europe is that people generally have very cramped housing conditions compared to the United States (even Americans in poverty have more living space than the average European).
And to make matters worse, air conditioning is the exception not the rule.
Amusingly, Europeans pretend to feel superior about their summertime misery, as reported by the Washington Post.
Whereas many Americans would probably never consider living or working in buildings without air conditioning, many Germans think that life without climate control is far superior. …many Europeans visiting the U.S. frequently complain about the "freezing cold" temperatures inside buses or hotels. …Europe thinks America's love of air-conditioning is actually quite daft. …according to the Environmental Protection Agency, …demand for air-conditioning has only  increased over the past decades. …the United States consumes more energy for air conditioning than any other country. …Europeans are generally more used to warmer room temperatures because most of them grew up without any air-conditioning.
As one might expect, the issue is being used by climate alarmists.
Another factor that may explain Europe's sniffy reaction toward American cooling is the continent's climate change awareness. According to a 2014 survey, a majority of Europeans would welcome more action to stop global warming. Two thirds of all E.U. citizens said that economies should be transformed in an environmentally-friendly manner. Cooling uses much more energy than heating, which is why many Europeans prefer sweating for a few days… America's air-conditioning addiction may also have another negative side effect: It will make it harder for the U.S. to ask other countries to continue to abstain from using it to save energy. …"If everyone were to adopt the U.S.'s air-conditioning lifestyle, energy use could rise tenfold by 2050," Cox added, referring to the 87-percent ratio of households with air-conditioning in the United States.
I'm much more tolerant of heat than the average American, so I probably could survive in a world without air conditioning.
But I hope that day never arrives and I continue to enjoy the full benefits of living in a first-world nation.
Let's close with a fascinating map showing populations changes in Europe from 2001-2011. It's in German, but all you need to know is that dark red means a 2-percent-plus increase in population while dark blue means a decline of at least 2 percent.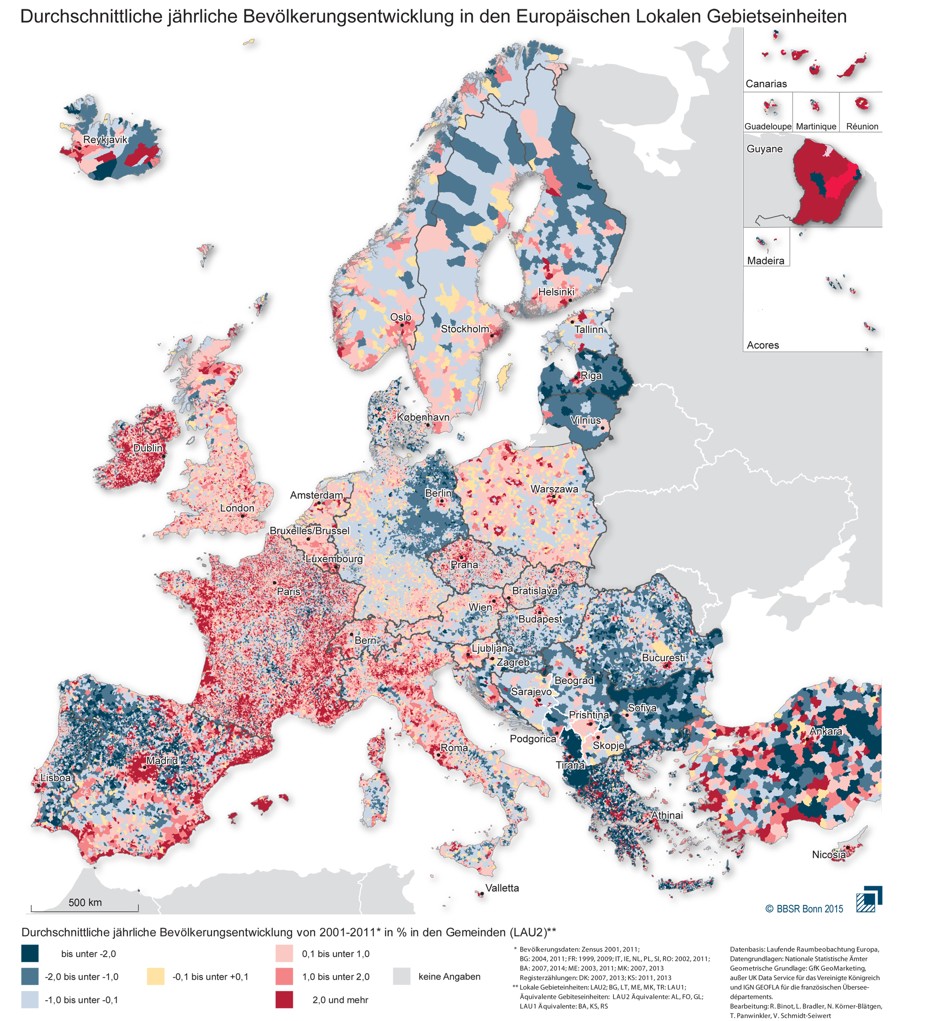 France and Ireland have population growth, as well as (to a lesser extent) Northern Italy and Poland.
But take a look at Portugal, Northwestern Spain, Eastern Germany, and the non-Polish portions of Eastern Europe. You'll understand why I fret about demographic crisis in both Western Europe and Eastern Europe.