Time to update our series on "great moments in foreign government."
We'll start with Jersey. I wrote a few years ago about the (relatively) good tax laws in that British dependent territory off the coast of France.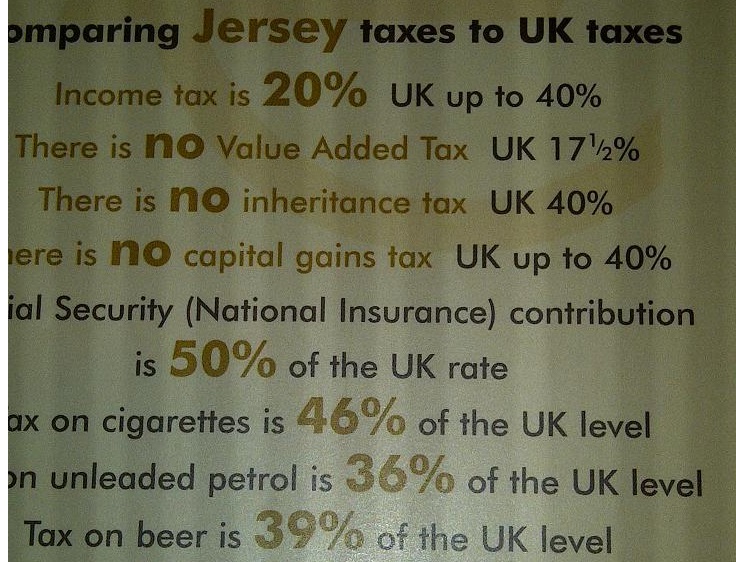 But there are two ways those laws could be improved. First, officials could abolish its income tax because a zero income tax is better than a flat tax.
And with tax policy heading in the wrong direction in the United Kingdom, that would further enhance Jersey's competitive advantage.
Sadly, the island's lawmakers haven't opted for that choice.
But they did approve a second reform. As reported by the New York Times, Jersey has joined the 20th century.
Lawmakers on the island of Jersey have approved scrapping a decades-old law that prevented married women from talking to the tax authorities without the permission of their husband or filing taxes under their own names… a popular tax haven, …its financial laws have not always kept up with the times: Under its current tax law, introduced in 1928, only the husband in a heterosexual marriage can pay taxes, with his wife's earnings considered part of his income. …Things became a bit more modern in 2013, when a box appeared on income tax forms that husbands could tick rather than giving written permission. When civil unions and same-sex marriages became legal on the island, the law allowed the older partner to take the role of "husband" and the younger "wife." …Under the proposal backed by a majority of lawmakers on Tuesday, taxpayers would be considered as individuals. …Legislation to bring in the changes will be drafted later this year and should come into effect in 2021.
Next, we'll visit Indonesia, where the guy who drafted a law actually got some first-hand experience with how the law is implemented. The Daily Mail has the amusing details.
An Indonesian man working for an organisation which helped draft strict religious laws ordering adulterers to be flogged has himself been whipped after he was caught having an affair with a married woman. Mukhlis, who is a member of the Aceh Ulema Council and only goes under one name like many Indonesians, was beaten 28 times with a rattan cane in the provincial capital of Banda Aceh on Thursday. Mukhlis grimaced and flinched during the punishment, before his married companion was brought to the stage and flogged some 23 times.
Now let's travel to Switzerland, which is a sensible country (at least by standards of the modern world) with all sorts of admirable policies.
But, as reported by the Economist, that nation's politicians have some weird ideas. Such as a strategic coffee reserve.
The 15 big Swiss coffee retailers, roasters and importers, such as Nestlé, are required by law to store heaps of raw coffee. Together, these mandated coffee reserves amount to about 15,000 tonnes—enough for three months' consumption. The government finances the storage costs through a levy on imports of coffee. All 15 companies are in favour of maintaining the coffee reserve—as long as they are paid for it. IG Kaffee, a lobby group, asks why the government wants to scrap a stockpile that has served Switzerland so well.
Not as strange as Germany's coffee tax or Japan's coffee enemas, but still rather odd.
Last but not least, the Venezuelan government is well known for economic mismanagement.
But BBC reports that it also should be known for military incompetence.
A Venezuelan navy coastal patrol boat sank in the Caribbean after allegedly ramming a cruise ship that it had ordered to change direction. …The incident took place near La Tortuga Island, a Venezuelan federal dependency, on 30 March.Columbia Cruise Services, which operates the Resolute, said the cruise ship had been carrying out routine engine maintenance in international waters…shortly after midnight, the Naiguata radioed the Resolute, questioning its intentions, and ordered the captain to follow it to a port on Isla Margarita, to the east. "While the master was in contact with the head office, gunshots were fired and, shortly thereafter, the navy vessel approached the starboard side at speed… and purposely collided with the RCGS Resolute," it added. "The navy vessel continued to ram the starboard bow in an apparent attempt to turn the ship's head towards Venezuelan territorial waters." …the patrol boat began taking on water.
The moral of all these stories is that governments piss away money in very interesting and novel ways.
But while these stories are somewhat entertaining, they also confirm that it's never a good idea to give politicians more money when they've repeatedly shown that they squander the revenues they already have.
P.S. Here are my posts about "great moments in local government" and "great moments in state government."