Supporting free enterprise does not mean supporting big companies.
Why? Because as John Stossel and Tim Carney discuss, big businesses are more than willing to get into bed with big government and oppose capitalism.
The goal should be genuine consumer-driven, market-based competition. And that means that politicians should not put their thumbs on the scale in favor of specific companies or industries.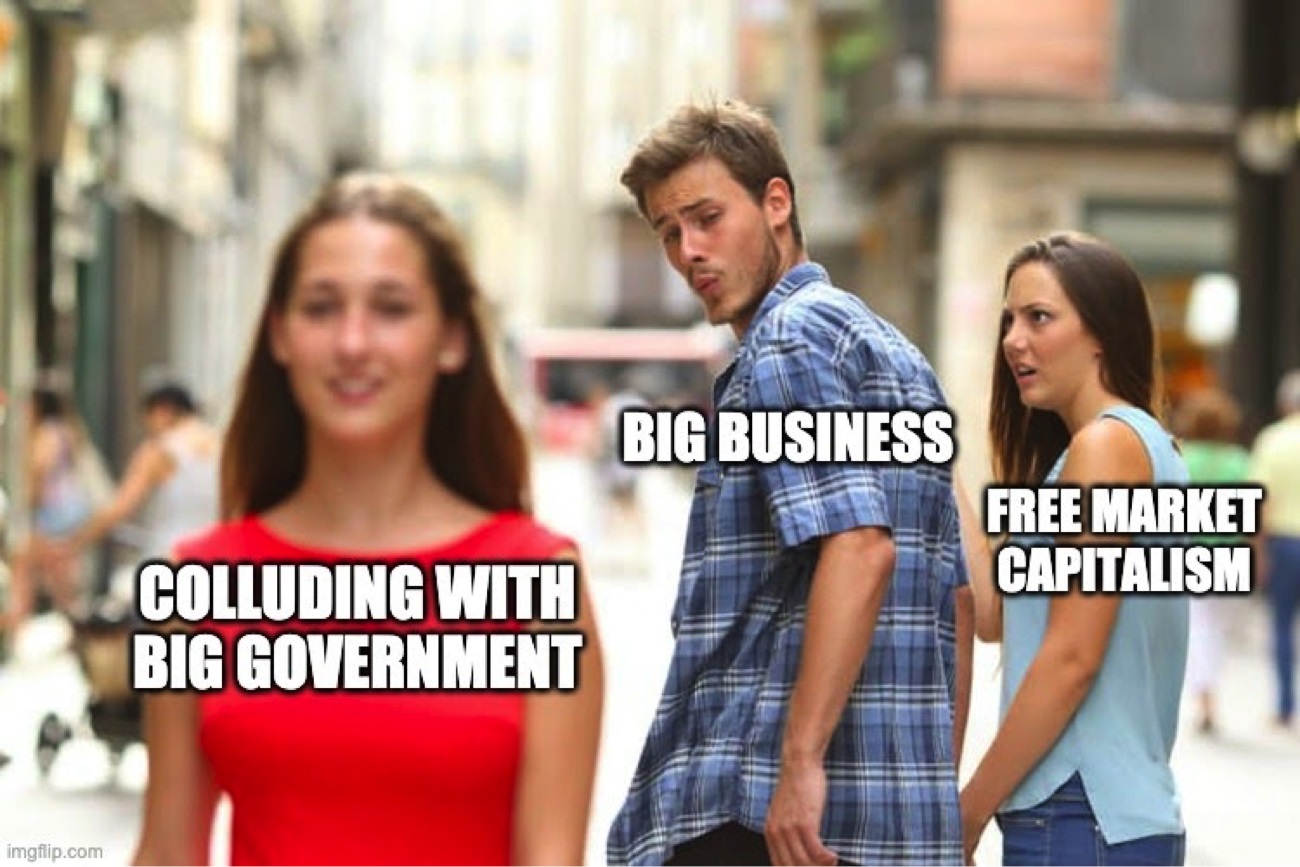 Unfortunately, that certainly has happened in countless cases.
At varying times, both Republicans and Democrats have provided special favors to Wall Street, General Motors, airlines, health insurance companies, Boeing, Big Pharma, and banks.
These odious examples help to explain why companies give money and support to politicians from both parties.
But sometimes that approach backfires. Let's consider how the Chamber of Commerce can be blamed for the looming enactment of Biden's horribly misnamed Inflation Reduction Act.
The Wall Street Journal opined on this issue today.
The U.S. Chamber of Commerce…bet in 2020 that supporting "centrist" House Democrats would protect against anti-business policies has been a bust. …How does that calculation look now…? Every one of the 15 voted for the $1.9 trillion spending bill in March 2020, despite Chamber opposition to sweeping jobless benefits that stoked labor shortages and stimulus checks that fed inflation. They also voted for the PRO Act, a radical pro-union rewrite of labor law. …Now comes the big moment of truth as the Schumer-Manchin tax and spend bill heads to the House… The chance of Democratic defections is slim. Despite aggressive Chamber lobbying, all 15 rolled over for the $3.5 trillion Build Back Better bill last year.
Amazingly, the Chamber bent over backwards to endorse these politicians, notwithstanding their consistent track record of support for bigger government.
Nearly all had publicly expressed support for scrapping the 2017 corporate tax reform, and for new climate, banking and healthcare regulations. The only reason most qualified for endorsements is because the Chamber altered its voting scorecard to allow extra points for "leadership" and "bipartisanship." …It's not too much to say that the Chamber was crucial in midwifing Speaker Nancy Pelosi's 222-211 seat majority.
The Washington Post wrote last year about the Chamber's controversial decision to side with Democrats.
Here are some excerpts from the story by Tory Newmyer and Aaron Gregg.
 …the Chamber has been the object of sharp attacks by leading conservatives. …The decision to endorse so many freshman Democrats, rather than give them time for their voting records to take shape, was a dramatic break from past procedure. …the conservative backlash has led to alarm even among some of the organization's closest allies. A veteran U.S. Chamber board member, speaking on the condition of anonymity to avoid reprisal, said: "It is a legitimate question how well-thought out this strategy is. People are concerned, and they're discussing where else they can send revenues to support free enterprise." …Seeing Chamber-endorsed Democrats support pro-union legislation "is like the national right to life organization saying they now support some abortions," said a former U.S. Chamber executive, who spoke on the condition of anonymity because the person feared reprisal.
If you want examples of conservative hostility, here's a tweet from Hugh Hewitt.
And here's a tweet from Oren Cass.
Interestingly, this is not the first time the Chamber of Commerce has sided with the left.
In a column for National Review earlier this year, Nate Hochman recounts what happened during the Hillarycare fight back in 1993.
In March 1993, the Chamber of Commerce surprised many of its allies by coming out in favor of Clinton's plan for universal coverage with an employer mandate, reversing its earlier opposition to both proposals. …The Chamber's attempt to curry favor with the new administration provoked a furious conservative backlash. Congressional Republicans — led by John Boehner of Ohio, then the head of the 75-member House Conservative Opportunity Society — organized a mass boycott of the Chamber, urging local and state chapters to disaffiliate in protest. The campaign was devastatingly effective: By the time the dust had settled, the Chamber had lost one-fifth of its membership.
As far as I'm concerned, any business owners who favor free enterprise should not support the Chamber of Commerce. It would be heartwarming to see the organization lose members.
But this brings me back to what I wrote at the start of today's column. Many business owners don't support capitalism. They prefer cronyism.
That's particularly true for large companies, which often see big government as a way of thwarting competition from small companies (such as Amazon's support for a higher minimum wage).
P.S. The Chamber of Commerce is not the only business association governed by fools. Yes, I'm referring to the Business Roundtable.