My views on Brexit haven't changed since I wrote "The Economic Case for Brexit" back in 2016.
It's a simple issue of what route is most likely to produce prosperity for the people of the United Kingdom. And that means escaping the dirigiste grasp of the European Union.
The European Union's governmental manifestations (most notably, an über-powerful bureaucracy called the European Commission, a largely powerless but nonetheless expensive European Parliament, and a sovereignty-eroding European Court of Justice) are – on net – a force for statism rather than liberalization. Combined with Europe's grim demographic outlook, a decision to remain would guarantee a slow, gradual decline….Leaving the EU would be like refinancing a mortgage when interest rates decline. In the first year or two, it might be more expensive because of one-time expenses. In the long run, though, it's a wise decision.
But if I was rewriting that column today, I would change the title to "The Economic Case for Hard Brexit."
That's because Prime Minister Theresa May and other opponents are pushing for a watered-down version of Brexit. Sort of Brexit in Name Only.
Indeed, Dan Hannan, a member of the European Parliament, explains in the Washington Examiner that the deal negotiated by Theresa May is the worst possible outcome.
This is the sort of deal that a country signs when it has lost a war. Under its terms, Britain will remain subject to all the costs and obligations of EU membership, but will give up its vote, its voice and its veto. …EU exporters will enjoy privileged access to the world's fifth-largest economy. They won't need to worry about world competition. …In the two-and-a-half years since the referendum, civil servants, politicians, financiers and politically-connected business cartels have worked assiduously to overturn to result. …Some, including George Soros and Tony Blair, sought to overturn the result outright with a new referendum. Others, more craftily, sought instead to ensure that, while something technically called Brexit may happen, nothing actually changes. Sadly, they have achieved something far worse than no change. Their deal — Theresa May's deal — will leave Britain in a more disadvantageous place than either leaving cleanly or staying put. It keeps the burdens of EU membership but junks the advantages.
Brian Wesbury and Bob Stein, both with First Trust Advisors, point out that Hard Brexit is the best option. Trade would continue, but based on WTO rules instead of the EU's free trade agreement.
Some analysts and investors are concerned about a "Hard Brexit," in which the U.K. supposedly plunges into chaos as it crashes out of the EU without an agreement. …Count us skeptical. …Any harm to the U.K.'s economy would be relatively mild… It's not like there would be no trade between the U.K. and the EU after a Hard Brexit. Trade rules would simply shift to the ones that apply between the EU and other countries under the World Trade Organization, like those that apply to EU-U.S. trade.
While WTO rules are quite good, they're not as good as complete free trade.
But there would be pressure to move in that direction under a Hard Brexit.
…the EU would be under enormous pressure to lower tariffs and cut a new deal with the U.K. In 2017, the rest of the European Union ran a roughly $90 billion trade surplus with the U.K. So if a Hard Brexit makes it tougher for the rest of the EU to export to the U.K., every national capital in the EU would be flooded with lobbyists asking to cut a deal. Meanwhile, leaving the EU means the U.K. would have the freedom to make free trade deals with the U.S. and Canada, and any other country it wanted, without having to wait for the EU. Yes, a Hard Brexit risks some financial jobs, but the same argument was used when the U.K. decided not to join the Euro currency bloc, after which London kept its role as Europe's financial center.
For what it's worth, I'm more interested in whether we can get a really good trade deal between the US and UK following a Hard Brexit.
Regardless, any possible slippage on trade between the UK and EU would be more than offset by the likelihood of better policy in other areas.
…there's another basic reason why a Hard Brexit would be in the long-term interests of the U.K….any organization powerful enough to overrule the democratic process in the U.K. regarding economic laws and regulations…is also powerful enough to impose anti-free market policies… And, over time, since men are not angels and power corrupts, any international body with such power would gravitate toward policies that aggrandize the international political elite… In fact, the EU has already issued rules that stifle competition, like setting a standard minimum Value-Added Tax rate.
Felix Hathaway from London's Institute of Economic Affairs, debunks Project Fear in an article just published by Cayman Financial Review.
…the only option ahead with a clear path, and requiring no new legislation in parliament, is some form of 'Hard Brexit.' …By Hard Brexit I mean the U.K. leaving the EU on March 29 without a withdrawal agreement. Unlike most other options, this does not require the cooperation of the EU to proceed. In this scenario, the U.K. leaves both Single Market and Customs Union of the European Union at 11 p.m. on March 29, 2019, along with leaving the various political institutions of the EU and the jurisdiction of the Court of Justice of the EU. …many of the more alarming warnings of no cooperation at all can be dismissed as fanciful. A more believable 'no deal' Brexit might look as follows. …the Commission is doing all it can to publicly rule out this sort of "managed no deal," yet in doing so has stated that it would unilaterally extend agreements in selected sectors, including for financial services, following a WTO exit. …one could reasonably expect further agreements, possibly at the 11th hour in March… These would likely cover citizens' rights, road haulage, and facilitated customs checks for certain classes of goods, and would be negotiated with the member states with which the U.K. does the most business.
For what it's worth, I think vindictive EU bureaucrats probably want to inflict some needless harm, even though it will hurt them as much – and maybe more – than it would hurt the UK.
But Felix is right that common sense – sooner or later – will lead to agreements to smooth over any bumps in the transition. Indeed, he just wrote another article demonstrating how this is already happening.
Here's the most important part of his article, which I like because it echoes my arguments about the pressure for better policy in an independent United Kingdom.
Ultimately, the most significant factor will be domestic policy decisions by the U.K. government, particularly in areas of taxation and housing. This may be fairly unexciting news at the end of an article about Brexit, but if the U.K. is to succeed as a "free trading, buccaneering nation," such success will depend in large part on the ability of companies to attract investment through low corporate taxes, and the ability of workers to move to where they will be most productive through further housebuilding in key areas. …perhaps as an unexpected consequence of the conversation surrounding Brexit,… A recent ComRes poll found that, although divided on almost every other aspect, a clear two thirds of voters agree that when Brexit is complete, "the U.K. should try to become the lowest tax, business-friendliest country in Europe, focused on building strong international trade links."
And keep in mind that bureaucrats in Brussels are pushing to make the European Union more statist (which, sadly, is contrary to the continent's historical tradition), so it's becoming ever-more important to escape.
This is why what happens with Brexit is among my greatest hopes and fears for 2019.
Let's close with a bit of humor.
The Cockburn column in the Spectator mocks the New York Times for its anti-Brexit fanaticism.
The Times usually supports democracy in backward and violent states, but it hates Brexit. No news is too fake for the Times to print when it comes to Brexit. This week, the Times hit new heights of fantasy. 'Roads gridlocked with trucks. Empty supermarket shelves. An economy thrown into paralysis,' a would-be novelist named Scott Reyburn wrote earlier this week. His story, 'As Brexit Looms, the Art World Prepares for the Fallout', was recycled as a front-page item on the Times's international edition. …Britain is in a 'crazed Brexit vortex', adds Roger Cohen, holder of the Tom Friedman Chair in Applied Chin-Stroking. …Yes, the British government are useless. But nobody in London is stockpiling food. Nobody is fighting in the streets, as the French are every weekend. The markets factored in their Brexit uncertainty two years ago. The supermarkets and roads are as jammed as ever. …The economy is doing much better than the Eurozone, which is slipping into recession. Polls show the British, who the Times characterize as sliding down a neofascist vortex, to be more welcoming of immigration than any other European people.
Bad journalism from the New York Times is hardly a surprise.
I'm mostly sharing his column because this satirical paragraph got me laughing.
The scene that met Cockburn's eyes upon exiting the terminal at Heathrow reminded him of his days as a foreign correspondent during the Lebanese civil war, or a night out in south London. A dog was eating the innards of a corpse, because supplies of Romanian dog food have broken down. A naked fat man had carved off a slice of his own buttock and was roasting it over a burning tyre, because imports of Bulgarian lamb are held up at Calais. A woman offered to prostitute herself for an avocado, and to sell both of her blank-eyed children for a packet of French butter. There were no black taxis either, because London's notoriously pro-Brexit taxi drivers had all joined one nationalist militia or other. Finally, a black-market cheese dealer with a rocket launcher affixed to the back of his pickup agreed to take Cockburn into the city. They bribed their way through the checkpoints with wedges of brie. Or not.
Speaking of laughs, Hitler parody videos have become a thing.
Here's a new Brexit-related installment in the series.
Not as clever as the first Hitler parody I shared as part of my collection of Brexit humor, but it has some funny moments.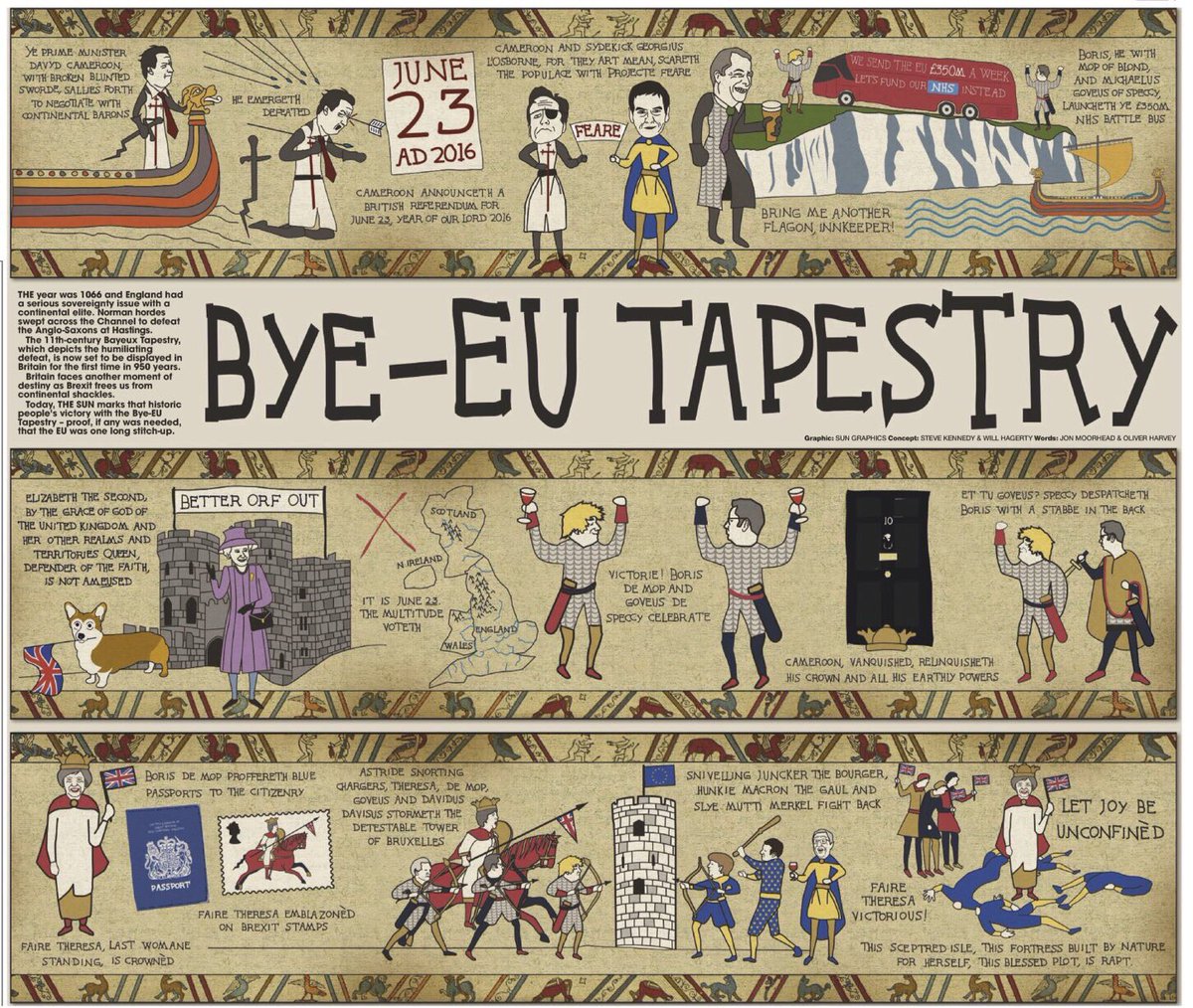 And if you have time, this Brexit tapestry is quite amusing.
P.S. There are some anti-Brexit people who support free markets, which is rather baffling since I can't imagine why they would want the U.K. to be part of a bureaucracy that tries to brainwash children in favor of higher taxes. Indeed I was only semi-joking when I wrote that Brussels was "the most statist place on the planet."
P.P.S. Though there are many reasons to question whether U.K. politicians can be trusted to adopt good policy.