Back in 2012, I endorsed a wretched socialist, Francois Hollande, to be president of France.
I knew he was terrible, but the supposedly right-wing incumbent, Nicolas Sarkozy, also was a proponent of dirigisme. As I wrote at the time, "it's always better to let the left-wing party win when the supposedly right-wing party has a statist candidate."
In France's next election, in 2017, French voters faced a similarly dismal choice. Emmanuel Macron ran against Marine Le Pen and I urged voters to "pick the socialist over the socialist."
Macron prevailed in that race and just won a rematch against Le Pen on Sunday.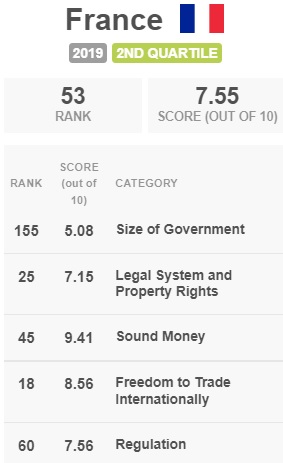 I didn't bother writing about the race ahead of time because it didn't matter. Neither candidate promoted good ideas.
If you want to know France's problems, the Fraser Institute's Economic Freedom of the World is a good place to start.
According to the most recent edition, France ranks #53, which is a very poor grade for a developed nation.
The country's biggest problem is fiscal policy. Out of 163 nations, it ranks #155 for "size of government."
That's even worse than Greece.
And if you look at the historical data from the Fraser Institute, you'll see that France's score actually has declined since Macron won in 2017.
Not by much, to be sure, but still a move in the wrong direction. Moreover, given France's demographic outlook, things will get much worse in the not-too-distant future.
All the more reason why I'm not excited about Macron's reelection victory.
But what do others say?
If you want a semi-optimistic perspective, the Wall Street Journal opined on the potential implications and seems to think Macron's heart is in the right place.
The question is whether Mr. Macron will do more in the next five years to make France great again. …Mr. Macron defies traditional political divisions. In his first term he appointed center-right figures to key positions and made progress with tax and labor reform.  …Ms. Le Pen…ran to his left on economics, calling for a wealth tax on financial assets and trade protectionism. …While Mr. Macron showed free-market instincts in his first term, he has tacked to the left recently to shore up support from young and progressive voters. Far-left candidate Jean-Luc Mélenchon says he wants to be prime minister, and the coming National Assembly elections could be decisive in determining the direction of the country. Focusing on pro-growth reform—rather than climate obsessions or populist gestures like limiting executive pay—would help restore the economic vitality that Mr. Macron originally promised. It would also make it less likely for a radical like Ms. Le Pen or Mr. Mélenchon to take power in five years.
For a more negative perspective, here's a CapX column from 2019, authored by Anne-Elisabeth Moutet.
…tax increases; a ballooning national debt and the highest government spending ratio to GDP in Europe… It's become harder than ever to pinpoint a specific "Macron line", but whatever it is, it isn't a liberal one. …The president's idea for modernising France's industry is a mix of high-handed, interventionist industrial policy and a brushed-up reliance on top-down sectoral choices reminiscent of every single one of his predecessors, from de Gaulle onwards. …he announced €5bn investment into Le French Tech from well-coaxed institutional investors, with the aim of creating "25 French unicorns by 2025". (The irony of having a government programme dedicated to create privately-held tech start-ups valued above $1bn seems to have escaped him). …The president's policies oscillate according to polling and estimated image gains. As a result, the supposedly "courageous" reforms promised…are…watered down. …Macron believes sincerely in his top-down…plans.
For what it's worth, I suspect Macron understands that his nation needs pro-market reform, but I also think he isn't willing to take any risks to make it happen.
P.S. A few years ago, I shared a story that told you "everything you need to know about France." Here are some excerpts from another story that captures the awful mindset holding back that country.
In less than three weeks, board game lovers in France bought all 10,000 copies of Kapital!, a new game about class struggle, injustice and French politics created by French sociologists. …One player will draw the good lot and fall among the rich; others will be the struggling poor and middle class. All players have to fight their way to the "tax haven" at the conclusion of the board. …The sociologists created the game to raise awareness about social injustice and the gap between the rich and poor. …The game was an instant success, selling out in less than three weeks.
This is almost as bad as the European Commission's online game that was designed to brainwash children in favor of higher taxes.
P.P.S. Here's a must-watch video explaining why America shouldn't become another France.