I've shared horror stories about government thuggery and I've shared horror stories about government stupidity.
Thanks to Mark Steyn, we have a story that exemplifies both the brain-dead nature of the public sector and the nasty nature of our bureaucratic overlords.
You may have read about the federal milk police. Well, here's some of what Mark wrote about the Kafkaesque legal regime the federal government maintains for people who want to cross the border with….drugs? no…weapons? no…biological agents? no, nothing like that. We're talking about  bagpipes.
…17-year-old Campbell Webster and Eryk Bean, of Concord and Londonderry, New Hampshire – understood that if you go to a highland fling a couple of hours north in Quebec you're now obligated to get your bagpipes approved by US Fish & Wildlife. …So Messrs Webster and Bean got their CITES certificate and presented it to the US CBP agent at the Vermont border crossing. Whereupon he promptly confiscated their bagpipes on the grounds that, yes, their US Fish & Wildlife CITES paperwork was valid, but it's only valid at 28 ports of entry and this wasn't one of them. Nor is any other US/Canadian land crossing.

Geesh, those poor kids. Their valuable instruments get stolen by the keystone cops simply because the feds arbitrarily decided that federal government paperwork is only accepted at certain federal government outposts.
By the way, bagpipes apparently get all this unwanted attention because some older instruments have components that are made of ivory, and that's verboten under environmental laws.
Anyhow, you won't be surprised to learn that the petty paper pusher who confiscated the bagpipes is also a total jerk.
When the CBP agent seized Messrs Webster and Bean's bagpipes, he told them – with the characteristic insouciance of the thug bureaucracy – that they were "never going to see them again". But thanks to the unwelcome publicity the Homeland Security mafiosi were forced to cough 'em up.
But the story doesn't end here.
The kids apparently are quite the experts with their bagpipes and they'll be competing in a contest in Scotland.
Mark explains the preposterous steps they'll have to go through when they return.
The two pipers are now heading to a competition in Scotland. So they'll be flying back via Boston, which is one of those 28 valid ports of entry. They've called Fish & Wildlife to arrange for the mandatory "inspection" of the bagpipes upon landing at Logan Airport. Unfortunately, the official Fish & Wildlife bagpipes inspector is taking a day off that day…she won't be available to inspect the pipes. So she's told them they'll have to drive back to New Hampshire and then drive back to Logan the following day for the Fish & Wildlife bagpipes inspection. So…the bagpipers will have to take a day off on Thursday – just to comply with the diktats of the Department of Paperwork. … Every time you take a bagpipe in and out of the United States it's a $476* round-trip fee.
Why can't the bagpipe police simply give them some piece of paper saying their instrument have been deemed kosher? This is sort of like having to apply for a passport each and every time you travel outside America.
And notice that the federal government is charging the kids an inspection fee for the privilege of being harassed!
Sort of like getting an "aviation security fee" added to your airfare to finance the TSA's patdowns of grandmothers.
Mark has a very dour summary, basically saying that the bagpipe police are a depressing illustration of the loss of freedom to the regulatory state.
Demanding a CITES certificate for bagpipes is a burden upon free-born citizens. Restricting the paperwork's validity to only 28 ports of entry is an unduly onerous burden. Requiring the bagpipers to come back on the Wednesday to those 28 ports of entry because the inspector's washing her hair on the Tuesday is an even more onerous and insulting burden. And charging an American $476 to play his bagpipe in Montreal is a shakedown racket unacceptable in a free society. …America is economically sclerotic because it's being hyper-regulated to death.
P.S. Excerpts from some of my other favorite Mark Steyn columns can be read here, here, here, here, here, here, here, and here.
P.S. On a completely separate topic, here's a brutal example of anti-Obama humor.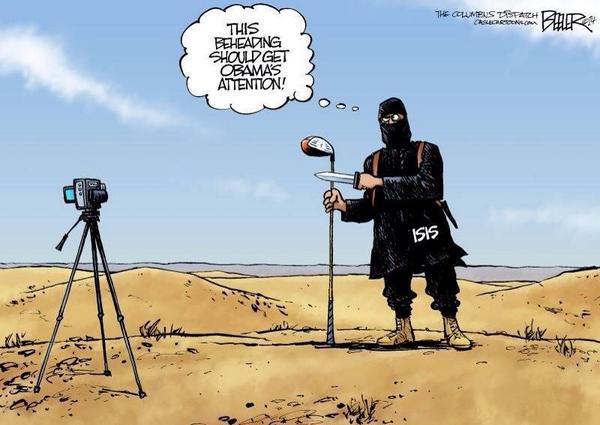 Ouch. Sort of like the Obama-Putin humor at the bottom of this blog post.
But I also share Obama humor where I sympathize with the President.