I enjoy defending rich people. In part, that's because I appreciate how rich entrepreneurs make life better for me and everybody else.
But I also defend rich people because of my deep disdain for the policy agenda of empty-suit politicians and envy-wracked demagogues.
If we want outcomes that are better for society and the economy, I'm 100-percent confident that Jeff Bezos and Elon Musk can spend their wealth better than the hacks and clowns in Washington.
But what if rich people get money from government cronyism? What if they became wealthy because of special favors from politicians?
Greg Ip of the Wall Street Journal wrote about this issue a couple of years ago and included this chart showing that cronyism is a small problem in the United States but a big problem in Russia.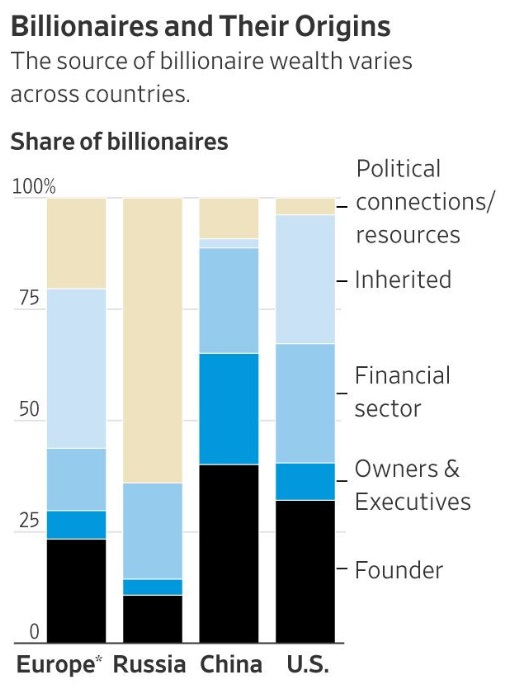 Here's some of what Mr. Ip wrote about Russia's cronyism.
How a billionaire earns his or her fortune matters, of course. Some are "rent seekers," meaning they skim off the productive efforts of others via corruption, royal prerogative or control of some valuable market or resource. That's why Russia is an outlier in Ms. Freund's research: lots of oligarchs, with not much economic benefit to show for it.
Since he wrote that article well before Russia's invasion of Ukraine, he wasn't focused on the geopolitical considerations that are dominating the discussion today.
So now let's look at a very recent report from the U.K.-based Economist. Here are some key excerpts.
…the sanctions levied at Russian oligarchs have intensified scrutiny on the origins of tycoons' wealth. …Rent-seeking entrepreneurs tend to use their relationships with the state to maximise profits. …Our index uses 25 years of data from Forbes's annual stock-take of the world's billionaires. …We have classified the main source of each billionaire's wealth into crony and non-crony sectors. …Russia's crony economy sticks out like a blinged-up Muscovite… Some 70% of the 120 Russian billionaires, who together hold 80% of its billionaire wealth, fall within our crony-capitalist definition. Wealth equivalent to 28% of Russia's gdp in 2021 came from crony sectors, up from 18% in 2016.
The bottom line is that Russia's "oligarchs" are not like the self-made billionaires that we're fortunate to have in the United States.
Here's the accompanying chart from the article. Russia does stand out…in a very bad way. If the numbers are accurate, getting in bed with politicians is the way to get rich.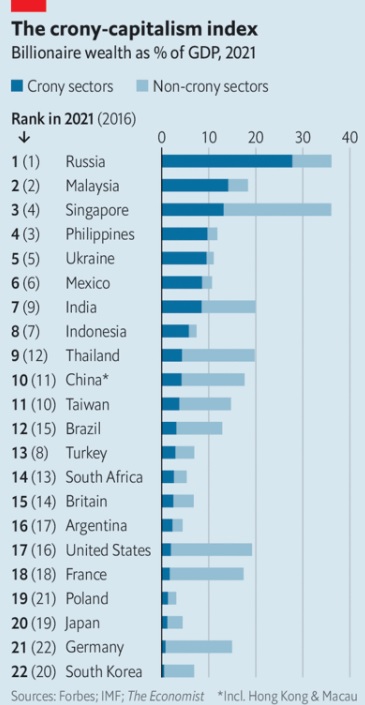 Now that we've established that Russian billionaires generally don't earn their money, this leads us to the more challenging issue of whether nations such as the United States should freeze and/or expropriate the wealth of the oligarchs in response to Putin's invasion of Ukraine?
Since I'm not a lawyer or an expert on foreign and defense issues, I don't pretend to know the best approach. I want Putin and his cronies to suffer, but I also have some qualms about the current approach.
Is the "rule of law" being overlooked and "due process" getting trampled in the rush to go after the assets of wealthy Russians, some of whom may have emigrated because of their opposition to Putin?
Are people being targeted simply because of their Russian ethnicity, just as an awful president targeted Americans of Japanese descent during World War II?
If getting rich through cronyism is a sufficient pretext to confiscate wealth, does that mean it's okay to seize the assets of ethanol producers and stockholders of Fannie Mae and Freddie Mac?
P.S. For what it's worth, my gut instinct is that cronyism is a much bigger problem in China's economy that we see in the data from the WSJ and the Economist.
P.P.S. Click here to learn more about "rent seeking."