The great Margaret Thatcher famously observed that the problem with socialism is that governments eventually "run out of other people's money."
But they can do a lot of damage before they reach that point.
We know from U.S. experience that Republicans can be very profligate. Well, the same problem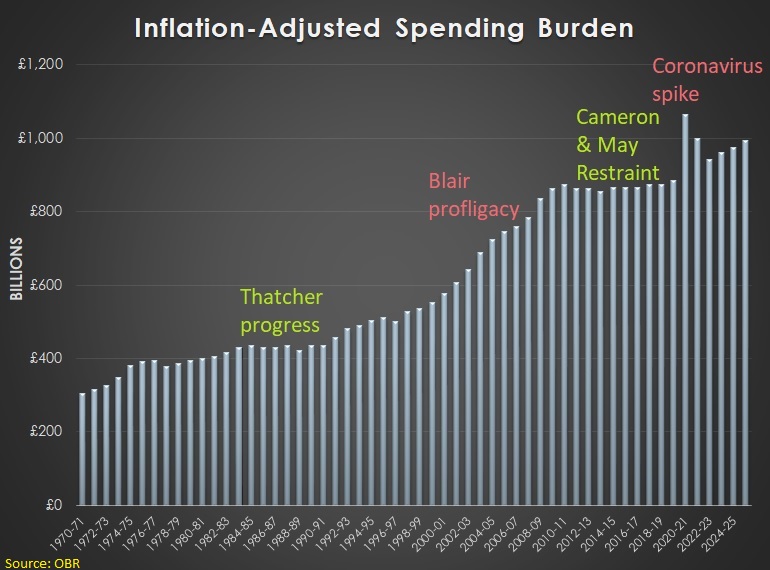 exists with the Conservative Party on the other side of the Atlantic Ocean.
I wrote earlier this year that Boris Johnson was letting the burden of government spending increase much faster than needed to keep pace with inflation.
And when politicians spend too much money, it's almost inevitable that they will then try to grab more money from taxpayers.
And that's exactly what the Prime Minister is proposing, as reported by Stephen Castle for the New York Times.
Mr. Johnson is widely expected to break his vow not to increase taxes when he announces a plan to bolster the nation's social care services… Even before the announcement, the blistering dissent from members of his own Conservative Party has underscored the problems that lie ahead for a government that has ramped up borrowing during the pandemic yet faces huge pressure to spend… Britain's creaking National Health Service, which was already strained before the pandemic, now has a massive backlog of routine treatment and operations that had to be postponed. On Monday the government announced a cash injection of £5.4 billion, or $7.4 billion, to help deal with that issue. …His proposals are likely to cap the amount any British citizen pays for social care over their lifetime. That would prevent many from having to sell their homes to pay for care, but would also mean investing more public money, mainly through raising taxes.
So what do the actual conservatives in the Conservative Party think about Johnson's proposal for more taxes and more spending?
They are not happy.
Perhaps the biggest danger for Mr. Johnson is the hostility of fiscal conservatives on the right of his party, who object to any tax being increased, including one senior cabinet minister, Jacob Rees-Mogg. …Mr. Sunak is also anxious to reign in spending, a view that is popular with the right wing of the Conservative Party. "He believes there is a moral and political premium on not raising taxes, not raising spending and getting borrowing under control," said Professor Bale, who added this was "partly because he knows that this where the beating heart of the Conservative parliamentary party lies."
Here are some more details about teh fight inside the Conservative Party, as reported by Edward Malnick of the U.K.-based Telegraph.
Senior Conservatives were threatening open warfare over Boris Johnson and Rishi Sunak's planned tax increase… Ministers, government aides and backbenchers lined up to denounce a planned National Insurance rise which was privately described by senior figures as "idiotic", with one Cabinet member declaring the proposal "morally, economically and politically wrong". …Steve Baker, the former Brexit minister, said: "Of all the ways to break manifesto tax pledges to fund the NHS and social care, raising NIC must be the worst. In this time of crisis, we need a zero-based review of what the state does and how it is funded." …Sir Iain Duncan Smith, the former Tory leader, feared that if Mr Johnson pushed ahead with the move the Conservatives would end up presiding over "the biggest tax rises since Clement Attlee". …Another Tory MP suggested the Chancellor was concerned about Britain becoming a continental-style economy with unsustainable public spending and state intervention.
So how do Johnson's allies respond?
With the same language one might have expected from Jeremy Corbyn, the hard-core statist who used to lead the Labor Party.
A government source said: "The NHS needs more money. By the time of the next election there could be 13 million people on waiting lists if we don't act."
In other words, the more government fails, the more money it should get (which also could be a description of Joe Biden's fiscal policy).
P.S. What I wrote earlier this year is worth repeating.
Because of my strong support for Brexit, I was very happy that Boris Johnson won a landslide victory in late 2019. And he then delivered an acceptable version of Brexit, so that worked out well. However, it definitely doesn't look like he will fulfill my hopes of being a post-Brexit, 21st century version of Margaret Thatcher.
The bottom line is that I wanted an independent United Kingdom to become Singapore on the Thames. Instead, Johnson seems to want his country to be Paris on the Thames.
P.P.S. I never thought I would miss the fiscal policy of two moderate former Prime Ministers, David Cameron and Theresa May.