There are some policy fights that focus on technical disagreements (for instance, how much do deadweight losses increase when tax rates go up?) and other policy fights that involve moral disagreements (for instance, should drugs be legalized when that may lead some people to harm themselves?).
Other policy fights, however, involve dishonesty.
Poverty hucksters might be the most irritating example. These are the people who push an utterly dishonest definition of poverty, which I first wrote about back in 2010. But this article from 2019 has the best summary.
…folks on the left have decided to use an artificial and misleading definition of poverty. One that depends on the distribution of income rather than any specific measure of poverty. Which is insanely dishonest. It means that everyone's income could double and the supposed rate of poverty would stay the same. Or a country could execute all the rich people and the alleged rate of poverty would decline. No wonder the practitioners of this approach often produce absurd data, such as the OECD's assertion that there's more poverty in the United States than in basket case economies such as Greece and Italy.
Sadly, the many complaints from me and others have not stopped the poverty hucksters.
Here's a chart I just downloaded from the Organization for Economic Cooperation and Development, one of the organizations pushing the dishonest measure of poverty.
As you can see, they want people to believe that there's more poverty in the United States than in nations such as Turkey, Italy, and Greece.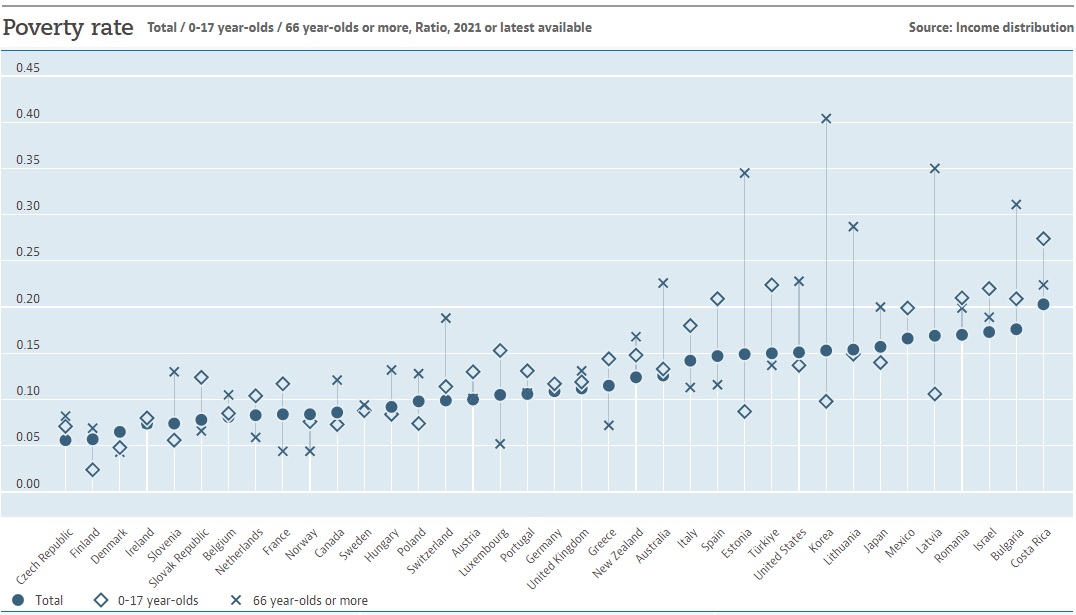 Heck, they also want people to think the wealthy nations of Luxembourg and Switzerland have more poverty than Hungary.
I'm sharing this information because it's time to add a new member to our collection of poverty hucksters.
Timothy Noah of the New Republic has a column in the Washington Post that utilizes the OECD's inaccurate definition of poverty. Here are some excerpts from his article.
How can the richest nation on Earth have so much poverty? …The Bible tells us that the poor are always with us. But devout resignation can't explain why the United States, with the world's largest economy (gross domestic product: $26.15 trillion) should house more poverty than many much poorer countries. In 2021, the Organization for Economic Cooperation and Development ranked 37 member nations by poverty rate. Costa Rica had the highest rate, followed by Bulgaria, but way up there at No. 10 was the United States. …We may not have the means to eliminate poverty. But we can certainly do better than Estonia.
If you read Noah's entire article, you'll quickly see why he uses the OECD's dishonest data.
Like Biden, he wants a massive expansion of class-warfare taxation and a big increase in the welfare state, so it is in his interest to portray America as a dystopian hellscape of suffering and deprivation.
It would be nice, however, if he relied on accurate data. Then again, accurate data would backfire on him.