In the past couple of months, I've repeatedly addressed the fiscal and economic mess in the United Kingdom.
Today, we're going to zoom out and identify the main cause of all the problems.
If you look at the annual budget numbers published by the Treasury Department in the United Kingdom, the first thing to notice is that there was a big surge of spending for the pandemic.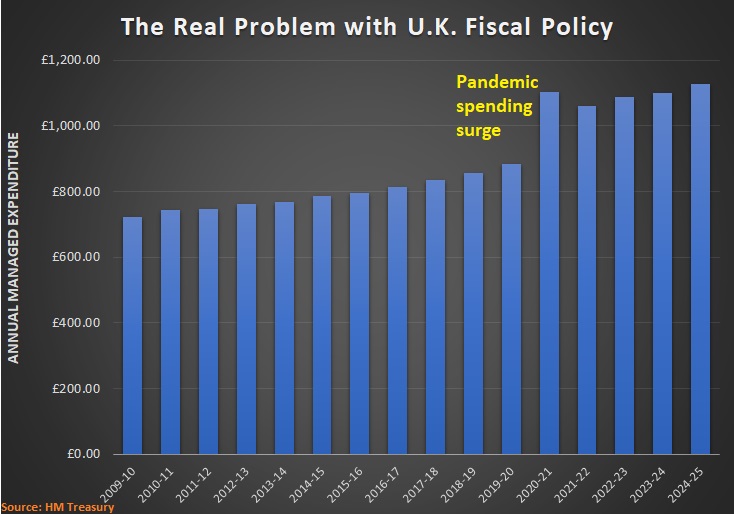 One can certainly argue that pandemic-related spending was necessary to deal with a one-time emergency.
Indeed, the same thing happened in the United States.
This second chart, however, shows the real problem with fiscal policy in the United Kingdom. Politicians have used the one-time emergency has an excuse to impose a permanent increase in the country's spending burden.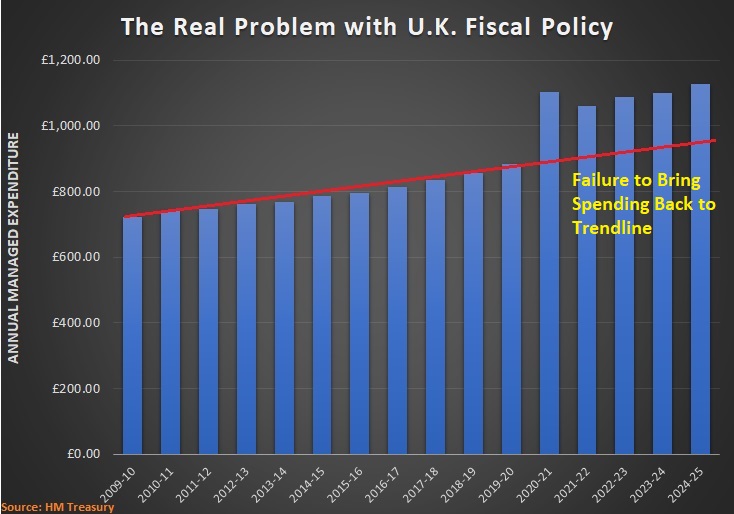 This is an indictment of former Prime Minister Boris Johnson's profligacy.
Johnson was then replaced by the short-lived Liz Truss, who proposed lower taxes but offered no plan to restrain spending.
And now the new Prime Minister, Rishi Sunak, seems committed to an ongoing policy of higher taxes to finance permanently larger government.
In an article for Reuters, William Schomberg reports that the Chancellor of the Exchequer (akin to the U.S. Treasury Secretary) apparently thinks higher taxes are needed to save the economy.
British finance minister Jeremy Hunt said he will have to raise taxes in next week's budget plan in order to fix the public finances and soften a potentially long recession… "This is going to be a big moment of choice for the country and we will put people ahead of ideology," Hunt told the Sunday Times in an interview. …Hunt and Sunak are trying to prepare their Conservative Party for the tax increases which could reignite tensions in the party… Hunt was also considering a multi-billion-pound package of support to shield pensioners and benefit claimants from higher power bills, the newspaper said.
At the risk of understatement, Jeremy Hunt knows nothing about economics. Or history.
I wish a reporter would ask him to name a single country, at any point in world history, that achieved more prosperity by raising taxes and increasing the burden of government spending.
I'll close with a couple of additional observation.
P.S. I never thought I would be reminiscing fondly about the fiscal policies of David Cameron and Theresa May.
P.P.S. But Margaret Thatcher is still the gold standard for responsible U.K. fiscal policy.