I strongly supported Brexit in part because I wanted the United Kingdom to have both the leeway and the incentive to adopt pro-market policies.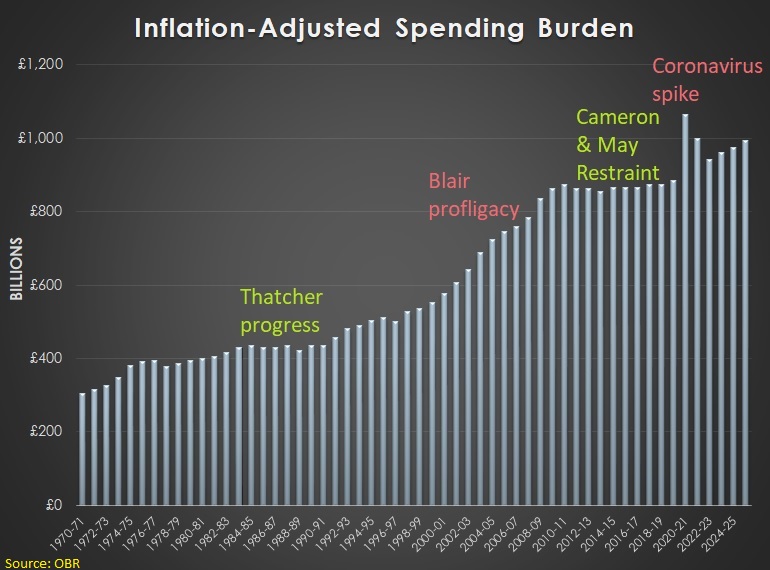 Imagine my disappointment, then, when subsequent Conservative Prime Ministers did nothing (Theresa May) or expanded the burden of government (Boris Johnson).
Where was the reincarnation of Margaret Thatcher? Didn't the Tory Party understand the need to restrain big government?
Perhaps my prayers have finally been answered. After jettisoning Boris Johnson (albeit for scandal rather than bad policy), the Tories elected Liz Truss to lead the nation.
And she appointed Kwasi Kwarteng to be Chancellor of the Exchequer (akin to U.S. Treasury Secretary). The two of them have just unveiled some major changes in U.K. fiscal policy.
Allister Heath's editorial for the Telegraph has a celebratory tone.
…the best Budget I have ever heard a British Chancellor deliver, by a massive margin. The tax cuts were so huge and bold, the language so extraordinary, that at times, listening to Kwasi Kwarteng, I had to pinch myself to make sure I wasn't dreaming, that I hadn't been transported to a distant land that actually believed in the economics of Milton Friedman and FA Hayek. …The neo-Brownite consensus of the past 20 years, the egalitarian, redistributionist obsession, the technocratic centrism, the genuflections at the altar of a bogus class war, the spreadsheet-wielding socialists: all were blown to smithereens by Kwarteng's stunning neo-Reaganite peroration. …All the taboos have been defiled: the fracking ban, the performative 45pc tax rate, the malfunctioning bonus cap, the previous gang's nihilistic corporation tax and national insurance raids. The basic rate of income tax is being cut, as is stamp duty, that dumbest of levies. …Reforms of this order of magnitude should really have happened after the referendum in 2016, or after Boris Johnson became Prime Minister in 2019… Truss..has a fighting chance to save Britain, and her party, from oblivion.
The Wall Street Journal's editorial has a similarly hopeful tone while also explaining the difference between good supply-side policies and failed Keynesian demand-side policies.
This is a pro-growth agenda that is very different than the tax-and spend Keynesianism that has dominated the West's economic policies for nearly two decades. …Mr. Kwarteng axed the 2.5-percentage-point increase in the payroll tax imposed by former Prime Minister Boris Johnson, and canceled a planned increase in the corporate income tax rate to 26% from 19%. …Kwarteng also surprised by eliminating the 45% tax rate on incomes above £150,000. The top marginal rate now will be 40%… A frequent complaint is that there's no evidence tax cuts for corporations or higher earners will boost demand. Maybe not, but that's also not the point. Britain doesn't need a Keynesian demand-side stimulus. It needs the supply-side jolt Ms. Truss is trying to deliver by changing incentives to work and invest. A parallel complaint from the same crowd is that Ms. Truss's policies—which they just said won't stimulate demand—will stimulate so much demand the policies will stoke inflation. This has been the experience with debt-fueled fiscal blowouts since the pandemic, but Ms. Truss's plan is different. She's not throwing around money to fund consumption. She's using the tax code to spur production.
The editorial concludes with a key observations.
Britain has become the most important economic experiment in the developed world because Ms. Truss is the only leader willing to abandon a stale Keynesian policy consensus that has produced stagflation everywhere.
Here's a tweet that captures the current approach, with "liberal" referring to pro-market classical liberalism.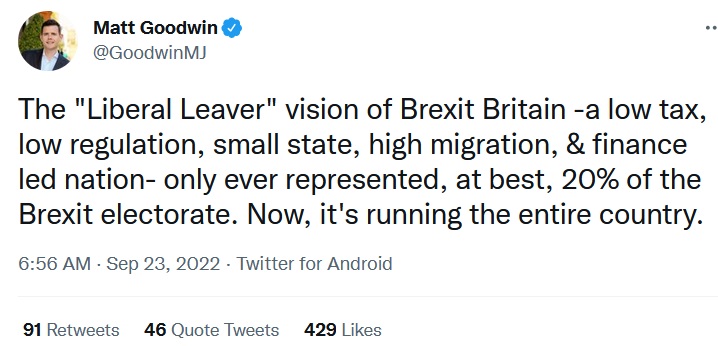 This is the "Singapore-on-Thames" approach that I've been promoting for years. Finally!
In a column for Reason, Robert Jackman gives a relatively optimistic libertarian assessment of what to expect from Truss.
…will her arrival in Downing Street bring an end to the big-state, big-spending style of her predecessor? …Within the Westminster village, Truss has long been regarded as a torchbearer for liberty—a reputation that stretches back to her days working at various small-state think tanks. Since entering Parliament in 2010, she has been a member of the Free Enterprise Group… As trade secretary, Truss was responsible for delivering on the good bit of Brexit—jetting around the world to sign tariff-busting trade deals. She was good at it too, quickly securing ambitious agreements with Australia and Japan. …But will Liz Truss' premiership put Britain back on track to a smaller state? Some things aren't that simple. …Truss has long been an advocate of relaxing Britain's punitive planning laws, which would make it easier to build much-needed homes and energy infrastructure.
As you might expect, the analysis from the U.K.-based Economist left much to be desired.
Liz Truss, Britain's new prime minister, is now implementing Reaganomics…comprising tax cuts worth perhaps £30bn ($34bn) per year (1.2% of gdp)… The fuel that fiscal stimulus will inject into the economy will almost certainly lead the boe to raise interest rates… No matter, say Ms Truss's backers, because tax cuts will boost productivity. Didn't inflation fall and growth surge under Reagan? …Ms Truss's cheerleaders seem to have read only the first chapter of the history of Reaganomics. The programme's early record was mixed. The tax cuts did not stop a deep recession, yet by March 1984 annual inflation had risen back to 4.8% and America's ten-year bond yield was over 12%, reflecting fears of another upward spiral in prices. Inflation was anchored only after Congress had raised taxes. By 1987 America's budget, excluding interest payments, was nearly balanced. By 1993 Congress had raised taxes by almost as much as it had cut them in 1981.
By the way, the article's analysis of Reaganomics is laughably inaccurate.
Meanwhile, a report in the New York Times, writtten by Eshe Nelson, Stephen Castle and Mark Landler, also has a skeptical tone.
But I'm surprised and impressed that they admit Thatcher's policies worked in the 1980s.
Britain's new prime minister, Liz Truss, gambled on Friday that a heavy dose of tax cuts, deregulation and free-market economics would reignite her country's growth — a radical shift in policy… the new chancellor of the Exchequer, Kwasi Kwarteng, abandoned a proposed rise in corporate taxation and, in a surprise move, also abolished the top rate of 45 percent of income tax applied to those earning more than 150,000 pounds, or about $164,000, a year. He also cut the basic rate for lower earners and cut taxes on house purchases. …It is hard to overstate the magnitude of the policy shift from Mr. Johnson's government, which just one year ago had announced targeted tax increases to offset its increased public spending… The chancellor's statement in Parliament on Friday underscored the free-market, small-state, tax-cutting instincts of Ms. Truss, who has modeled herself on Margaret Thatcher, who was prime minister from 1979 to 1990. Thatcher's economic revolution in the 1980s turned the economy around.
The article includes 11 very worrisome words.
…so far there has been no indication of corresponding spending cuts.
Amen. Tax cuts are good for growth, but their effectiveness and durability will be in question if there is not a concomitant effort to restrain the burden of spending.
Truss and Kwarteng also should have announced a spending cap, modeled on either the Swiss Debt Brake or Colorado's TABOR.
P.S. In addition to worrying about whether Truss will copy Thatcher's track record on spending, I'm also worried about her support for misguided energy subsidies.