According to polling data, President Biden is not getting good grades for economic policy.
Part of that is because of inflation, though I've repeatedly pointed out that the blame belongs with the Federal Reserve rather than Biden. And the big mistake from the Fed took place before Biden even took office.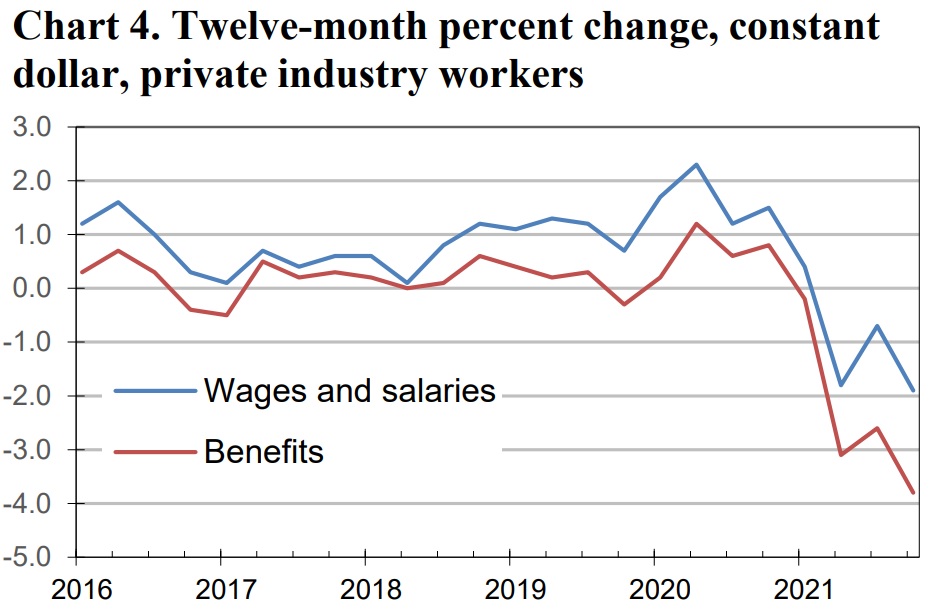 Unfortunately, the President is not trying to make things better. His appointments to the Fed suggest he doesn't understand the need for good monetary policy.
And all of his major legislative initiatives (the so-called stimulus, the misnamed Inflation Reduction Act, the pork-filled infrastructure legislation, and the cronyist handouts to the semiconductor industry) have increased the size and scope of government.
For what it's worth, I think Biden's big challenge – both politically and economically – is that Americans are losing ground. Simply stated, prices are increasing faster than incomes.
But that isn't stopping the Administration from trying to turn a sow's ear into a silk purse.
Alan Rappeport of the New York Times reported a few days ago that the Biden's Treasury Secretary, Janet Yellen, is claiming that Bdenomics is a big success.
…the Biden administration is pivoting to recast its stewardship of the U.S. economy as a singular achievement. …The case was reinforced on Thursday by Treasury Secretary Janet L. Yellen… Ms. Yellen said the legislation that Mr. Biden signed this year to promote infrastructure investment, expand the domestic semiconductor industry and support the transition to electric vehicles represented what she called "modern supply-side economics." …After months of being on the defensive in the face of criticism from Republicans who say Democrats fueled inflation by overstimulating the economy, the Biden administration is fully embracing the fruits of initiatives such as the $1.9 trillion American Rescue Plan of 2021.
The editors at the Wall Street Journal are not impressed.
Janet Yellen…tenure as Treasury Secretary hasn't enhanced her reputation. …the White House is rolling her out in election season to portray the U.S. economy as a Valhalla of growth, fairness and optimism. …If you're in a green business the White House likes, you're in clover. If not, you'll endure the costs of more regulation and taxes. In the Biden era, big government and big business are in political business together. …Ms. Yellen's whoppers, …including a claim that "the causes of inflation are largely global." …U.S. inflation has been substantially home-grown. …The Federal Reserve kept the money spigots open for too long, in part to finance the borrowing needed for all of the spending. …Ms. Yellen is also at pains to stress how much fairer the economy is since Mr. Biden took office… She fails to mention that the U.S. economy contracted by about 1% of GDP in the first six months of this year, even as real wages were falling. Real average hourly earnings declined 3% over the 12 months through July, and average weekly earnings by 3.6%. They've fallen 4.2% since Mr. Biden took office.
Meanwhile, the latest inflation data has not strengthened Biden's case.
Jim Tankersley of the New York Times wrote about the issue yesterday.
Hotter-than-expected inflation in August was unwelcome news for President Biden, who has sought to defuse Republican attacks over rising prices in the run-up to November's midterm elections. …Mr. Biden has claimed progress in the fight against inflation, including with the signing last month of an energy, health care and tax bill that Democrats called the Inflation Reduction Act. …But polls continue to show inflation is hurting Mr. Biden and his party… Mr. Biden threw a belated celebration at the White House on Tuesday to mark his signing of the Inflation Reduction Act. …But the country's economic reality remains more muddled, as the inflation report underscored. Food prices are continuing to spike, straining lower-income families in particular. …Most importantly — and perhaps most damaging for Mr. Biden and Democrats — Americans' wages have struggled to keep pace with fast-rising prices, an uncomfortable truth for a president who promised to make real wage gains a centerpiece of his economic program.
Let's close with this chart, which shows what has happened to inflation-adjusted weekly earnings since Biden took office.
Yes, there was one recent month with good data, but that doesn't seem like a big cause for celebration.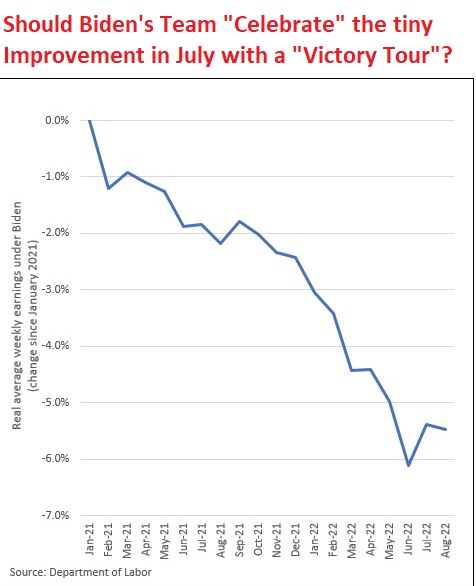 P.S. Paul Krugman's defense of Bidenomics is just as weak as Janet Yellen's (and his criticisms of good presidents are equally weak).