This probably does not quite belong in my collection of "most depressing charts," but it is definitely very bad news that taxes now impose a greater burden on the average American household than the combined cost of food, clothing, education, and health care.
This is remarkable, especially since education and health care are needlessly expensive because of government intervention.
The dismal numbers in this chart come from an article in Reason by Elizabeth Nolan Brown.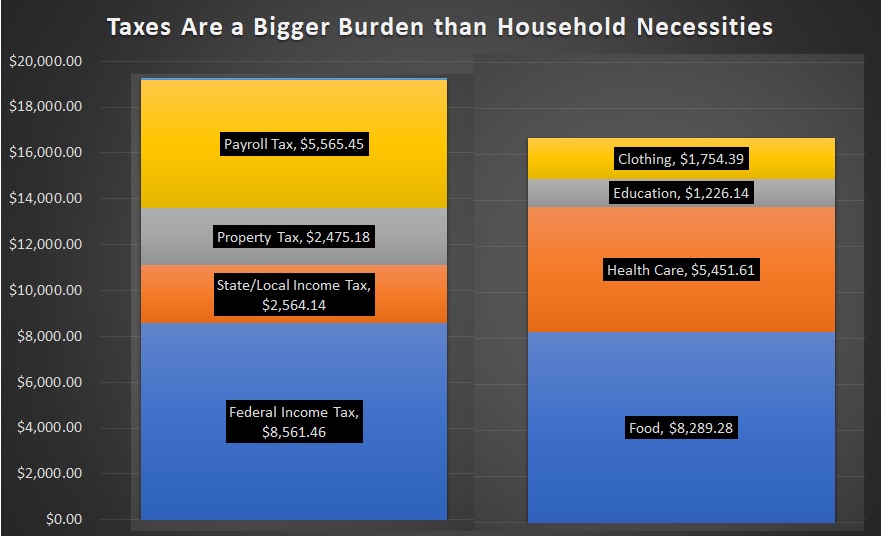 There are not numbers she pulled out of the air. They are from a new report by the Bureau of Labor Statistics.
Here are some excerpts from Ms. Brown's article.
New consumer spending data from the Bureau of Labor Statistics (BLS) provides some sobering perspective on how much Americans are paying in taxes. …Overall, taxes accounted for about 25 percent of average consumer spending. …On average, each "consumer unit" paid more than $16,000 in taxes last year. This outpaces average spending on food, clothing, education, and health care combined. …This included $8,561.46 in federal income tax, $2,564.14 in state and local income taxes, $2,475.18 in property taxes, $5,565.45 in Social Security deductions, and $105.21 in other taxes.
Ms. Brown's article says the total tax burden is more than $16,000 while my chart shows that the average tax burden is approaching $19,000. The difference is that she subtracts out so-called stimulus payments, but I think it is more accurate to view those as handouts rather than as tax rebates.
Regardless, the real burden for the average household is actually higher than either number thanks to an absurdly complex tax system.
Household have to spend time, energy, and money to figure out their taxes. And they also pay indirectly because businesses have to pass on their even-higher tax compliance costs to households.
Finally, we should be asking ourselves whether we are getting the same value from coercive taxes that we get from our voluntary spending on food, clothing, education, and health care. All it takes is one trip to McDonald's and my answer is no.
Heck, given the grotesque inefficiency of government and the economic harm caused by excessive spending, we get negative value from our taxes.